Kowa Telephoto Lens/Scope
c5246477-5d43-4ec8-bd07-679993608095
When I first started out in bird photography, it was quite simple: buy a camera and lens, and begin taking photos. Nowadays there is a wide range of equipment on offer: compact cameras to fit to telescopes for digiscoping; masses of DSLRs with a wide range of detachable lenses; adapters for DSLRs to use a telescope as a lens; and even telescopes with built-in cameras.

But now there is another choice. Kowa has introduced a revolutionary system built around a 500 mm f5.6 manual focus lens that can also be used as a top-quality telescope, via a separate prism unit and a zoom eyepiece. By using another adapter, the product can also be converted into an 850 mm f9.6 lens.

Kowa's lens looks and feels good, with a wide 'quick' focusing ring and a fine focusing wheel, plus a large mounting plate. It is supplied with a large lightweight lens hood which is reverse-mounted onto the lens when not in use. The compact size means it can be carried in a medium-sized camera bag, providing the adapter is taken off. For those that need it, there is also a sighting device, though it has to be mounted to the camera's flash shoe and aligning with the lens hood.

Chromatic aberration (colour blur) has been minimised by using a pure fluorite crystal lens and two extra low dispersion (XD) lenses. Rubber O-rings are used to seal the housing of the lens for enhanced dust- and weather-proofing.

So, what was it like to use manual focus again? This product brought back a lot of memories for me of the long-gone days of my old lenses. I tend to forget how easy photography has become over the last decade, and I must admit it did take me a short while to adjust to not having auto-focus doing all the work, but I soon got used to it and began to enjoy the challenge, especially of photographing flying birds.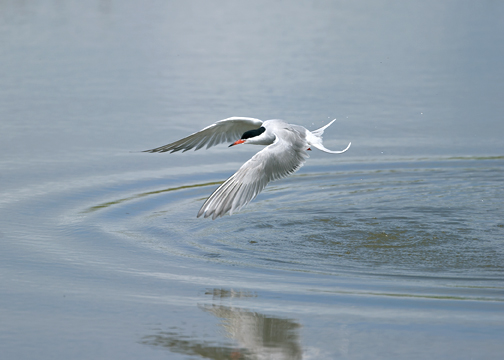 Common Tern in flight: it took me a while, but then I remembered that I had to turn the focusing wheel instead of waiting for the AF sensor to lock on! I have to admit that it made the successful flight shots all the more satisfying. Photo by Steve Young (www.birdsonfilm.com).
The lens performed really well and the quality of the images was comparable to those taken with my own lens. They were very sharp, with good colours and contrast, and although there was a greater failure rate compared to an AF lens, it was only because I kept forgetting to keep turning the wheel when the bird moved!

Flight shots are obviously more difficult, and the fact that I was trying to photograph fast-flying Common Terns didn't help. But with a bit of perseverance I was able to take a number of very nice images.

I also took a few shots using the 850 mm Mount Adapter. These were very acceptable, but there was a difference in the sharpness levels compared to images taken with the lens at 500 mm. Focusing is also more difficult at 850 mm, as the aperture is f9.6, so the image is darker in the viewfinder. But probably with a bit more practice I would have got used to this.

Used as a straight-bodied telescope, it is comparable to the best on offer and although I didn't do side-by-side comparison tests with a number of models, I did look through two premium scopes and let other birders look through the Kowa; all agreed it was an excellent telescope and eyepiece combination.

For those who are starting to take their photography to a more serious level, who don't want to carry (or buy) a large telephoto lens around, but still want to own a top-quality telescope for birding, this could be the ideal combination.

Watch a video of a prototype of this lens scope being demonstrated at Birdfair 2010.
See more test results on Kowa's Telephoto Lens/Scope blog.
| | |
| --- | --- |
| | |
| Common Terns mating: taken from my car using a bean bag to support the lens. Photo by Steve Young (www.birdsonfilm.com). | Ringed Plover: colours and contrast were excellent, as was sharpness. Photo by Steve Young (www.birdsonfilm.com). |
Tech spec
Price: Kowa Prominar Manual Focus 500mm f5.6 FL lens £2,899.99; 500 mm TX10 adapter £299.99; prism unit TP-88EC1 £629.99; zoom eyepiece TE-10Z 20-60x £599.99; 850 mm f9.6 TX17 adapter £589.99.
Weight (including adapter): 1,970 g
Size: 104x341 mm
Field of view: 4.9 degrees
Minimum focusing: 3 m