Scopac Plus
9ac89d23-2465-43c2-98ba-538669d19043


For those of us who go birding on public transport, bike or foot, the development of telescope-bearing backpacks has been a quiet revolution. We can walk anywhere, over any terrain and long distances with any size scope and tripod supported fully on our backs, leaving our hands free for bins and notebooks (and snacks!), enabling us to explore any habitat we choose.

However, it takes some experience and practice to get the three main products to fit comfortably given the variability of human physiques and the tendency of the backpacks to ride up or their straps to loosen. There has also been a space issue in carrying capacities, with some bags not having quite enough room to carry a field guide, packed lunch, camera and lens (though a superzoom can get round this last) together.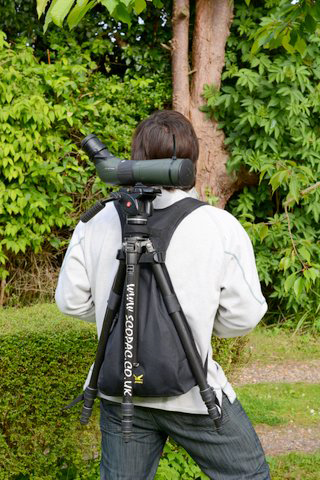 Your tripod and scope attach
securely to the backpack and remain
within easy reach.
The favourite of many birders, Scopac, has updated its already competitive product with a main pocket that now holds around 4.5 litres, as well as extra straps, a small phone pocket and a plastic key fob. The greater capacity gives plenty of room for most of a birder's daily field accoutrements, meaning one issue with the earlier design has been satisfactorily resolved. Unfortunately, however, there is no bottle-holding side pocket.

A pair of extra straps that fit around the top of your tripod's legs means that there are now three points of attachment along their length, resulting in much less 'riding up' and the consequent awkward balancing angles. The front straps that go around your shoulders and chest are padded for comfort. There is an additional map or document pocket which holds a field guide or notebook with ease. The result is improved comfort, with the product also sitting lower on your back and simultaneously pulling less on your shoulders.

The Scopac upgrade compares well with rival Cley Spy's Mulepack, and is in some respects preferable, with its extra stability and carrying space. With the addition of bottle pocket to keep fluids away from cameras and optics, the product would be near-perfect.
Further information
Product: Scopac Plus
Capacity: 4.5 L
Colour: black
Price: £59 (free P&P in the UK)
Contact: call 07810 560916, 07979 647031, 01263 511587 or 01263 515577, or visit www.scopac.co.uk