Review Viking Swallow 50 ED Compact Spotting Scope
c4c92574-cd5f-422d-a092-4ba95da2e547
With the demand for physical compactness combined with substantial optical quality having escalated in recent years, many optics brands have cast a critical eye over their product portfolios with a view to meeting this now-important requirement.
Having already launched 65 mm and 80 mm ED models in their Swallow range of telescopes, Viking has now upgraded its basic 50 mm offering in the same series to include ED glass, along with a number of other constructive modifications. The result is impressive.
Officially launched at 2022's Global Birdfair, the new scope became available at the beginning of October and is ultimately set to replace the existing 50 mm Swallow which, although bearing a superficial resemblance, it differs from considerably.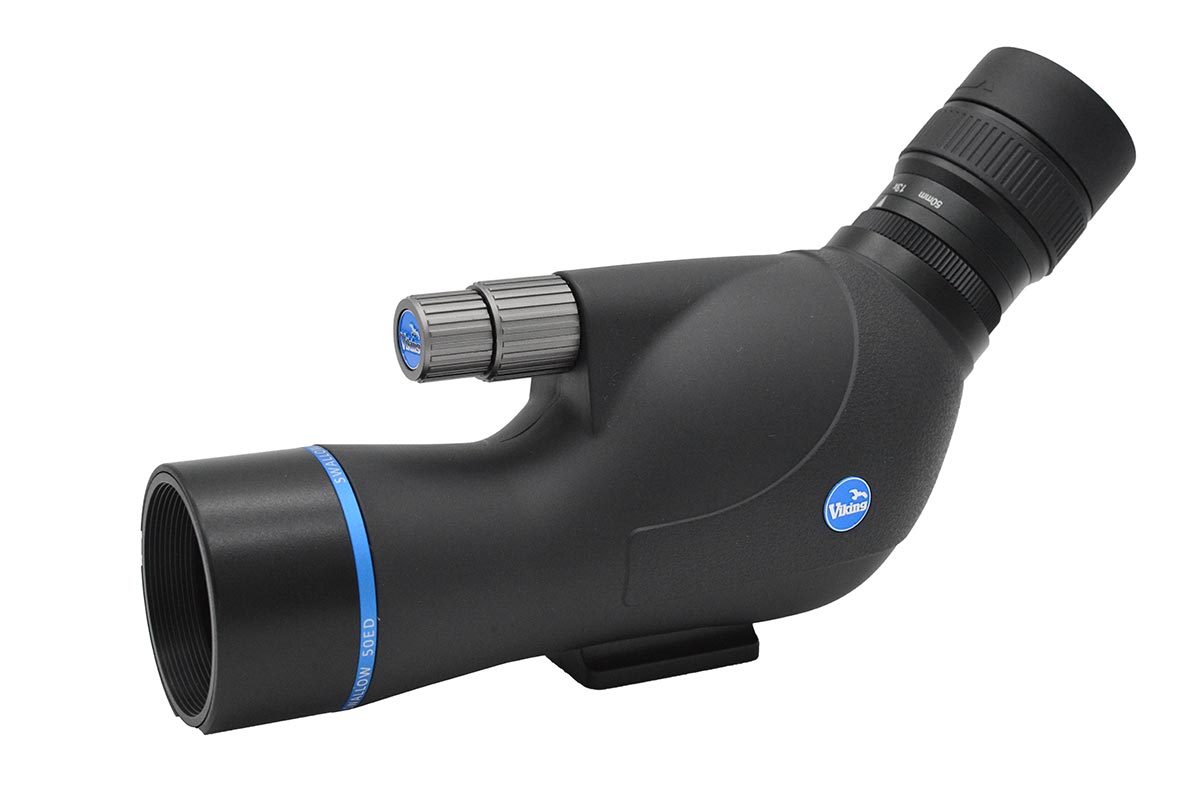 A more integrated body style sees smooth and seamless rubber armour, relieved by a sweeping, slightly raised cloak of textured rubber around the sides and collar of the prism housing. As well as the company's logo on the latter, a new, narrow, corporate-blue ring set 34 mm back from the distal end, indicates the model's name and number and marks the separation of a newly designed and smoothly extending objective lens hood.
The most notable feature, however, is the introduction of a dual focusing system, operated via concentric wheels, each with a burnt silver, hard-milled covering. The tripod foot includes a port for an anti-rotation pin and offers perfect balance.
In dimensional terms, the new model is 26 mm longer than its non-ED counterpart and weighs 296 g more, despite having a lightweight polycarbonate body. There is, however, good reason for these differences insomuch as the ED contains more glass elements but it still weighs in well below 1 kg. In return it delivers an improved level of quality all round. In short, the magnification range is up from 12-36x to 13-39x, the field of view range moves up from 54-27 m to 56-30 m at 1,000 m and the close-focus distance comes down from 6 m to 4 m. Additionally, the warranty period leaps from five to 10 years.
This all comes at a premium, of course, and what may be viewed by some as a 'price-hike' quite simply isn't – after all, with the above modifications, including the addition of ED glass and new coatings, it's effectively an entirely different animal. So, is the increase from £139 to £399 justifiable?
Based on my recent experience with the 50 ED, I would have no hesitation in saying yes and this is testament to the fact that it went through much toing and froing in production before Viking was happy with the resultant quality it delivered.
Running through some of the technical characteristics, I was pleasantly surprised to discover the scope's close-focusing ability easily surpassed the figure given by the manufacturer and I was able to obtain a sharp image of objects at a range of only 2.8 m. The twist-out eyecup, as well as offering comfortable viewing, also continued to deliver the full field of view at its maximum extension.
Both focusing wheels turned very smoothly and evenly and although the smaller, fine-tuning wheel did indeed boost the focus accuracy at the highest end of the magnification range, I found it to be largely redundant on many other occasions. In most instances, the large, fast-focusing wheel did the job alone, with the bottom-line result being that it was easy to obtain a sharp image across the full range of magnification. This also applied to the full field of view, which delivered nigh on edge-to-edge sharpness.
I was also impressed with the image's low level of chromatic aberration. Dark birds such as Tufted Duck, Eurasian Coot and Great Cormorant on a background of reflective water as well as bare tree branches and twigs against a cloudy, though bright, sky remain almost free of chromatic aberration across the greater part of the image.
The latter's overall colour rendition falls, to my eyes, on the colder, 'blue' side of the spectrum but the colours ultimately delivered are rich, deep and vibrant. This is most evident when watching a range of wildfowl swimming and feeding in a lush wetland habitat – a situation which offers a complex array of different shades and colours.
My overall verdict on the Swallow 50 ED is very positive as it certainly appears to offer an unmatched level of performance for the current price point. It is advertised and sold as a 'kit' which, in addition to standard rubber lens caps, includes a fully protective stay-on cover. Production of a straight-bodied version is currently under consideration.
Further info
Price: £399
Magnification: 13-39x
Size: 272 x 160 mm
Weight: 920 g
Field of view: 56-30 m at 1,000 m
Light transmission: 82%
Close focus: 4 m
Gas-filled: yes
Waterproof: yes
Guarantee: 10 years
Verdict
+ Fantastic performance for price
+ Low level of chromatic aberration
- Slightly heavier than its predecessor