Kite Lynx HD+ 8x42 binocular
14dcc0ed-cf3d-4cdb-b481-16a38106e71b
I first encountered Belgian optics company Kite back in 2011, when I trialled its 80 mm KSP HD scope (Birdwatch 229: 43), which was launched to compete with the high-end models of the day but at a significantly lower price. And very nice it was, too. Since then, Kite has produced a range of birding binoculars and continues to do so, with more products in the pipeline.
Comprising five models, the Lynx HD+ was launched in June 2019 and sits close to the top of the company's binocular range, just below the Ibis and Bonelli series.
For the test run, I opted for the 8x42, which would deliver the optimum light-gathering capacity combined with the widest field of view, the latter described by Kite as an attribute that "no other binocular will match". More of that later.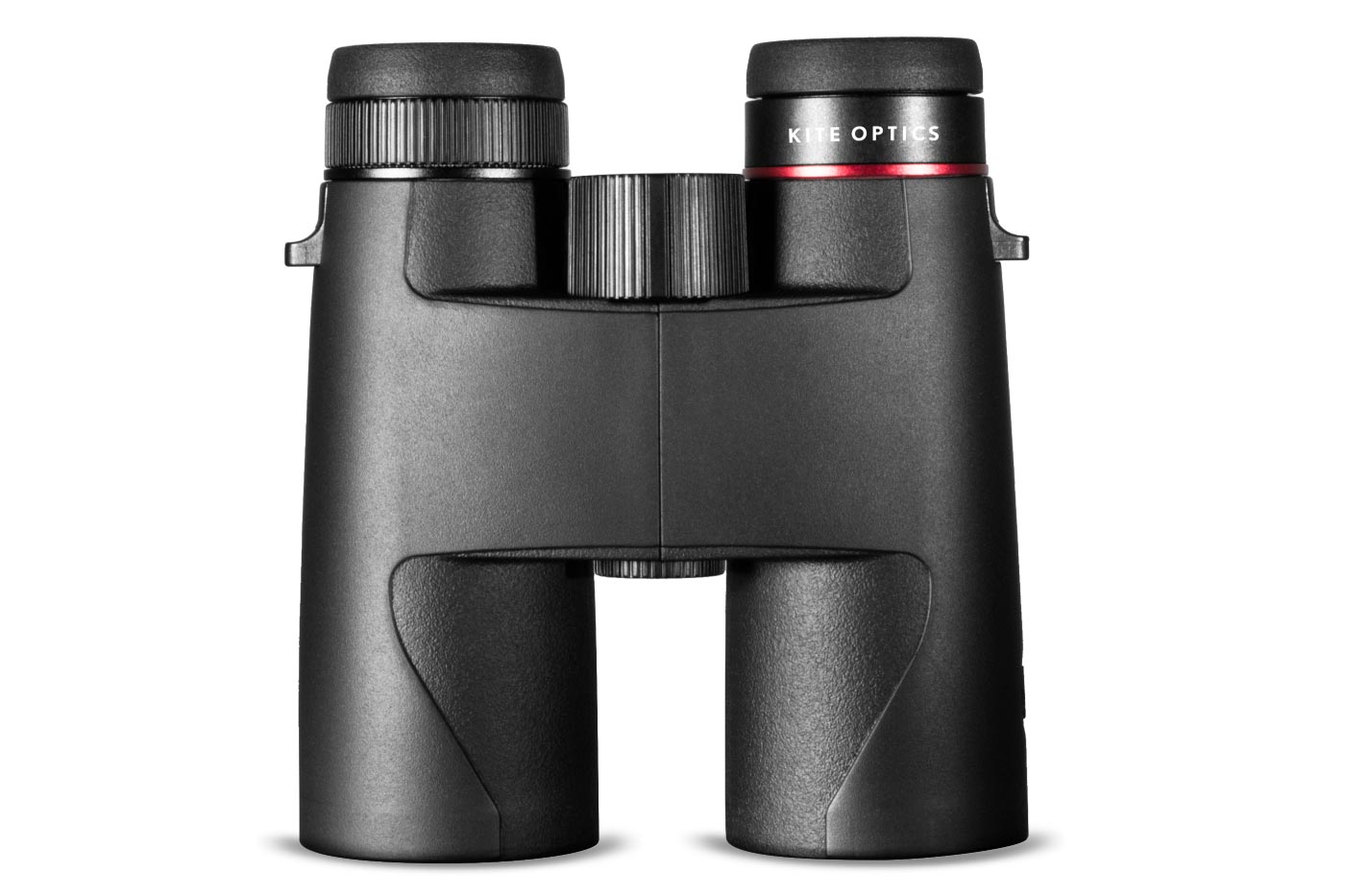 Finished in matt black rubber over fibreglass-reinforced polycarbonate, relieved only by a slim, metallic-red band below the brand name on the left ocular, this binocular looks sleek. I am told this is the new Kite Optics 'design language' going forward. The rubber armour is, for the main part, smooth with only a mildly textured surface on the inner halves of the chassis which is in contact with your thumbs.
Textured rubber is also used on the aluminium eye-cups, although here it is softer; the edges are almost rounded and they sit quite comfortably against the eye. Twisting out and click-stopping at two levels above the base setting, I was pleased to still be able to see the complete field of view when they were fully extended. Apply a little more pressure and further twisting enables the eyecups to be easily removed for cleaning.
The milled, single-eye focus adjustment sits on the right ocular, as is traditional, and exhibits an adequate amount of turning resistance, although I found it really rather sensitive when initially setting it up. Similarly milled, the central focusing wheel turns very smoothly and freely, with just shy of one and a half clockwise turns taking the image from its 2 m close focus to infinity. Within this, approximately one-third of a turn delivers near-distance to long-distance focusing. This appears to correspond loosely to the fine part of the defined scale on the flat face of the focus wheel. However, as this cannot be seen when looking through the binocular I was left wondering about its practicality and purpose.
It is, of course, the resultant image which is on trial here and Kite took steps to implement refinements to the model prior to its launch, resulting in an up to 2% increase in light transmission over and above the existing Lynx.
Coatings are key and while the company's proprietary 'Permavision' and 'Permaresist' protect against water and dirt and provide enhanced scratch resistance, it is the use of Kite's top-end 'MHR Advance Plus' coating system which delivers the performance. All glass surfaces are fully multicoated and their best (of three grades) high reflective coatings are used on the prisms.
All this contributes to an image I found high in contrast and rich in colour intensity, with a pleasingly low level of chromatic aberration. There is also minimal curvature of field at the edges and, although the manufacturer states this new model has, with 151 m at 1,000 m, a 'world-leading field of view', sharpness at the very edges has been somewhat sacrificed, but only if you look closely.
This advanced model from Kite is a nice new addition to the company's optics portfolio and there is more to come in the not-too-distant future. A comfortably contoured neck strap, articulated rainguard, removable tethered objectives covers and a soft case complete the line-up.
Further info
Price: £719
Size: 140x128 mm
Weight: 690 g
Field of view: 151 m at 1,000 m
Light transmission: 89-90%
Close focus: 2 m
Gas filled: yes
Waterproof: yes
Guarantee: 30 years
Verdict
Pleasingly low level of chromatic aberration
Minimal curvature of field
Not sharp to the very edge of the image