Kite APC Stabilized 12x42 binocular
0075d14a-089e-4683-8284-33c74b03a4de
Building on its recently launched 30 mm APC Stabilized binocular range, Kite has again upped the ante in the image stabilisation market by producing two new 42 mm models with significant technical enhancements.
The magnification also takes a leap forward to include 16x in addition to the 10x and 12x already found in the 30 mm models. And why not? After all, the image stabilisation system is there to counteract any image shake and distortion which would be amplified by any increase in magnification.
Unlike the 'Vari-Angle Prism' stabilisation more traditionally used in binoculars, the new technology employed by the APC is based on the 'gimbal' system, which has emerged over the last three years and has been developed for stabilising action videos shot with smartphones while the user is in motion. This technology allows the both the 12x42 and the 16x42 models to correct the image stability by 2.2°, or 38 m at a distance of 1,000 m, translating to up to 4.4 times more than the 0.5° to 1° found in most of today's stabilised binoculars.
Kite has stated that the emphasis with the APC range is on the refinement of the stabilisation of the image and it is clearly central to the binoculars' performance. "It's made in the first place for its unique stabilising capability in combination with user-friendly characteristics," says Sebastien De Putter, Managing Director of Kite Optics.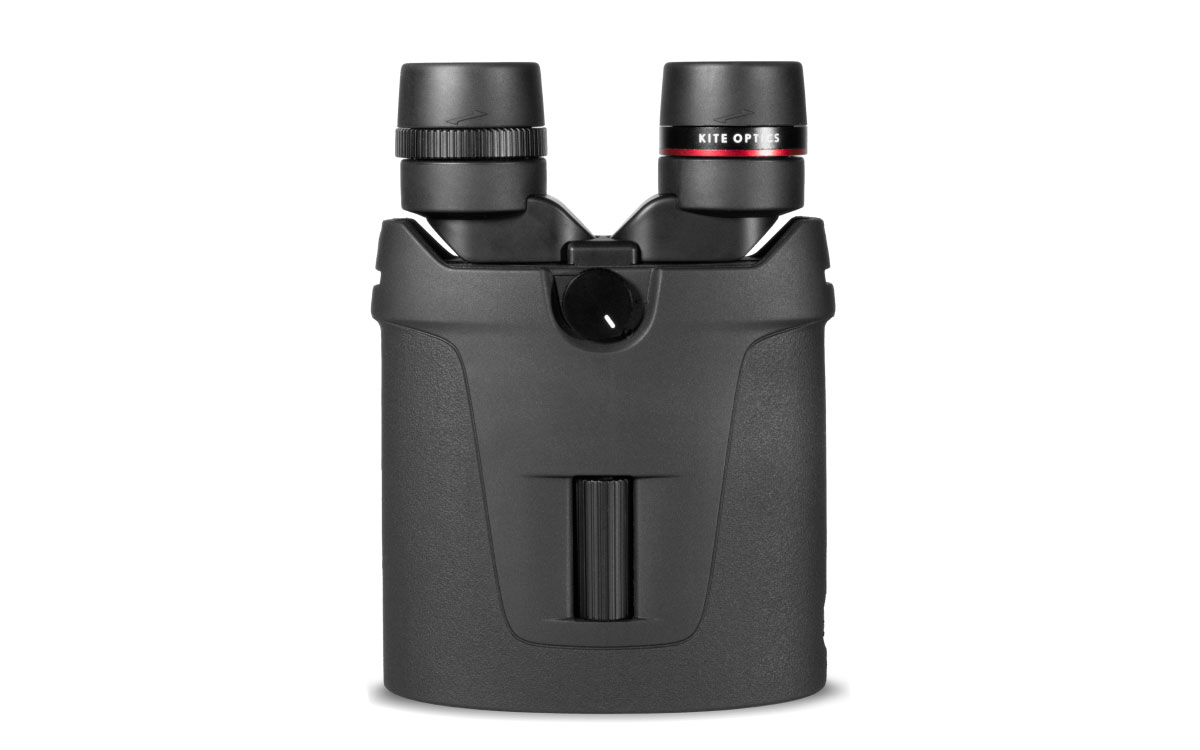 Those 'user-friendly characteristics' become manifest in both ergonomics and technical performance. With regard to a key aspect of the latter, Sebastien De Putter goes on to say: "Battery life is a big issue on stabilised binoculars. How can you go birding with a bino that will last you no more than two hours? So we tackled that in a huge way."
The system employed in the 30 mm models has been carried forward and refined. To recap, these models operate using sensors that will automatically put the electronics into sleep mode when not in use. A green light on the top of the chassis indicates the binocular is switched on and the system is engaged. The integrated Angle Power Control, which gives the binocular its name, detects positioning so that when it is in the vertical position, hanging from the neck or standing on a surface, it switches off, the green light changing to flashing red when vertical to let you know it is still switched on. As soon as it moves up into a more horizontal position, when viewing, the stabilisation kicks in again.
A timer function ensures it switches off completely after 90 minutes, irrespective of position, and a low battery indicator gives advanced warning of the requirement for battery replacement.
The two AA batteries allow the 30 mm models to run for up to 36 hours, but the power capacity of the two new, larger models exceeds this considerably. The larger chassis has enabled the accommodation of four AA batteries – two to power the system and two spares that can be quickly swapped in to continue its operation. But that's not all. The new system delivers up to 60 hours of battery life per each two-battery set, so 120 hours' use is now possible.
From an ergonomic aspect, Kite has wrapped all this up in a package weighing only 720 g, excluding batteries, which I estimate would add another 100 g. So it's surprisingly light. It's also well balanced, easy to hold and comfortable to operate – one big advantage being that the focusing wheel is positioned at the opposite end of the body to those on conventional binoculars. This means you can keep your fingers comfortably straight, and the generous, 40 mm wheel depth, flush with the chassis, allows up to three fingers to be engaged in its operation. Focusing proved to be quick and easy, with approximately 1.25 anticlockwise rotations from close focus to infinity and 0.25 rotations from 10 m to 'long distance'.
Another improvement over the 30 mm models is the fact that these new models are now nitrogen gas-filled and fully waterproof, the optical system and electronics being sealed to provide an IPX 7 rating, and they can be submerged to a depth of 1 m for a maximum of 30 minutes.
So, has Kite cracked it? It would certainly appear that way. But what about optical image quality? In common with the smaller model, the 42 mm is on a par, performance-wise, with the company's mid-range Petrel binoculars. However, my experience with the 12x in this area suggested that in terms of quality across the board, the image was comfortably mid-range, full stop. The delivery of strong colours and respective contrast was pleasing and the brightness – even in low light conditions – was better than I would have expected and the level of chromatic aberration was also relatively low. Sharpness, too, was of a pleasingly acceptable level, but I couldn't help feeling a little 'hemmed in' by the field of view, which is only 67 m at 1,000 m. Oddly, the 16x model beats this with a slightly higher value of 68 m.
The above, 'mid-range' image and associated field of view – if regarded as negative – is, however, countered by the stabilisation system, which came into its own during testing. You can see and identify birds much more easily from a moving vehicle, as I did, and there will be other instances, such as seawatching, pelagic trips and general use in windy and adverse weather conditions, where the stabilisation comes into its own. Physical ailments, involving shaky hands, tiredness and fatigue through 'unrelaxed' viewing positions, can also be addressed through use of the APC. One example was when I found myself staring up at Common Crossbills almost overhead. With the stabilisation system engaged, as my hands and arms became tired and less steady, I was able to continue watching and to take in every detail.
Paradoxically, although the image quality may be considered 'average', the resultant effect is that you can potentially see more detail under adverse conditions through stabilisation than you perhaps would when using a top-drawer binocular in the same circumstances.
It really is a question of balance. Kite acknowledges it has to work on the field of view and will tackle it in due course. The APC comes with a soft and flexible articulated rainguard, a comfortable padded lanyard and a soft carry case. Considering that these binoculars address so many issues associated with image stabilisation, at £949 for the 12x42 and £999 for the 16x42 they can be considered fairly priced.
Further info
Price: £949
Size: 184x128 mm
Weight: 720 g
Field of view: 67 m at 1,000 m
Light transmission: 87%
Close focus: 4 m
Gas filled: yes
Waterproof: yes
Battery life: 60 hours (120 hours with internal spares)
Guarantee: 30 years (optics), 2 years (electronics)
Available from: Alpha Optical Distribution Limited kite@alphaodl.co.uk and www.kiteoptics.co.uk
Verdict
+ Strong colours and contrast
+ Level of chromatic aberration relatively low
- Restricted field of view