Hawke Frontier ED X 8x42 binocular
ed00e996-6791-4657-a622-e74776ef1a5f
Hawke has come a long way in recent years, successfully pushing the quality envelope at the value end of the optics market. Consistent with this process of continuous improvement, the new ED X, launched in January 2018, has been designed with comfort in mind, as well as the intention to deliver an image superior to that provided by previous Frontier models.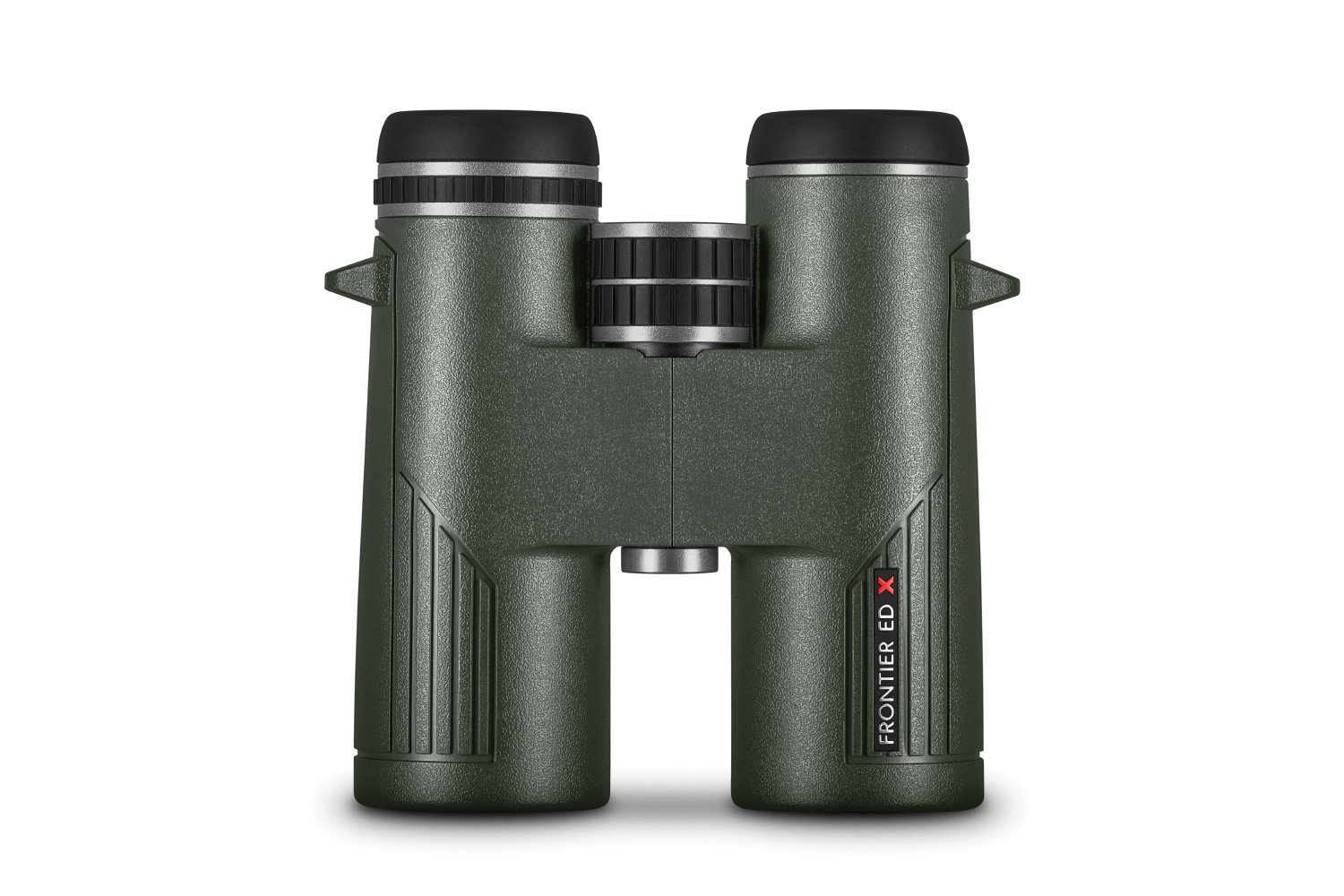 To me, the ED X proved itself to be a binocular you can simply pick up and run with, feeling instantly comfortable both to hold and position against the eyes. In the latter respect, the eyecups, which are designed to be replaceable, are soft and smoothly convex, twisting out to click-lock firmly at two extended levels above the fully retracted position. They offer 18 mm of eye relief with the full field of view visible at their maximum extent.
With its magnesium alloy chassis, this model feels reasonably light but at the same time solid and robust, with a durable covering of non-slip rubber and well-placed ribbing adding to the grip. On the ergonomics front it's well balanced and the unobtrusive positioning of the lanyard attachments means you can keep your finger comfortably straight while focusing.
The central focus wheel is also broadly ribbed and turns very smoothly, with approximately 1.25 anti-clockwise rotations between close focus and infinity, although I was able to achieve only 2.4 m against the 2.0 m value specified for the close focus distance. The single eye adjustment dial is mounted on the right ocular, operating freely against a 'point and marker' in the absence of any numeric scale. I felt it turned a little too easily, inviting slippage from its setting, although I must admit this never occurred while I was using it. Both wheels are formed from high grade aluminium which, at certain points, is strategically exposed as 'trim', adding to the aesthetics.
In the ED X, Hawke has employed what the company refers to as a "superior optical system", designed around ED glass to enhance the performance of this new model. Whatever this actually translates to, it works! I was impressed with the image. Not only is there a rather generous 142 m field of view but it does not lose definition at the periphery. There is, however, some field curvature toward the edges, although this remains largely unnoticeable during general field use.
The colours are accurately balanced, rich and deep, with a high level of contrast, coupled with a noticeable '3D' element, approaching that which is normally associated with porroprism binoculars. Sharpness and brightness are both there, too, this model performing more than adequately in low light conditions in the depths of woodland, with dielectric prism coatings no doubt contributing to this. Hydrophobic lens coatings are also employed to repel water and dirt.
Further protection for the lenses comes in the form of a soft, articulated rainguard and, although they remained firmly in place, I couldn't help feeling that the tethered objective covers detracted from this binocular's sheer good looks.
The new Frontier ED X is available in both grey and green livery and combines modern overtones with slick mechanics and an image not easily beaten for the price. It comes with a padded, comfort-stretch neck-strap and a hard case, which includes a notes pocket, a belt loop and additional space to store a lens cloth if desired.
Further Info
Price: £390
Size: 140x123 mm
Weight: 692 g
Field of view: 142 m at 1,000 m
Light transmission: unknown
Close focus: 2 m
Gas-filled: yes
Waterproof: yes
Guarantee: lifetime
Verdict
Accurate and rich colours
Generous field of view
Some curvature of field at edges