Opticron MM3 60 GA travelscope
29585873-ae45-4ff5-9779-2f42ca509c65
The price is down and the spec is up, so what's changed? Opticron's launch of a new MM3 model with a larger objective lens is in response to the demand experienced for its 60 mm MM4 GA ED travelscope, of which sales are approximately 4 to 1 in favour of this size versus the 50 mm version, and this ratio is apparently increasing.
The MM3 60 GA is essentially a non-ED version of the MM4, which means it is available at a significantly lower price point: £199 as opposed to £429. This effectively represents a large and potentially attractive saving for budget-conscious buyers in the market for a travelscope. Following its introduction, the MM3 will ultimately become the replacement for Opticron's existing IS range, which is being phased out, with the MM3 set to offer a smaller and lighter, but still fully featured, alternative to some of the larger, heavier 60 mm and 65 mm models on the market.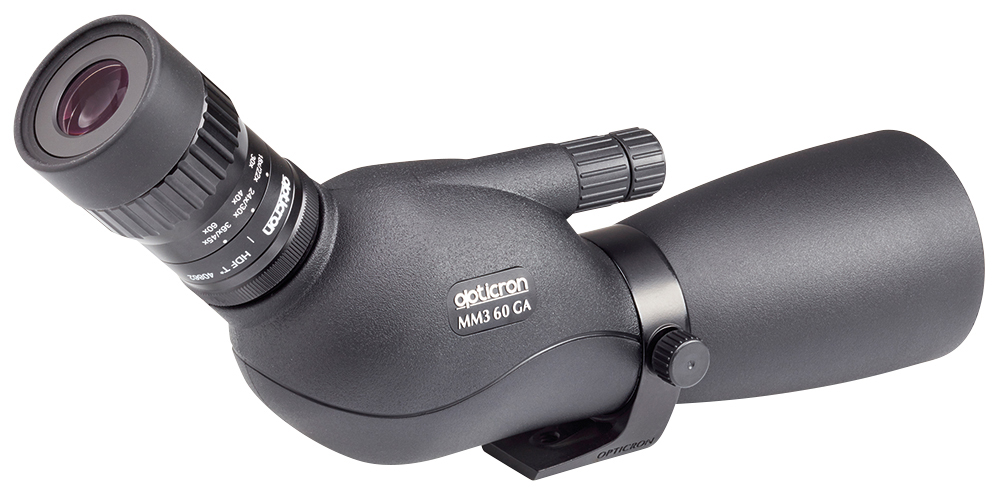 I tested this new MM3 against a travelscope which could be regarded as its predecessor, the MM2. Discontinued in January 2014, this older model – the 'Mighty Midget' v2 – is a non-ED, 52 mm telescope with an extendable, very lightweight body designed purely for functionality and not aesthetics. Despite being somewhat utilitarian, it still retains its own unique charm and individuality.
Both models were tested using Opticron's mid-range HDF T eyepiece, which on the 60 mm scope, delivers a magnification range of 15-45x, and 12-36x on the MM2. The eyepiece is threaded and screws into the body. Its solid, metal eyecup is rubber covered, twists out with three optional click-stop positions with some extra tolerance either side of these and is comfortable against the eye.
As expected, in a side-by-side, summary comparison, there are notable differences. Weighing only 480 g, the MM2 is much lighter, it has a pull-out rubber lens hood, a single focus wheel and the tripod mount is moulded in one fixed position and has no port for an anti-rotation pin. With its telescopic body, it effectively becomes pocketable when not extended. The image is sharp, clear and has warm overtones with some chromatic aberration visible in the centre of the field. In essence it is – or was – a very niche product.
Enter the MM3. I can immediately see how this new 60 mm scope could become very popular. It may be regarded as serving a dual purpose insomuch as it's small enough to be a travelscope, as its name implies, but it is also large enough fulfil the role as a full-size fieldscope, if that's what you're looking for.
It's a solid piece of kit, with a quality feel, which includes a fully armoured body, tripod adapter with anti-rotation pin port plus +/- 90-degree rotation and a tethered/removable rubber objective lens cover. The 8:1 dual-focusing system comprises a typical fast-focus knob with an extended fine-tuning wheel, both of which turn exceptionally smoothly and work effectively. With the zoom eyepiece set at 45x, the top of the magnification range, there was no drama involved in rapidly obtaining a sharp focus, but I discovered I was not able to see the full field of view with the eyecup fully extended when the magnification was on the maximum setting.
The MM3 employs what Opticron refers to as a 'super-compact high-definition optical system' within the body, as well as fully multicoated optics. It works, and the resultant image is neat, crisp, bright and sharp to the edges. The colour depiction feels very natural although there is a cold, bluish rendition which is evident at the edges of the field when viewed from some angles. There is some chromatic aberration visible at the centre of the image, which was at its most prominent when I was viewing gulls against a dark, calm water background on a very bright day. Under general viewing conditions, this manifestation is minor and basically goes unnoticed.
In low light intensity the difference in image brightness between this model and the MM2 was obvious during use at dusk. The extra light-gathering capacity provided by the MM3's larger objective, along with the latter's updated optical system, certainly produced a lighter, better-quality image with greater contrast.
So, for anyone considering purchasing a relatively low-cost telescope, which has enough 'muscle' to perform admirably alongside larger models, at a reasonably high magnification, while at the same time is small enough to be classed as easily portable, the MM3 could be the answer.
The MM3 is also compatible with SDL v2 and HR eyepieces and stay-on cases in black or green are available as optional extras at further cost.
Further info
Price: £199, body only; £199, HDF T* 15-45x zoom eyepiece; £59 (black) or £69 (green), stay-on case
Size: 247 mm, body only
Weight: 727 g, body only; 206 g, zoom eyepiece
Field of view: 62-29 m at 1,000 m
Light transmission: not available
Close focus: 3.5 m
Gas-filled: yes
Waterproof: yes
Guarantee: 30 years, body; 10 years, eyepieces
Verdict
'Hybrid' travelscope also works as full-size fieldscope
Bright, sharp image
Some chromatic aberration in centre of image