Netvue Birdfy Hummee extension
6a4e5298-475f-4c68-a683-485b4ec1073a
Living in south-east Arizona, in what is known as the 'hummingbird capital of the US', I was keen to try out Netvue's Birdfy Hummee extension for its Birdfy Smart AI Bird Feeder Camera (read Mike Alibone's review here).
I was immediately impressed with how sturdily made all of the parts were. They looked and felt solid; what's more, assembling them was easy, with clear instructions. The camera is fixed within a seed feeder with an integral hopper, which is great for finches and others. Instead of using the perch provided for seed feeders, a large hummingbird saucer simply clips in and is ready to go. I chose to fix the camera feeder to a stout feeder pole and it comes with different-sized clamps, as well as a choice of straps and brackets for wall and tree fixings, plus ant guards to stop ants and other small insects entering the holes – everything is catered for.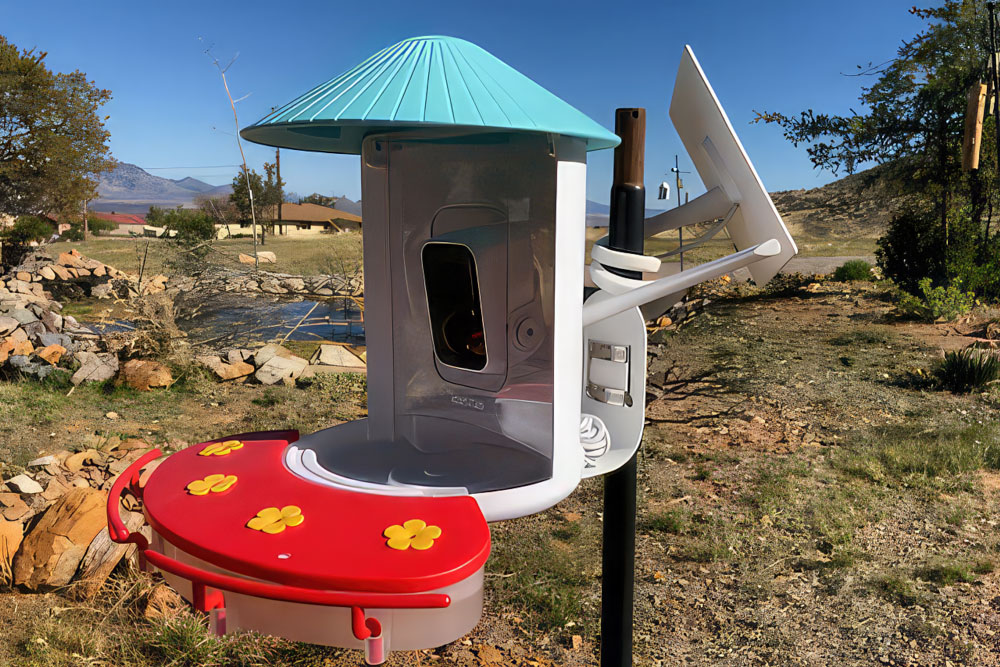 Netvue Birdfy Smart AI Bird Feeder Camera with Humee extension set up and ready to go in Chris's Arizona garden.
The camera runs off batteries inside the camera which can be charged via a USB cable, but for me the solar panel (supplied) was perfect and easily attached to the pole. The camera takes a Micro SD card up to a maximum of 128 GB, which ensures plenty of space for footage, and cloud storage is available. A built-in aerial ensures a good wi-fi connection and the whole set-up was positioned about 10 m from the house, which retained a medium-strength signal. Once set up and charged, the camera settings allow video of between 10 and 20 seconds to be recorded each time a movement is detected. The sensitivity can also be set; I used 'medium' to avoid background movements setting it off.
As the hummingbird feeder comes in red plastic with yellow flowers (like most hummer feeders) it soon attracted visitors and it wasn't long before my phone and iPad pinged as motion was detected. The Netvue app is easy to download and use, enabling settings to be changed via wi-fi. What is great is that you can watch a live feed, or access video which has been recorded, with a new folder each day. I eagerly accessed the video file and watched my first recordings. The clarity of image was great and it was only the flightiness of the birds which was frustrating.
They soon settled, however, and I was watching several species of hummingbird as they visited. In the first two weeks of using the kit I have seen seven species of hummingbirds, three woodpeckers, three orioles, Lucy's Warbler, House Finch and Lesser Goldfinch. The kit came with an AI Bird Recognition service which unfortunately struggled, managing Anna's Hummingbird and Gila Woodpecker correctly, but failing with the rest. I was somewhat bemused by the Superb Lyrebird and Sulphur Crested Cockatoo, both of which were in fact woodpeckers.

Netvue Birdfy is wonderfully entertaining and checking the feed becomes very addictive, especially as you can dip into it wherever you are. I check the videos with both excitement and a twinge of trepidation, knowing that one day I will see a bright, sharp recorded image of the rare White-eared Hummingbird – which would sadly mean untickable views! The price is of this gear is fairly high, but then so is the quality. But when winter comes and the hummingbirds are few and far between, I can switch to a seed feeder and see a whole new group of birds!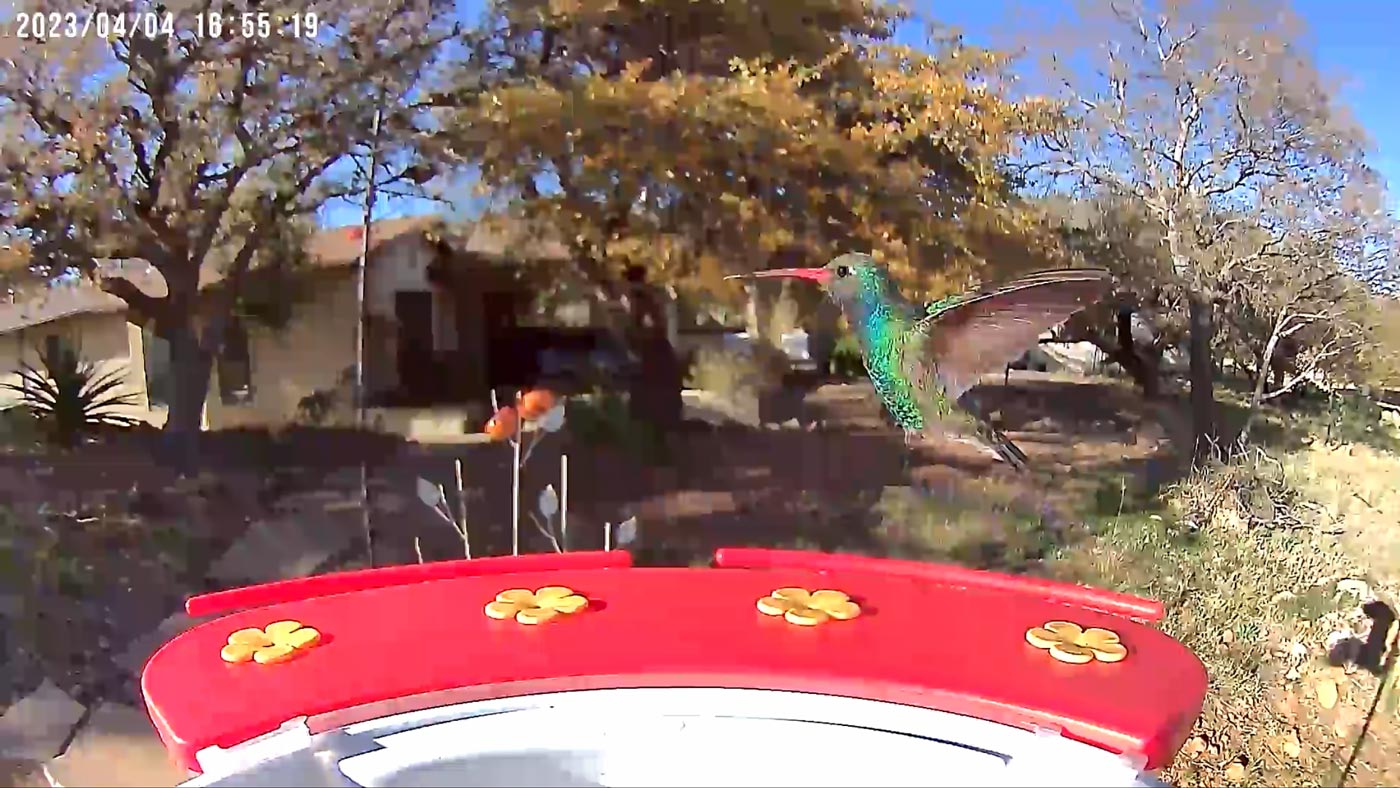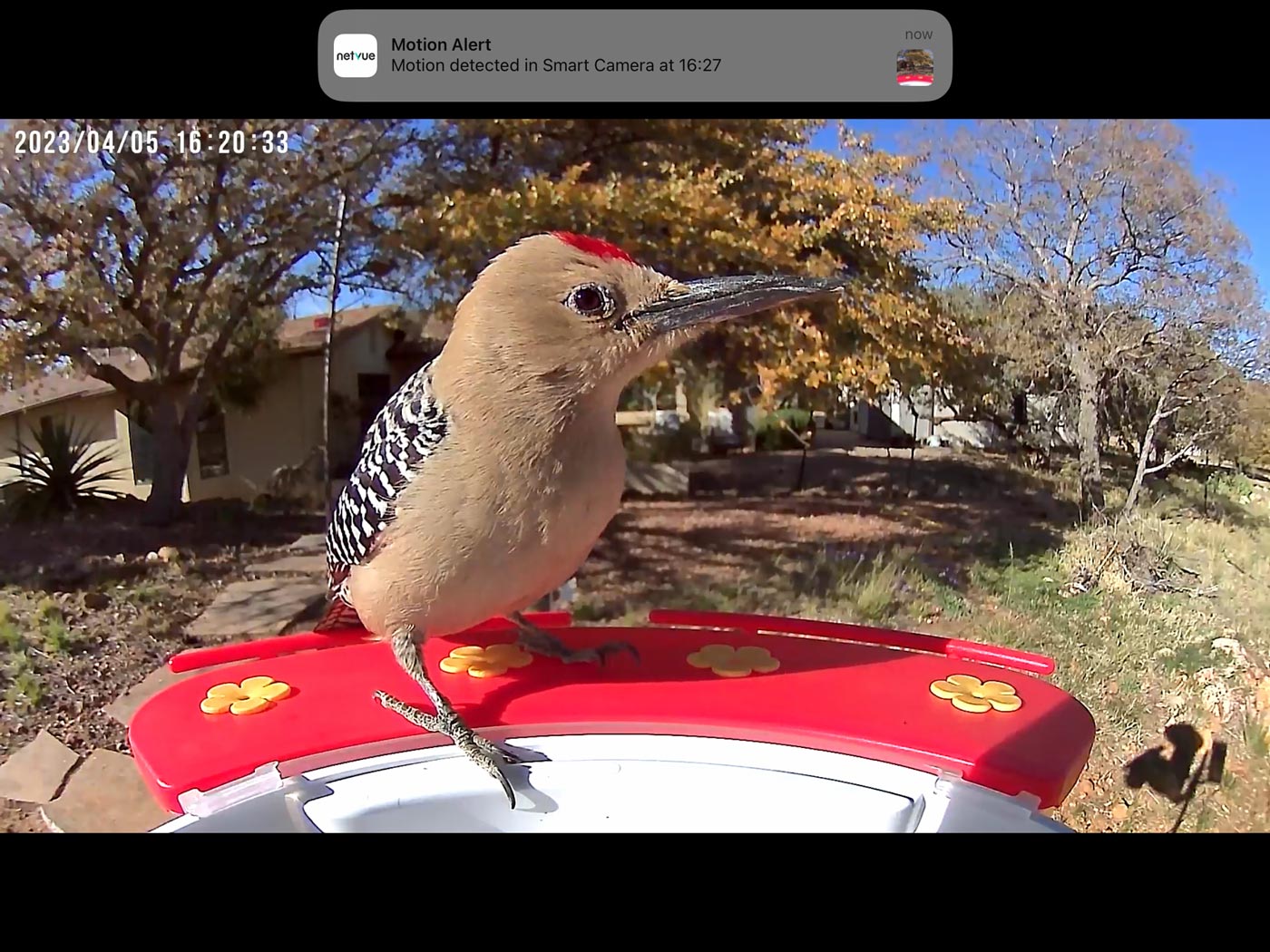 Two screenshots of the Netvue Birdfy Humee extension in use. The lower image depicts a notification flashing up on an iPad to alert the user that a bird is at the feeder.
More info