Natural History of Tenerife
296f3962-5955-45e6-9154-2cbdb44ace97
On top of being a prime tourist destination, Tenerife is a Western Palearctic location that really pays off for the visiting naturalist and birder, with endemic species present from all major groups of plants and animals. These can be regional, restricted to the Canary Islands or, in the case of the recently split Tenerife Blue Chaffinch, found solely on this volcanic outpost.

A detailed, accessible and modern English guide to the geography, geology and natural history of the island has been needed for some time, though a Spanish-language volume was published in 2001. This book delivers most of the information you will need to understand the unique history of the island and its endemism, as well as that of the whole archipelago.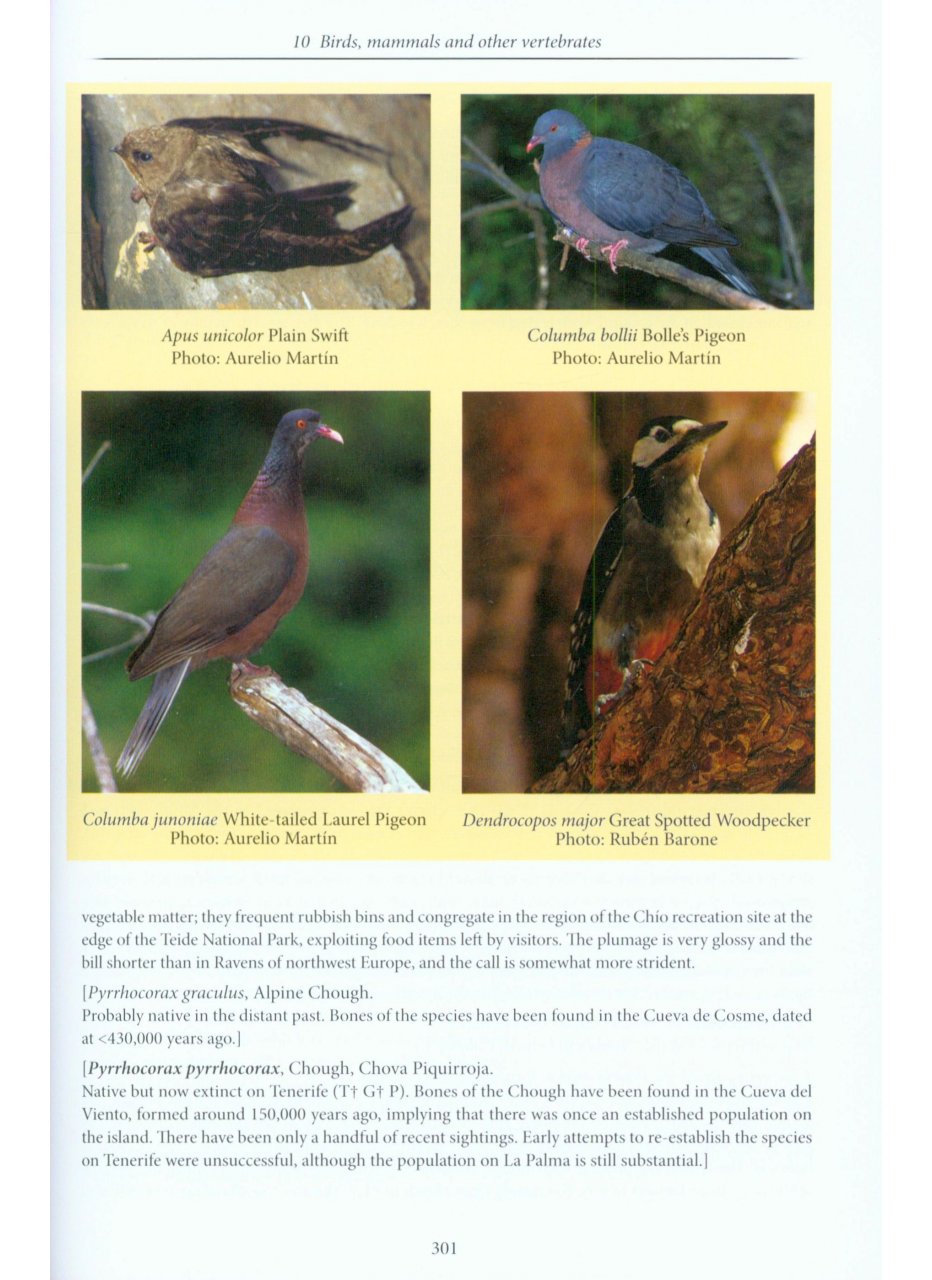 No true understanding of Tenerife can be had without a knowledge of the physical environment, and this is covered extensively in the first section of the guide. The considerable human pressure on the isolated habitats is underlined by a focus on evidence derived from fossils of two extinct native laurel forest birds: Long-legged Bunting and Slender-billed Greenfinch.

The laurel and pine forest biomes are then pulled apart in detail in an ecology chapter. These patches of land are almost all remnants on such a well-farmed location, and include coastal shrubland, dry woodland, laurel forest, pine forest, mountain shrublands and lava caves.
The key to the island's ecosystems are its plants and, while this makes the book a little weighted to the botanical side, these are thoroughly covered in the chapters devoted to each major habitat. The endemic birds are also introduced properly in these chapters, as so many are defined by their habitat specialisations – most notably the two columbids found only on the western Canaries: Bolle's and Laurel Pigeons.

There are plenty of intriguing titbits in these pages: the role of wintering Ring Ouzels in dispersing native juniper seeds was new to me, while the spooky range of cave invertebrates has to be seen to be appreciated. There are hundreds of photos capturing not only animals found nowhere else, but also – for anyone who has experienced the clouds and mist high in the mountains – the unique atmosphere of the island.
The book closes with a lengthy gazeteer of the many one-of-their-kind creatures and directions to the ma

jor sites featured in the main body of text. You will certainly have your curiosity piqued, and even Charles Darwin thought the island "perhaps one of the most interesting places in the world". With this book in hand you can understand Tenerife's wildlife in depth, while seeking out its wonders for yourself.