Much Ado About Mothing
01adb541-bffa-4786-a6cc-160af987d476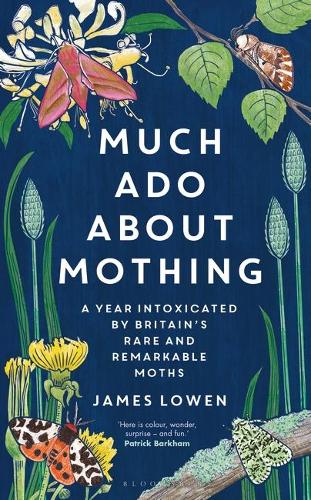 Much Ado About Mothing by James Lowen (Bloomsbury, London, 2021).
384 pages.
ISBN 9781472966971. Pbk, £18.99.
If you know where to look, there are thriving corners of the online world where moths are highly revered. Celebration, discussion, and sometimes heated debate, all take place on a daily basis. Take a look at the #TeamMoth or #MothsMatter hashtags on Twitter, for example.
But why is it that British moths, the (largely) nocturnal counterparts of our beloved and recognisable butterflies, are so poorly known – even scorned – by so many? It routinely surprises me how few of my birding friends have an interest in moths, even when they possess a passing intrigue in other non-birdy creatures (butterflies being the obvious comparison) during the 'slower' birding seasons. Some are even quite bullish about it, with an absolute refusal to be drawn into what I, like plenty of others, have found to be a fascinating and addictive world. And, with around 2,500 species of moth in Britain (compared to just tens of butterflies), there is plenty to keep a 'moth-er' occupied, year after year ...
James Lowen – well-known naturalist and author of the excellent 52 Wildlife Weekends and subsequent sequel guides – freely admits in the opening pages of his new book, Much Ado About Mothing, that he was a 'moth denier' just a decade ago. But the intervening 10 years have seen him undergo a dramatic transformation from disinterested in to utterly intoxicated by these challenging yet engaging creatures. Who better, then, to convince a wide audience that moths really are something worth paying attention to?
Travelling the length and breadth of the British Isles, Lowen completed a 'big moth year' in 2018. Unlike big years for birds, butterflies or orchids, where the aim is invariably to see as many species as possible, he focused on finding and documenting some of our rarest and most unusual moths, each with its own unique story to tell. Much Ado About Mothing chronologises this offbeat and fascinating adventure.
Lowen covers a wide range of moth-ing activities, some routine and others much more extreme. From the familiar comfort of his own garden, where he bonded with his daughter, Maya, over "candy-pink" Elephant Hawkmoths, to long-distance, sleepless forays to Cornwall, the Scottish Highlands and just about everywhere inbetween, the book showcases the differing lengths that a moth-er can go to in order to sate their appetite for our nocturnal Lepidoptera. I can only imagine how exhausted the author must have been by November!
Written by someone who so ably conveys his passion, Much Ado About Mothing is an enthralling 20-chapter celebration of these winged insects. Accompanied by his abiding enthusiasm and wonder, Lowen's writing is entertaining, packed with descriptive prose and fascinating facts about his quarry. It's not all plain sailing, though, for with the highs come the lows: efforts are sometimes hampered by poor weather, while there are regular reminders of just how poorly many moths are faring in our intensively managed countryside. On the upside, as the chapter on finding clearwings shows, there is still much to celebrate. Some species are proving much more widespread than previously thought as observer coverage increases and detection methods become more sophisticated.
Lowen's mad dashes around the British countryside are at the feverish end of the moth-ing spectrum and, as he so rightly points out, moth trapping generally makes for "gloriously lazy wildlife watching". It is this accessibility, from the comfort of one's own garden on a warm, sunny summer morning, which makes them the perfect tool to get any would-be naturalist hooked; in Lowen's words: "no animals may be better placed to inspire the environmentalists of the future".
It is with these words in mind that I thoroughly recommend allcomers to pick up a copy of Much Ado About Mothing and let Lowen show you that moths are most deserving of anybody's focus and attention. I fully anticipate that this book will inspire a new wave of moth-ers of all ages and from all backgrounds to spring up across our isles – and that can only be a good thing, both for moths and for us.