Morocco: sharing the birds
222c909d-1043-4fd1-8f2d-e856c8253249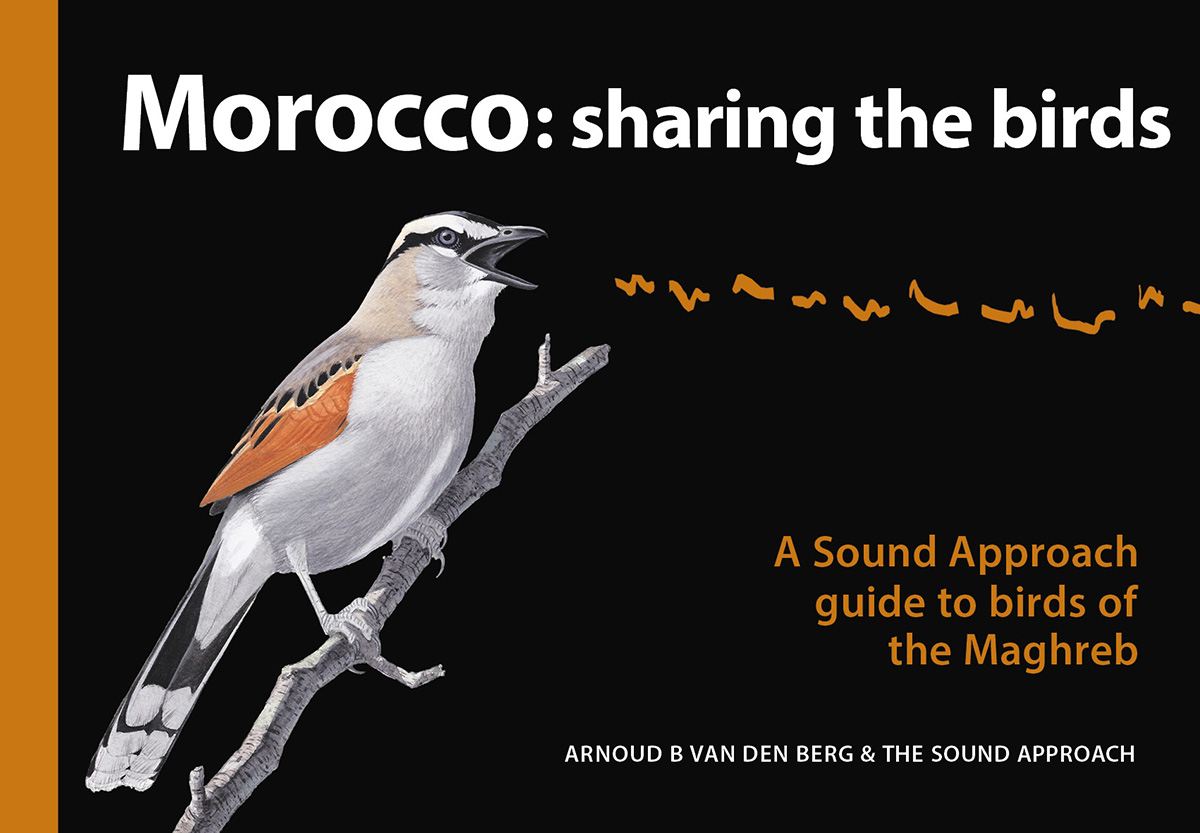 Morocco: sharing the birds – a Sound Approach guide to birds of the Maghreb by Arnoud B van den Berg and The Sound Approach (The Sound Approach, Poole, 2020).
314 pages, 161 colour photographs, 2 colour plates 100 sonograms, 321 sound recordings on an accompanying USB drive.
ISBN 9789081093392. Hardback, £54.99.
Having covered subject areas as diverse as petrels and storm-petrels (Petrels Night and Day), their Dorset home turf (Catching the Bug) and the collected, eclectic thoughts of former Birdwatch columnist Anthony McGeehan (Birding from the Hip), The Sound Approach team makes something of a departure with this latest volume, which is akin to a curated country guide – or more accurately a regional guide, given the 'Maghreb' of the subtitle.
The constant in all these works is the innovative mix of audio and words, and thus far CDs mounted inside the front cover have provided a soundtrack for listening in tandem with each book's narrative. In another departure highlighting technological progress, the recordings in Morocco: Sharing the Birds are presented on a USB drive housed in a credit-card-sized bookmark featuring Killian Mullarney's beautiful illustrations of Thick-billed Lark and Black-crowned Tchagra, two of the country's most coveted specialities.
Such poster birds unsurprisingly form a significant part of this sumptuous book. There are chapters on the lost sounds of Slender-billed Curlew, the changing fortunes of Northern Bald Ibis, 'booming' Houbara Bustards, Double-spurred Francolins and Barbary Partridges, vanishing Common Buttonquails (here more evocatively called Andalusian Hemipode), nightjars including the recently discovered Golden, Saharan sandgrouse, assorted larks (with Atlas Horned Lark given full species status) and wheatears (including the also-split Seebohm's), and last but certainly not least, Desert Sparrow.
The relatively small number of Maghreb specialities not featured in detail in the main chapters, including Tristram's Warbler, Algerian Nuthatch, Moussier's Redstart, Levaillant's Woodpecker, Atlas (Pied) Flycatcher and African Crimson-winged Finch, are summarised in a section on endemism in the introduction. This also covers Morocco's unique avian diversity, the habitats and geography of the region, ringing and GPS tracking and resultant discoveries, human threats, climate change, and people and culture.
The result is a fascinating synthesis of knowledge about the region's birds, their sounds, taxonomy and environment, derived to a significant extent from lead author Arnoud van den Berg's extensive field experience in the Maghreb, but with important contributions from the rest of the Sound Approach team. Arnoud begins the substantive section of the book "Even now, after 30 years, I am still angry about the way Slender-billed Curlew … was allowed to become extinct", immediately hooking the reader into his unique take on searching for and finding this iconic wader in Morocco back in the day and why he now considers it gone for good.
Each chapter is similarly fascinating, informative and at times entertaining, and the reading experience is enhanced throughout by the sound recordings, to be played as indicated in the text. Some tracks are rare and many are educational, but importantly they also add a sense of place and encounter. Readers will decide on their own favourites, but I thought the inclusion of the four 'Slender-billed Curlew' recordings was inspired: one is of a call "masked by simultaneously calling Eurasian Curlews", another is a clever reconstruction of that call, and the other two are human imitations – that, sadly, is the entire sound archive for this lost species.
As always, this Sound Approach masterpiece is brought to life by numerous elucidatory sonograms and an outstanding collection of photos, including displaying Houbara Bustard, hemipodes in the hand and field, and Golden Nightjar in threat posture, but there are just two plates, of African Dunn's Lark and Seebohm's Wheatear. Additional illustrations of other enigmatic birds were all this reviewer was left wanting more of from this outstanding insight into the Maghreb and its special avifauna.