Meopix iPhone-scoping adaptor
c2ae2e64-7651-419e-9b9d-6fc68142ad25
Like many contemporary birders, I'm in the fortunate position of owning a DSLR and an 'entry-level' 400m lens. Having said that, I know my budget means that I'll never spend several thousand pounds on bigger, better bodies and lenses that offer extra magnification among other benefits. Most of my images tend not to see the light of day, but those that do can generally be found on my personal blog or, occasionally, in the Iris galleries. Trying to capture images at distance has always proved problematic and frustrating for me; digiscoping seemed to fill the void but did I really need another camera — even a cheap point and shoot?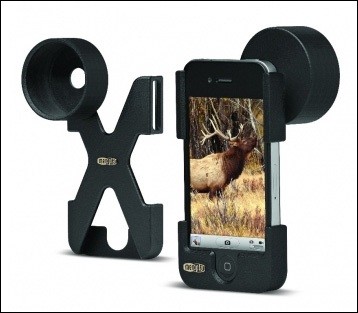 The reality nowadays is that many of us (including those with big lenses) routinely carry around second cameras, in the form of our smartphones — indeed, the potential for 'phonescoping' or 'digibinning' within birding is a fairly recent phenomenon. My initial results — taken handheld — were less than impressive, though just occasionally I would find something that sat still long enough to grab an image that was at least worthy of record shot status!
It was last year when I first read about Meopta's US launch of Meopix, an adaptor designed specifically to house the iPhone4 and hold it in place around an eyepiece. Frankly, I couldn't wait to get my hands on it and try it out. As it wasn't available in the UK at the time, I resorted to emailing Meopta in the US to try and get one. Very quickly the UK distributor got in touch and I was among the first on the waiting list.
Meopix is designed so that the iPhone4 simply slides into the holster, leaving the camera lens positioned above a hole over the eyepiece connector. It is connected to the 'scope or binocular eyepiece by pushing on the snug-fitting connector hood and, in seconds, you're ready to start taking images. Weighing just a few grammes and being no more than 135mm×70mm in size, the Meopix is easily tucked away into a jacket pocket (though it also comes with a wrist-strap) and is certainly lightweight. Since using the Meopix in the field, I have got into the habit of connecting my iPhone to the adaptor so I'm ready for that 'just in case' moment when out birding.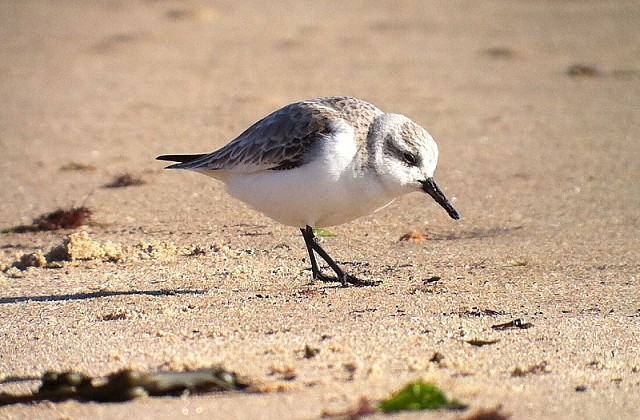 Even fast-moving waders such as Sanderling can be captured on camera thanks to the aid of an iPhone-scoping adaptor (Alan Tilmouth).
Meopta have ensured that the design of the Meopix does not inhibit use of the iPhone4's buttons while it is in the holster. This means that the user doesn't have to constantly remove it to check the latest bird news, take a call, send an email and so on. I've had absolutely no issues taking calls while the phone is attached to my 'scope, or when tweeting and texting. One useful tip is that the iPhone headphones can also be inserted and used as a remote release to take pictures, which can be quite useful to reduce camera shake. The iPhone4 also has the capability of shooting video, offering another great way of recording your birding, though it does mean that you rely completely on optical zoom as sadly digital zoom does not function on the video setting.
Using the Meopix has certainly improved my distant record shots taken with my iPhone. Limited only by the quality of the camera on the device itself, it's already proved particularly useful to me when photographing roosting gulls or distant rarities such as the East Chevington Purple Heron in May, not to mention more general usage during day-to-day birding. After struggling around with telescope, binoculars, DSLR and my old heavyweight Manfrotto tripod over the last few years it has been refreshing to be able to leave the DSLR at home knowing that I still have the capacity to take images without spending the day loaded up like a Sherpa preparing an ascent of Everest. Grabbing images with an iPhone also offers the ability to use the images while still in the field, on social media sites such as Facebook and Twitter, if you are inclined to do so — as more and more birders are.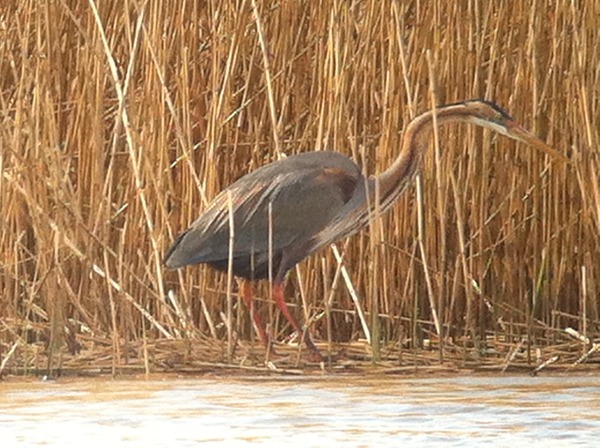 The Meopix adaptor allowed Alan to capture this record shot of a distant Purple Heron in early May (Photo: Alan Tilmouth)
Though Meopta designed Meopix to fit their own range of spotting 'scopes and binoculars, it is available in a range of sizes — some of which will fit different optics. The key factor is the diameter of the circular eyepiece connector. Sizes available are 42mm, 44mm, 49mm, 55mm and 55.3mm. Retailing at just under £50, Meopix is a handy addition for birders that like to record the birds they see and already have an iPhone4. On the downside, if you have upgraded to iPhone5, there are currently no Meopix options available that fit. Presumably this is a situation that the company will rectify in time.