Manfrotto 290 Light, Befree Live and Befree Carbon tripods
5b46103f-1248-4647-b07e-27d3afe6aeab
These three models from Manfrotto fit neatly into the travel tripod category. Two of them – the 290 Light and the Befree Live – were launched just over a year ago, while the Befree Carbon has been available for three years, but may not yet be on the radar for travelling birders.
I used all three with the compact and lightweight Befree Live Video Head, which is supplied as standard with the 290 Light and the Befree Live. The Befree Carbon comes with a ball head and no pan/tilt handle, which is not ideal for use with a scope. The Befree video head can be purchased separately, though.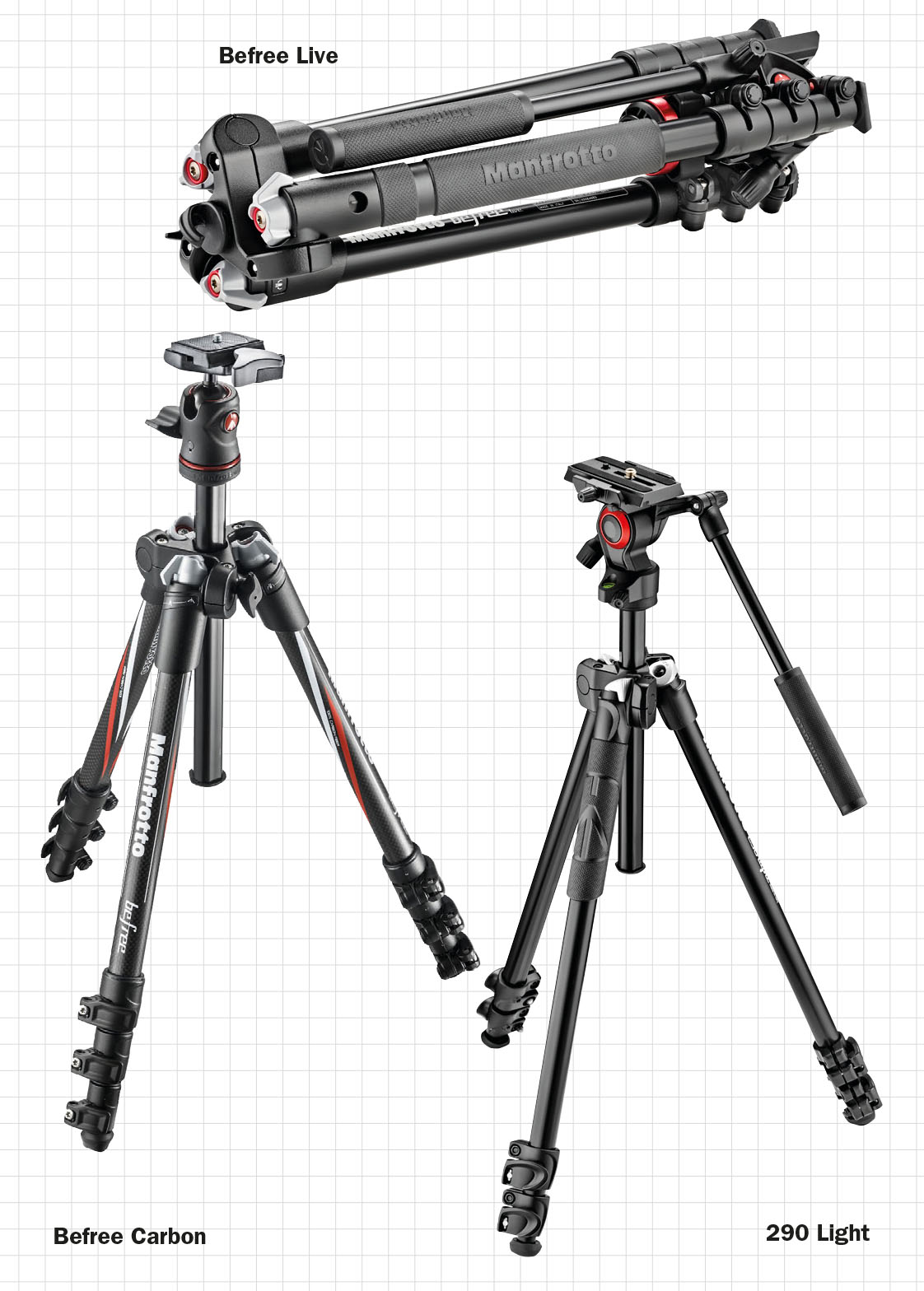 Weighing just 380 g, this is the smallest and most lightweight video head in the Manfrotto range. It will support a payload of up to 4 kg, but the company told me that, ideally, when in combination with the three tripods tested here, it should be used to support a telescope no larger than 65 mm, so this is what I used. The total weight was 1,130 g.
Neat, compact and simple in its construction, I found the head very easy to operate. Movement is smooth in both pan-and-tilt modes and the tension for each is controlled, respectively, by a small, ribbed knob on the left-hand side of the base and by a larger, milled knob offset at an angle on the front pivot. An integral part of this head is the quick-release balancing plate, which slides, allowing the position of the supported optics to be varied. This is particularly useful in maintaining balance if you are going to be frequently attaching and removing a camera to your scope for digiscoping. There is a spring-lock mechanism to prevent the quick-release plate slipping out when loaded with equipment and it also comes with an anti-rotation pin, which can be removed if desired.
A built-in spirit level is a nice-to-have and the pan/tilt handle is relatively short and straight and can be articulated vertically through 180 degrees, although it is not angled out horizontally.
Despite the advice regarding the attachment of a telescope no larger than 65 mm, I did experiment with an 80 mm scope, weighing just under 2 kg (including case) and only a little longer than the smaller model – after all, 4 kg is the advertised weight limit. I'm pleased to say it worked well in terms of support on all three tripods but the 'gravitational pull' of the scope, experienced when carrying an extended tripod over my shoulder, was noticeable – particularly in the case of the Befree Carbon. I would, however, hesitate in pushing much beyond the 2 kg limit, as it seems likely stability may be compromised if these tripods are used with a heavier scope on such lightweight legs.
The tripods themselves all have something different to offer. All three feature lever leg-locks. These can be tensioned with Allen keys (supplied) in the case of the two Befree tripods, but it appears not with the 290 Light.
At 1.8 kg, the 290 Light is the same weight at the Befree Live. They are both aluminium, but the 290 has three leg sections, while both Befree models have four. The leg angle selection mechanism located at the top of each leg on the Befrees has an extra option allowing the legs to be folded back around the head and centre column. In the folded position, these two models are only 400 mm long, compared to the 290 Light's 595 mm – an increase in closed length of almost 50 per cent. This is because the model does not have the same mechanism and has only three leg sections.
Both of the aluminium tripods have a rubber layer on the top section of one leg. Rubber adds weight and this covering is omitted from the lighter Befree Carbon although, arguably, carbon fibre is never as cold to the touch as aluminium is in low temperatures.
All three centre columns are made of aluminium and they are interchangeable. That of the 290 Light has a lockable swivel-ball top, which serves to deliver an extra degree of levelling if desired.
All of these tripods have detachable rubber feet which vary in shape and dimensions, with those of the Befree Carbon being the smallest.
While none of the extended tripods could be described as high, I did not have to bend my neck down too much to comfortably use an angle-bodied scope without the centre column extended. Tall users of straight-bodied scopes would, however, need to fully extend the centre column in order to find a comfortable viewing position.
All three tripods are built to a high quality and are well constructed. I did not test them in particularly windy conditions so I'm unable to comment on how much vibration is likely to be absorbed by each one.
For devotees of twist-lock legs, a new Befree Live has just been launched which features these, a new leg angle selector and a 'spider' with the 'Easy Link' connector to improve stability.
The two Befree tripods are supplied with padded shoulder bags.
Further info
| | | | | |
| --- | --- | --- | --- | --- |
| | 290 Light | Befree Live | Befree Carbon | Befree Live Video Head |
| SRP | £135 | £205 | £300 | £93 |
| Material | Aluminium | Aluminium | Carbon fibre | Aluminium |
| Total weight (inc head) | 1.8 kg | 1.8 kg | 1.1 kg | 0.38 kg |
| Max support weight | 4 kg | 4 kg | 4 kg | 4 kg |
| Collapsed length (inc head) | 595 mm | 400 mm | 400 mm | N/A |
| Max height (inc head) | 1,460 mm | 1,510 mm | 1,420 mm | 97 mm |
| Min height | 425 mm | 430 mm | 340 mm | N/A |
| No of leg sections | 3 | 4 | 4 | N/A |
| Leg locking system | Lever | Lever | Lever | N/A |
| Quick-release plate | Yes | Yes | Yes | Yes |
| Anti-rotation pin | Yes | Yes | No | Yes |
| Warranty | Up to 10 years | Up to 10 years | Up to 10 years | Up to 10 years |
Verdict
Lightweight video head is neat and easy to use
Both Befree models measure just 400 mm when folded
The Befree Carbon isn't supplied with the Befree Live Video Head