London Bird Report 2015
b7c3d576-6347-4d01-98ab-280d9ca7a327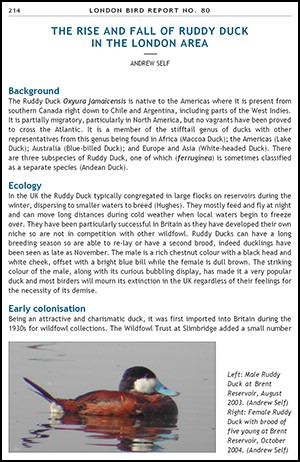 A stunning close-up of a summer-plumaged Great Northern Diver adorns the front cover of the 80th London Bird Report, its high quality a strong indicator of the contents that follow. The only 'new' bird included is the Slaty-backed Gull from 2011, which is now accepted on the British and London Area lists, bringing the running total to 370 species of birds for the area under review.
I counted some 227 species recorded during 2015, which included London's sixth Black Stork, ninth Black-winged Stilt, ninth European Bee-eater and 11th Barred Warbler. There was also a good selection of other scarce migrants such as Ferruginous Duck, Red-necked Phalarope, Red-rumped Swallow and Bluethroat.
What I found mind-boggling was the list of contributors to the systematic list, with an incredible 2,100 names listed across eight pages. This resulted in the likes of 3,000 Egyptian Goose and 4,000 Kestrel records being submitted; with that kind of volume involved one can only stand back and admire the effort involved in bringing this annual report to fruition.
In 1906, the London Natural History Society (LNHS) fixed its recording boundary as a circle, some 20 miles in radius from St Paul's Cathedral. As a result, the current area involves seven recorders covering parts of Essex, Hertfordshire, Middlesex, Buckinghamshire, Surrey and Kent, as well as Inner London, this last area being an 8×5-mile rectangle centred on the site of the old Charing Cross. As might be expected, lakes, reservoirs, marshes and the London parks feature heavily in the report, all being magnets for birds and worthy of regular watching.
Despite the complicated geography, the report reads as one seamless area. Each species account includes a status description followed by a condensed yet very readable summary of the year's records, including useful context and comparisons with previous years. Most accounts also include brief breeding data and notable counts for each of the seven recording areas, often with expanded details for Inner London. This approach looks to work well and presumably satisfies both the London audience and surrounding county birders alike. Well laid-out tables and graphs are placed throughout and include a range of interesting information on, for example, White Stork records, Glossy Ibis arrival dates, Woodpigeon autumn counts, Ring-necked Parakeet roost counts and Firecrest sites, among many others.
The species nomenclature and order differs from the typical British Ornithologists' Union's approach, instead using the Birds of Britain: the Complete Checklist (Mitchell and Vinicombe, 2010 and 2012 editions). This looks and feels like a comfortable sequence with, for example, the falcons at the end of the raptors. For those who can't keep track of the changing lists, there are two indexes (for both scientific and common names) at the back.
The report incorporates all the elements of a top-class bird report including, among many other aspects, a super section on the recording arrangements (including an LNHS Area map and gazetteer of sites), a checklist of birds of the London Area and a guide to contributing records (providing helpful clarity on reporting requirements).
A huge array of high-quality photographs is presented throughout the report, although my personal preference would be to see the location and month depicted in every case, even for the common species. I also found it disappointing that there was no space for even one or two pieces of artwork, especially in an area that had cover drawings on past reports from the likes of Richard Richardson and Ian Wallace.
A particular strength of this edition is the 60-page section of papers about birds in the London Area. The nine papers include interesting reports on ringing, a breeding bird survey of London, over-wintering Common Chiffchaffs in the Colne Valley, the year in Greenwich Park and Blackheath, Common Terns and Black-headed Gulls co-existing on rafts, the Slaty-backed Gull at Rainham Marshes, where to find birds in Regent's Park and a breeding bird survey of East Sheen Common. The highlight for me, however, was the extremely readable account of the rise and fall of Ruddy Duck in the area, giving both a national and international perspective on top of the detailed London story of this bird's history.
In summary, this is a hugely successful annual bird report. For anyone who visits the London Area for either business or pleasure, I'd recommend obtaining a copy for reference.
The A5-sized, 255-page London Bird Report 2015 can be obtained for a very reasonable £8 plus £2 p&p from Catherine Schmitt, 4 Falkland Avenue, London N3 1QR, or by email. Cheques should be made payable to the London Natural History Society. Click here for more information.