Yorkshire Bird Report 2014
825aadbc-335e-424b-a738-225a7f947d9b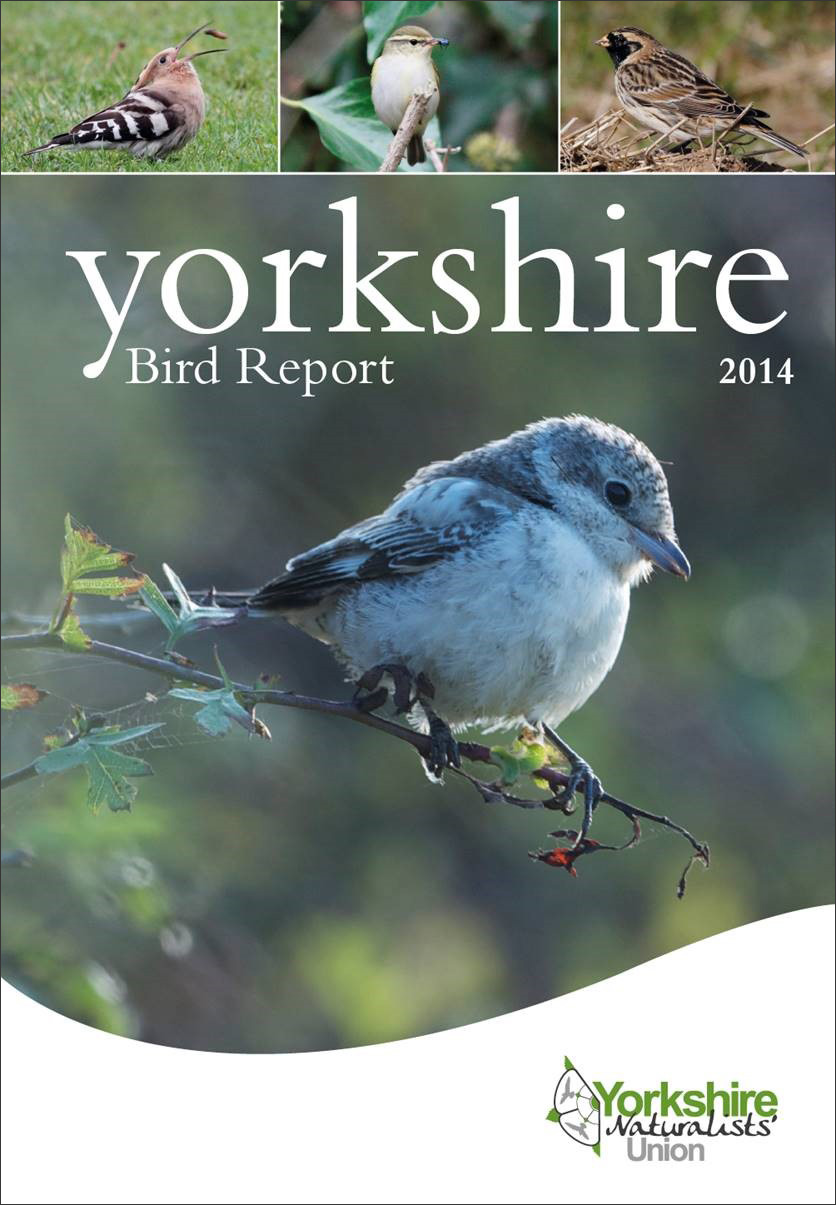 This monster of a 352-page, B5-size report is perhaps befitting a county which is greater in size than many countries while also having a population larger than either New Zealand or Norway. Production has clearly has had its difficulties, with the report having been "some time in gestation", according to the first line in the Editor's Welcome. However, with a report which draws upon 45 local society and site reports, Breeding Bird Survey (BBS) data, Wetland Bird Survey (WeBS) data, BirdTrack, BirdGuides and Trektellen information, the size of the task is almost unimaginable. So, has it been worth the wait?
On the front cover is the very memorable Spurn Masked Shrike and a quick flick through reveals a recognisable, high-quality level and style from the familiar Designwing and Swallowtail Print combination. The opening Welcome includes a brief canter through some bird population changes since 1997, while the Introduction reports that 304 species were recorded in the year, followed by the rarity recording requirements. A four-page summary of Annual Highlights makes early mention of the five new species for the county (Black Scoter, Fea's Petrel, Masked Shrike, Eastern Crowned Warbler and Blyth's Pipit), though I was left wondering to what figure these bring the running total (I suspect more than 450). Second records for Eurasian Crag Martin and Blackpoll Warbler, plus the first Little Bustard since 1956, also occurred.
The Systematic List runs to an exceptional 265 pages, including distribution maps, tables and trend graphs plus a huge amount of detailed and interesting information. A helpful four-page Explanation precedes the main section, while the sequence and nomenclature follow the British Ornithological Union's (BOU) The British List (eighth edition, 2013) with vernacular names generally being used throughout the report.
Each species heading includes its BOURC Category plus a range of useful information as appropriate, for example Birds of Conservation Concern (Red/Amber) Category, a status description, BBS data and trends (285 1-km squares covered), number of previous records/birds (and for the past five years) and WeBS threshold figures. I particularly liked the brief introductory statements, which provide a helpful national/international perspective for each species. As might be expected given the range of information sources, there is a vast amount of valuable and very readable detail included within the species accounts; however, the depth of that source material has also allowed for BBS population trend graphs (using a 1994 baseline) to be presented for over 70 species, along with high quality distribution maps at the 5-km square level. I found the BBS graphs compelling viewing and fascinating to compare the Yorkshire picture with the national (England) changes. Typically, excellent use is made of tables in presenting monthly maxima, WeBS counts and breeding data (such as Black Grouse and Red Kite). Various snippets of information are also signposted alongside some species accounts, reflecting a strong effort by the production team to make the report as visually pleasing as possible – and successfully so, I might add. The inclusion of work from five top-quality artists across the report has added greatly to the aesthetic appeal.
A super 18-page Gallery follows, though I do think all photographs should include both a location and date or month taken for future reference.
A Review section includes the important and enjoyable finder's accounts for the five new species mentioned above, plus accounts for the second Blackpoll Warbler and the first Thayer's Gull for Yorkshire. It is also great to see all these accounts supported by photographs of the actual birds.
Additional content includes the Early and Late Dates of Migrants table, a note on Rare Breeding Birds and a Ringing Recoveries section broken down across the four recording areas plus a wonderful map showing the origins of many recoveries from across much of the Western Palearctic. A foldout map, being part of the rear cover, shows the four recording areas for the county plus other major features, while some six adverts are also included across the report.
With such a lengthy but strong Systematic List, not to mention an ever-changing species order, I do feel that a Species Index is essential for any county bird report and hopefully the 2015 report, which I am informally informed is in hand for this year, will include such.
Apart from the one or two minor observations above, this report includes all the aspects which define a top-quality bird report; the effort in bringing the result together is to be applauded and the result has emphatically been worth the wait. For followers of Yorkshire ornithology, the latest report represents a huge (in many senses) addition to the shelf and is in the 'must buy' category. For out of county observers, the report represents an important reference source for a very large chunk of Northern England.
Copies of the report cost £15 including postage and can be obtained from the Yorkshire Naturalists Union website or by sending a cheque for £15, payable to YNU, to Jill Warwick at Sharow Grange, Sharow, Ripon, North Yorkshire HG4 5BN. Or pick up a copy from Spurn Bird Observatory, RSPB shops at Old Moor and Bempton or from Yorkshire Wildlife Trust at North Cave Wetlands and Potteric Carr.
Sample pages