The Birds of Herefordshire 2015
58da9647-7b21-4f85-8c29-7cc1548c0a95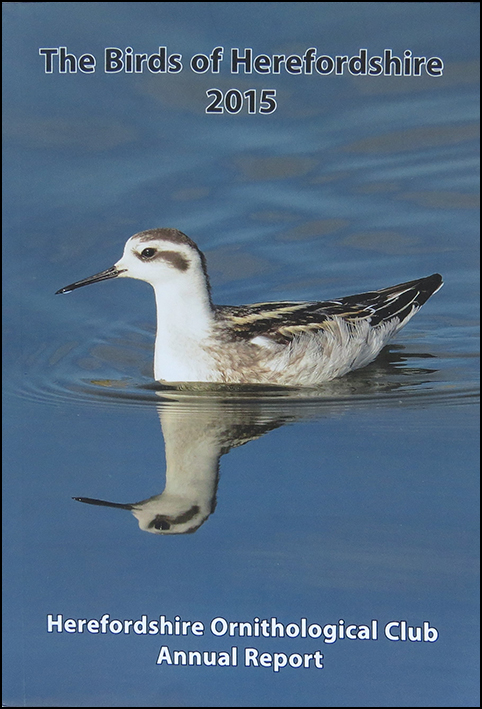 The most recent Birds of Herefordshire from the Herefordshire Ornithological Club (HOC) represents a top-quality bird report. First impressions suggest that this is simply another very good annual report; however, there are two additionally important elements which I will come to later.

An excellent introductory Editorial informs us that 2015 produced 172 species, with a Spotted Sandpiper moving the county list up to 281. Seven other rarities – species with 20 or fewer records – included Herefordshire's second Red-necked Phalarope, eighth Marsh Harrier and 15th Turnstone, for this land-locked county.

This a great-looking report, with 148 very well laid out pages, enhanced by many colour and black-and-white photographs, line drawings and easy-to-read tables. The front and back covers are adorned with attractive photographs of a Red-necked Phalarope and Hoopoe respectively. The coloured map on the inside rear cover shows altitude, river systems and towns, plus the location of 45 ornithological sites of interest, and is probably the best I have seen; a key on the opposite page also details the co-ordinates, type of habitat and access details for each of the sites.

In terms of detailed content, the report has everything you would expect, starting with a Contents page and ending with a Species Index – a virtual necessity in this day and age. The species accounts include a brief conservation status description, covering the Birds of Conservation Concern Red and Amber levels. These have been written in a very readable, succinct but sufficiently detailed style – for example, focusing on breeding notes and highest counts for the most common species – while often putting 2015 into context with earlier years.

The report includes two further important aspects requiring comment. The first concerns the inclusion of a paper titled 'A definitive list of the birds recorded in Herefordshire'. Following a detailed review, including an examination of all the rare birds seen 20 or fewer times, an up-to-date county bird list has been produced and is included here. Another table lists the rare species concerned, number of records, the years recorded and brief notes; the research included visits to Hereford Museum, resulting in the locating of the 1849 Little Bustard (with a photograph included in the report). Land-locked Herefordshire it maybe, but the county does boast the only British Cabot's Tern record (a ringed first-winter, found dead) from 1984, while recent records of Cream-coloured Courser and Ovenbird also catch the eye. The updated county bird list also has a key detailing reporting requirements. All in all, I'm sure this has been a very important piece of work for bird recording in the county.

The second element is the fact that all 46,000 records used in compiling the species accounts have come from BirdTrack. The authors acknowledge that while they "still accept a few paper or computer-generated files and transfer them into BirdTrack, the vast majority of records are now entered directly onto the system by the observer". BirdTrack is now being used for the collation and storage of county bird records, thus becoming the 'main county database', and 2015 represents the first full year of this new system. The implications of this I'm sure are very positive, if somewhat scary to contemplate for some counties. Further help and notes are provided in the report and it would seem Herefordshire is not alone in this approach.

I noticed only one apparent disconnect in the report – perhaps the result of missing data in BirdTrack or for confidentiality reasons? The Red Kite species account says "Confirmed evidence of breeding remains elusive…" yet the ringing report shows that two Red Kite pulli were ringed in the year. Similarly, for Goshawk, there was [only] "circumstantial evidence of breeding", yet three pulli were ringed. Twelve ringed Hobby pulli also don't get a mention in the species account.

Further articles include papers on surveys along the River Wye and at Garway Hill, House Martins adopting Schwegler Swallow nestboxes, abnormalities in coloration in birds, ringing report, HOC's garden birdwatch scheme and the county nestbox recording scheme. This last scheme provided 852 boxes for a range of species, the highlight perhaps being the 114 Pied Flycatcher nests which produced 434 fledged young.

In summary, this is a very interesting report and the BirdTrack approach will surely provide 'food for thought' for other counties across the country.

At £8 including postage, the report provides excellent value for money. It is obtainable online by clicking here, or by writing to Jim Wilkinson, HOC Treasurer, Coughton Forge, Coughton, Ross-on-Wye HR9 5SF.