Outer Hebrides Birds: The Status and Distribution of birds in the Outer Hebrides
a7de2fa6-2b1d-4b58-b1e3-6e16ac38f91d
Lying off the north-west coast of mainland Scotland, the Outer Hebrides form a formidable island chain over 200 km long. The islands are famous for machair habitat, which host breeding waders such as Greenshank and Red-necked Phalarope, and extensive seabird colonies – including 94% of Britain's breeding Leach's Storm Petrels. Over 400 species have been recorded in the islands, with masses of species transiting through the archipelago each year.
A place with such an impressive list of species requires an authoritative avifauna, which is where Birds of the Outer Hebrides comes in. This online database has been extensively compiled from a combination of county archives, bird reports, rarity committee reports and BirdTrack, and documents all bird species that have occurred in the Outer Hebrides. Detailed rarity information is covered from 1958 – the year of the British Birds Records Committee's first annual report – and the status and distribution of all species in the archipelago are documented from 1990 – the year the first Outer Hebrides bird report was published.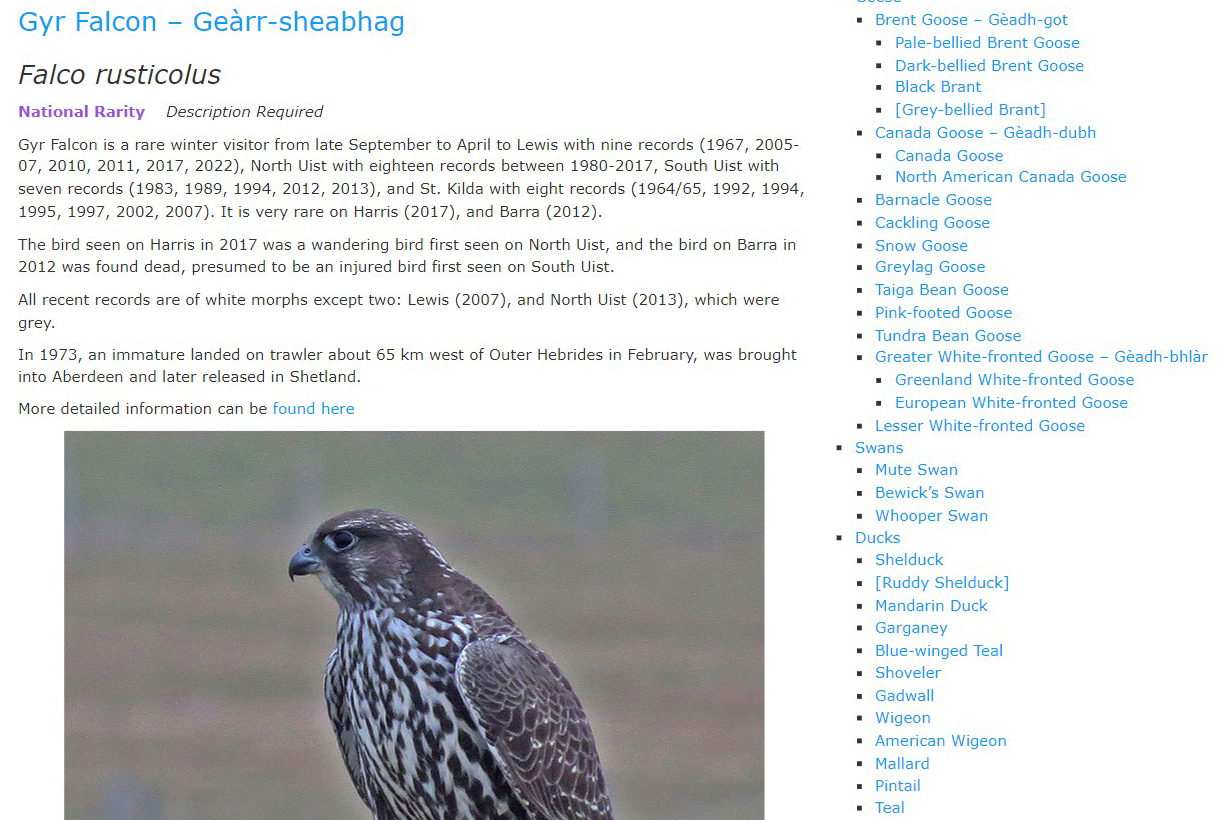 A sample site entry, in this case Gyr Falcon – or Geàrr-sheabhag in Gaelic.
All species entries include a summary for all major islands in the archipelago, with all rarer species – British, Scottish and local rarities – consisting of a detailed species account and a list of all known sightings. Species accounts are grouped by family, with each entry – both species and subspecies – providing a detailed yet succinct summary of their status in the region. Entries for rarer species are expandable for more detail, with a list of records, occurrence patterns and even finder's accounts for some of the rarest discoveries. The inclusion of species names in Gaelic is a nice touch.
Other welcome additional features comprise a deep dive into the geography, geology, climate and habitats of the Outer Hebrides, as well as a systematic list of the recording area and a short history of bird recording in the islands.
I was left mightily impressed by how frequently the database is updated – during my time experimenting with the site it was swiftly amended to include St Kilda's first Dipper, recorded as recently as 11 May. As the archive is developed further over time it would be nice to see the addition of more photographs for a wider range of species, particularly non-rarities.
Collated by a team of volunteers, the small fee of £2.50 to access the site (payable when registering) feels like an absolute snip to access a database packed with so much detail. It is a must-have, authoritative directory on the avifauna on the Outer Hebrides and an online resource one will undoubtedly refer back to on a regular basis.
Further info