Isles of Scilly Bird and Natural History Review 2015
c5c1b41f-909b-4b4a-ac3e-116349c14d26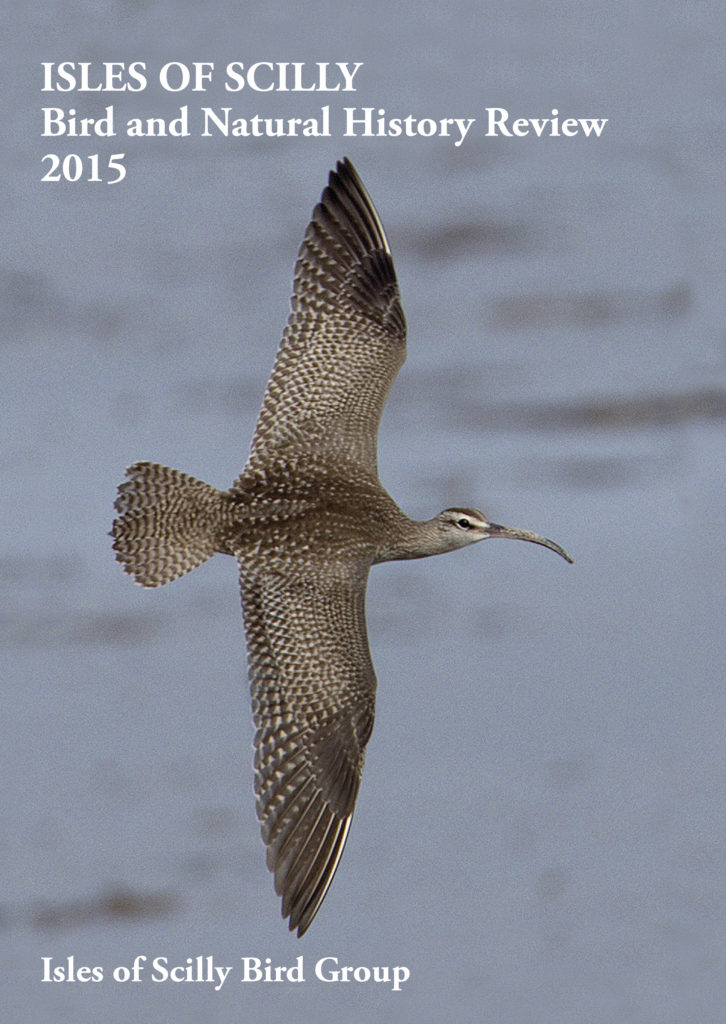 The Isles of Scilly Bird Group (ISBG) formed in February 2000 and shortly afterwards the organisation was among the first in the country to produce a mouth-watering B5-size natural history report, for 2000, with a generous bank of colour photographs positioned in the centre. Fast-forward several years to the 2015 report and that 256-page book now has full colour photographs and artwork on virtually every page – the impact is sensational.
The eye-catching front cover carries a super in-flight shot of a Hudsonian Whimbrel (the second record for Scilly), while the back shows six additional rare birds such as Great Blue Heron (second), Least Sandpiper (third) and Red-eyed Vireo (52nd). One birding highlight for the year was a Cedar Waxwing as the only new bird for the islands, bringing the all-time total to 439, while some 246 species were logged during the year. Further seconds for the islands were Lesser Scaup and Pechora Pipit, while birds seen with 10 or fewer records included Fea's Petrel, Desert and Isabelline Wheatears, two Red-flanked Bluetails, Common Crane, Blyth's Pipit, Isabelline Shrike, Black Stork, Squacco Heron, American Wigeon and American Black Duck.
Though more regular on Scilly, additional highlights were nine Wilson's Storm Petrels, two Little Bitterns, eight Black-crowned Night Herons, Purple Heron, Glossy Ibis, American Golden Plover, two Spotted Sandpipers, Ring-billed Gull, 15 European Bee-eaters, three Woodchat Shrikes, five Short-toed Larks, Red-rumped Swallow, Greenish, Pallas's (four), Radde's, Dusky and Western Bonelli's (three) Warblers, three Rosy Starlings, Olive-backed and two Red-throated Pipits, and two Ortolan and several Little Buntings.
The review also reports that birders looking for the islands' 26th Blackpoll Warbler in late September were fortunate enough to locate the area's 28th Grey-cheeked Thrush – only on Scilly!
Among the expected but well written introductions, chairman's report, editorial, excellent maps, review of the year and recording arrangements, is a thought-provoking and personal perspective in a Foreword written by a visitor of 30 years' standing. The message is that while the 'old guard' (my words) is not getting any younger, Scilly has much more to offer than in the past, with new birding sites that were previously off limits, better access and so on, while continuing to be one of the best places to find a 'first for Britain' – a new cohort of younger and fitter birders is required as soon as possible.
The very readable species accounts contain a brief status description covering seasonal occurrence, breeding status and for rare birds the number of individuals seen in three categories: pre-1950, 1950-2014 and in 2015. The species order follows the latest British Ornithologists' Union Records Committee's (BOURC) checklist and I think a species index would help readers in this regard. A mix of stunning photographs and at least 40 pieces of top-class original artwork enhances the report enormously. My only quibble would be my desire to see many more fuller captions, with site and date/month data, in support of the photographs. I accept some are very obvious such as the single-record rares, but I do think it would be interesting to know, for example, which of the five Short-toed Larks is shown in the photograph on page 103.
In the second half of the report there are 40 pages encompassing 15 bird-related articles, including eight finders' accounts and a ringing report. Of particular interest to me was the brief history of St Agnes Bird Observatory and a report on the first comprehensive breeding seabird survey since 2006. The latter showed a pleasing increase in Manx Shearwater pairs following the removal of rats from St Agnes and Gugh, although overall seabird numbers showed a 10 per cent fall since 2006.
But it wasn't just the birds that surprised in 2015. Scilly can be one of the best places to find a 'first for Britain', but who would have expected a Bowhead Whale from the high Arctic, a first for Britain and Europe? The finder's account is absolutely delightful (you have to read it!), while the cetacean report describes the sighting as 'possibly the most sensational wildlife record on Scilly this century'.
In addition to the excellent annual reports on mammals, various insects and plant news, which include many super colour illustrations such as photographs of a melanistic Common Dolphin and a schmidtii Small Copper, are important summary updates on butterflies for 2000-15 and a revised list of soldierflies and allies and conopid flies. A 13-page bird checklist completes the review and provides a useful reference section showing the numbers of rare and scarce birds recorded on Scilly, years first seen and last seen, rarity status (for description purposes) and BOURC category.
A copy of the review costs £15 plus £2.50 postage. Incidentally, membership of the Friends of ISBG costs only £15 and includes a free copy of the report for the previous year. Further details on how to obtain a copy can be found here.