Hampshire Bird Report 2016
15180650-e638-4c58-bdca-b712b62731d2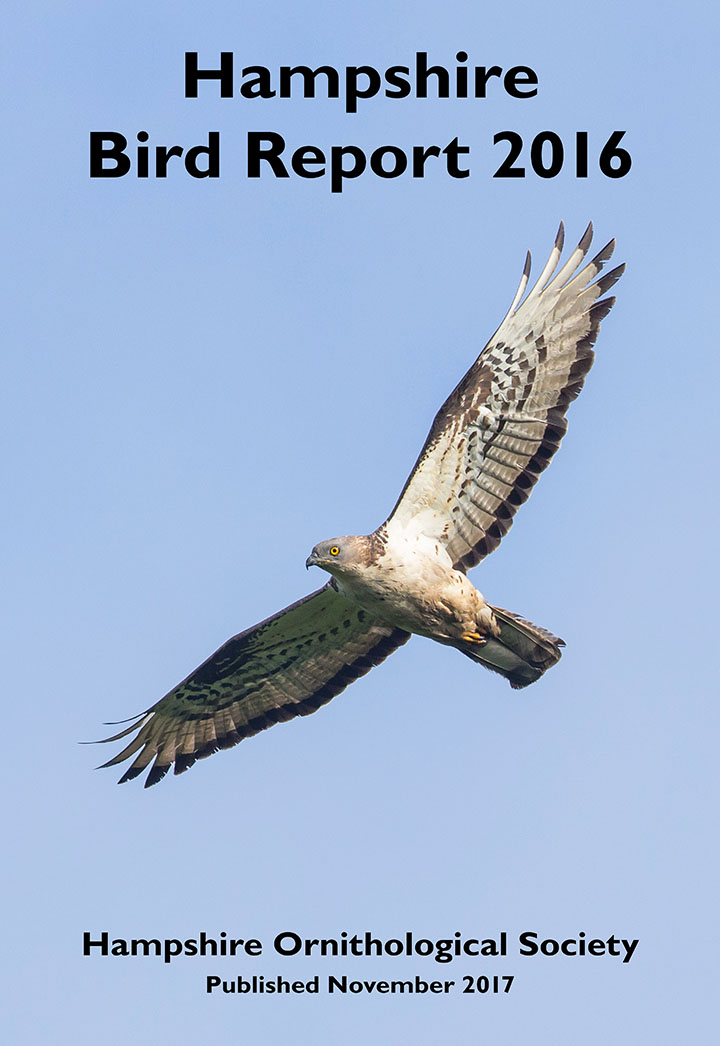 A pin-sharp close-up cover photograph of an adult male European Honey Buzzard sets the tone for what is a stunningly good-quality bird report. On closer examination it is clear that every one of the 259 B5-sized pages in this report has been well thought through and executed to the highest standards, while the scientific content reflects great depth and professionalism among the 1,600-strong membership of the Hampshire Ornithological Society (HOS).
A total of 254 species was recorded during 2016; this included the first records of Pallid Harrier, Alpine Accentor and Caspian Stonechat, with inclusion of the Chinese Pond Heron from 2004 following its recent acceptance at national level. The county's second Stilt Sandpiper was also logged, along with Semipalmated Sandpiper, Red-breasted Flycatcher and Little Bunting – all with fewer than 10 records – and a record 28 Yellow-browed Warblers. Some big breeding totals included 125 pairs of Red Kite, a record 897 pairs of Mediterranean Gull, 16 breeding pairs of Peregrine Falcon and at least 882 Firecrest territories recorded; later on a paper later proposes a revised county population of 3,000-4,500 pairs of Firecrest in 2016.
The report covers everything expected of a good bird report, but it also goes much further. For example, the Contents include page references for every photograph, with site, date and name of the photographer. At the rear, an Index to English names covers all references to a species within the report. A superb map in the Gazetteer not only includes key birding sites but also shows the national grid 10-km squares, enabling any site listed in the Gazetteer to be located easily on the map.
The report commences with a Chairman's Report and Editorial and Acknowledgements, both of which describe a huge amount of activity. A well laid out Review of the Year also includes detailed monthly weather information and a very helpful summary of important breeding species in June. The British Ornithological Union's (BOU) British list (as at August 2017) is used throughout, while the inclusion of the alternative International Ornithological Congress's (IOC) English names (based on v7.3 at September 2017) is handy. The number of data sources for the 77,000 records used in the report is exceptional and includes inter alia the Going Birding website and Trektellen (migration watchpoints), plus a further 174,000 records (327 gardens) from the BTO Garden BirdWatch scheme.
The species accounts are very well laid out, with excellent use of simple tables and interspersed with numerous high-quality, carefully chosen and fully captioned photographs which enable a smooth flow from page to page throughout the report. The accounts include an expected status description as well as five-year trend totals for WeBS species, making it easy to see what's on the up or down. Sadly, I counted 47 birds across all species which were showing some form of decline in their status description, and this excludes former breeders such as Montagu's Harrier, Wryneck and Yellow Wagtail. The species accounts are very readable and include both context with 2015 or earlier years and cross-reference to other areas of the report, for example ringing totals. Each account also includes the author's initials at the end. The work of two top-class artists is scattered throughout the report.
Eight tables at the end of the species accounts include an array of interesting data with, for example, territory counts of selected species at two survey areas, BTO Garden BirdWatch reporting rates for 43 species, BTO Breeding Bird Survey occupancy data, the New Forest Winter Bird Survey results and Trektellen data. Among four Appendices, the Guidelines for Submission of Records very helpfully include changes from the previous year highlighted in red within the detailed reporting requirements for every single species – again very well laid out.
An 11-page ringing report covers nest recording data, something I haven't seen previously at county bird report level, albeit this is included at national level in BTO reports. Another addition is the inclusion of details and contact information for numerous colour-ringing schemes operating in the county, with species like Woodcock, Peregrine, Firecrest, Woodlark and Hawfinch all having their own local projects. The Recoveries section adopts a narrative approach rather than the usual tabular layout for each recovery.
Three high-quality and significant papers then follow. The first describes the growth in Firecrest numbers, study activities and the calculations underlying the revised county estimate. The next looks at Hobby in Hampshire; survey work during 2013-16 suggests a reducing county population of 180-240 pairs, with the falling numbers being likely due to predation from an increasing Goshawk population. The third paper reports on a three-year survey of Willow Tits and the reasons behind their continued existence in their northern county strongholds. All three papers are extremely well laid out and make good use of excellent graphics.
Finders' accounts for the Pallid Harrier, Alpine Accentor and Caspian Stonechat and a more detailed look at the Chinese Pond Heron record come next.
A further paper follows the travels of 'Selborne' the satellite-tagged Common Cuckoo, which incredibly departed Britain on 16 June. A report on hugely successful raft-nesting Common Terns [see also similar in the Cleveland 2015 and London 2015 reviews] and an update on the Hampshire Swift Survey, reporting on the progress of nest site data gathering across the county, conclude what is an information-packed, top-class bird report.
Overall, the latest HOS annual report pushes the bar extremely high and it's hard to imagine how such an annual report can be improved on. The outgoing Chairman's final words make reference to having been "lucky… to have been at the helm of one of the greatest ornithological societies in the country." He could be right, but fortunately that's not one for me to judge. However, one thing is for sure, this report will stand the test of time and is a very worthy achievement.
The report costs £12.50 including postage and can be obtained via the HOS website: www.hos.org.uk/index.php/hos-membership/hampshire-bird-report/30-hampshire-bird-report
Alternatively, membership costs £12 and includes the annual report. Details on how to join can be found at www.hos.org.uk/index.php/hos-membership/how-to-join-hos.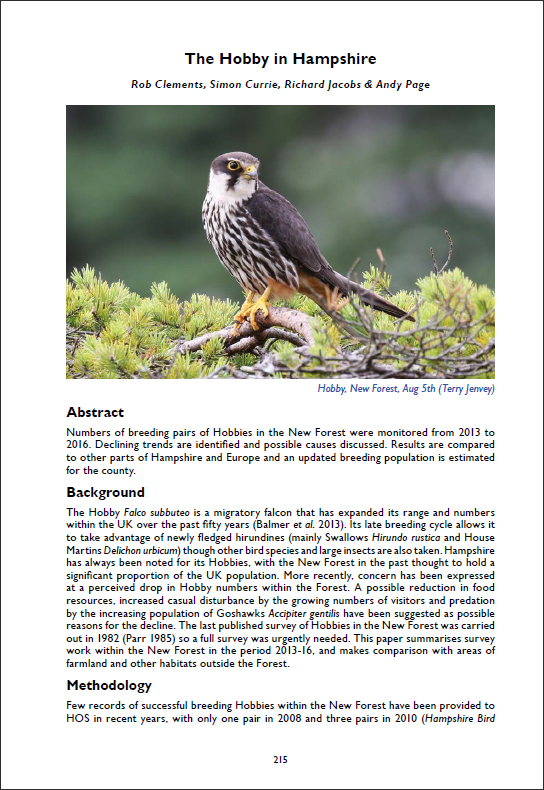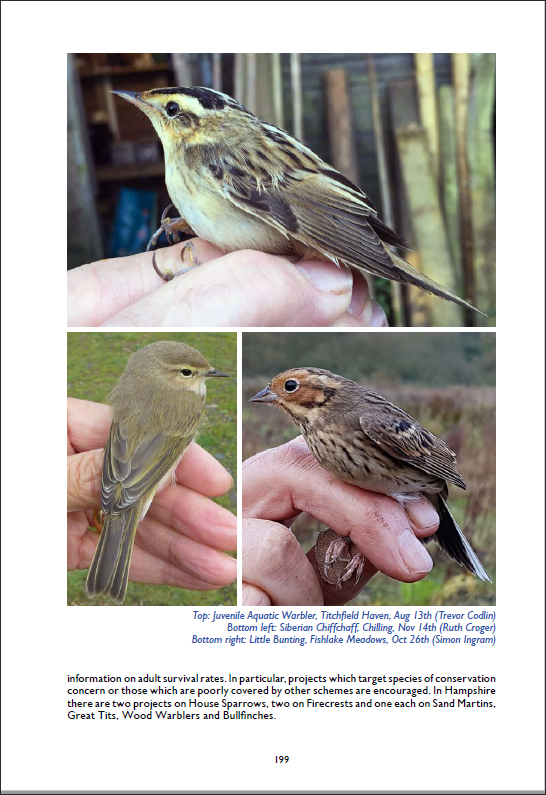 Sample pages from the Hampshire Bird Report 2016.