Fair Isle Bird Observatory Report for 2016
33254684-6f70-4108-9165-7f7f68a147af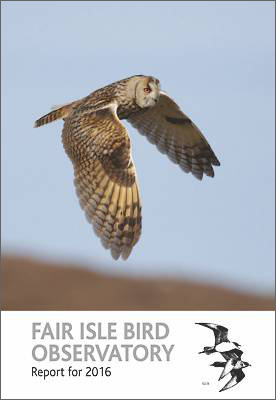 The latest Fair Isle Bird Observatory (FIBO) report represents the third B5-sized report for the 'obs', and thus provides ample space to display the fruits of another rewarding year at one of Britain's premier bird observatories.
A crisp flying Long-eared Owl flaps across the front cover, while a life-size Pine Bunting – one of four that year –perches on the rear. As one might expect, the inside seems to portray more images of rare birds than the average report, a situation underlined given that, for example, two Siberian Accentors were found here in 2016.
Even after almost 70 years of intensive study, Fair Isle continues to gain additions to its species list, and in 2016 Little Egret, Black-browed Albatross and Siberian Accentor were all added, almost in tandem with the recapture of the island's first Swinhoe's Storm Petrel, first observed and ringed in 2013. Among other island rarities, the obs also recorded its sixth Calandra Lark, seventh Collared Flycatcher and Siberian Rubythroat, and its 11th Blue Tit.
Some 215 species were logged during the year, and other stand-out records included Great Snipe, 14 Wrynecks, Woodchat Shrike, two Short-toed Larks, five Greenish, 165 Yellow-browed, Dusky, Radde's, 13 Barred, two 'Eastern Subalpine', four 'Western Subalpine', four Lanceolated, Booted, 14 Icterine, Paddyfield, three Blyth's Reed and six Marsh Warblers, 29 Bluethroats, four Red-flanked Bluetails, 11 Red-breasted Flycatchers, five Richard's, four Olive-backed, Pechora and six Red-throated Pipits, 13 Common Rosefinches, three Ortolan, 13 Little and two Rustic Buntings, among many other goodies!
The initial impression when opening the report is one of high quality and this feeling is maintained throughout further examination. FIBO is of course a very important 'operation' on the island and the opening Chairman's, Administrator's, Warden's and National Trust for Scotland's Reports reveal a staggering amount of work involved in both running the obs and working with the island's wider community. As in previous reports, this community is further recognised by the inclusion of obituaries which this year concerned two well know residents (Annie Thomson and Peter Harrison), while a third obituary sadly but warmly remembers Ann Prior, who had worked as a cook at the obs since 1979.
A 19-page Monthly Summary represents a mouthwatering read and includes essential detail for anyone contemplating the best timing for a potential visit. With numerous high-quality photographs throughout the section, each month also includes the numbers of species recorded in-month and to date, plus totals of individuals and species ringed for the month.
The Systematic List runs to 78 pages and is laid out on pale blue pages, allowing easy reference and presenting an attractive alternative to plain white. The species order follows the British Ornithological Union's (BOU) British list (as at December 2016), while the names used are from the same organisation's'vernacular name' list. Each species carries a simple status description, while the rare and scarce species also include details on the number of records and annual date ranges. The well-written species accounts make very good use of tables and coloured graphs, and put 2016 into perspective with previous years. Colour photographs appear on almost every page, and pleasingly are all fully captioned with location and specific date – including all of the four Pine Buntings on the one page. Being critical, an argument could be made for the inclusion of some artwork to enhance the report further and indeed give any budding artists an outlet, while a species index at the rear would be helpful given the changing species orders.
A 21-page Ringing Summary is crammed full of interesting stories, with the headlines perhaps being the addition of Common Scoter and Brent Goose to the FIBO ringing list. Also, an incredible 2,122 European Storm Petrels were ringed, representing over a third of all birds ringed during the year on the island. A particularly nice graphic shows the origins and destinations of several species ringed or controlled on Fair Isle during the year.
A report on arguably one of the most important aspects of obs work then describes the results of the seabird studies in 2016. Breeding data, plot monitoring and so forth are described, but key positive results are surely the all-island count of 32,061 occupied sites for Northern Fulmar, up 8.2 per cent on 2011, and the record 516 breeding pairs of Great Skuas.
Further content includes a brief insight into the RSPB Puffin Tracking Project; first and last migrant dates; three finder's accounts (I wish I'd be there for the Black-browed Albatross as it skirted over Buness!) including both Siberian Accentors; cetaceans and other wildlife, including an important 17-page report on the lichens and lichenicolous fungi; photographs of the regularly returning Orcas; two enjoyable reports from young birders who stayed on at FIBO as a result of Simon Aspinall Bursary Fund grants; a financial report; a fantastic map showing every key location on the island; and, finally, a systematic checklist of the birds of Fair Isle, which shows the status for every species and the numbers of individuals for rare and scarce birds; for the record there have been 24 Pallas's Grasshopper and 95 Lanceolated Warblers recorded to the end of 2016. What a place!
Copies of the 200-page report cost £12.00 including postage and can be obtained from the Observatory via their website.