Gulls (Collins New Naturalist Library)
be1bacbc-55d5-49d3-a95f-44173ec14b62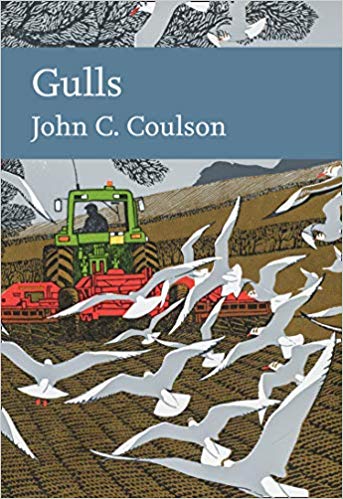 Gulls (Collins New Naturalist Library) by John C Coulson (first edition, Harper Collins, London, 2019).
496 pages, colour photos, maps, graphs.
ISBN 9780008201432. Hbk £65. Pbk, £35.
Bookshop: Hardback from

£58.99

; Paperback from

£31.99
It's difficult to ignore the striking artwork that depicts the sleeve of John C Coulson's Gulls, a recent addition to the renowned Collins New Naturalist Library. Well-known wildlife artist Robert Gillmor's handicraft beautifully captures the close relationship between gulls – the subject of this book – and man. You can almost hear the excitable squawks and cackles of the Black-headed Gulls as they follow the plough.
What's clear from the outset is that a massive amount of work has gone into this publication, and for that the author has to be congratulated – especially given the sheer volume of information that there is to dissect around this complex and fascinating family of birds ahead of producing such a book.
The book starts out with an Overview of Gulls. Snapshot looks at taxonomy, evolution, life cycles including survival rates and longevity, hybridisation (always a major factor!) and individual variation are among the topics covered.
Species accounts then follow for the nine most regularly recorded gulls in Britain and Ireland, commencing with Black-headed Gull and finishing with Little Gull, and including both Mediterranean and Yellow-legged Gulls.
Each of these contains an in-depth look at appearance, distribution (including breeding and wintering ranges, as well as interesting maps of ringing recoveries in some cases), population trends, breeding biology and overall phenology, as well as other aspects. There is a genuine abundance of knowledge in this section and I felt like I learned a lot – for example, Black-legged Kittiwake alone is afforded 62 pages, packed with material resulting from intricate research. Coulson's vast experience shines through here in this fine amalgamation of his own studies and insight.
Following this is a section on the rarer species recorded in Britain and Ireland, including Caspian Gull (the 'commonest' in this chapter) and various stragglers from North America, Asia and the Arctic, the latter including the familiar Iceland and Glaucous Gulls. Finally, there are sections on the methods used to study gulls (including an in-depth look at ringing) and – appropriately, given the perennial hysteria that comes with their presence – urban gulls.
It's worth mentioning that this is by no means a cheap title. At a retail price of £65 for the hardback version (£35 for the paperback), many will pause before purchase – it's a specialist book marketed at a significant cost. Nonetheless, this will prove a very useful reference guide for many, including birders, keen 'gullers' and researchers.
With that in mind, I found the sub-standard quality of colour photographs used throughout this book somewhat disappointing. While I appreciate that this isn't a publication crafted for its imagery, it would not have been hard to source photos of a higher quality for inclusion, given the lofty standards of modern digital photography. Unfortunately, a small proportion of the published images are shoddy and give it an almost amateurish feel at times, which is a great shame given the many plus points associated with this title. What's more, several of the images are sourced – freely – from online image libraries such as Wikimedia Commons, a cost-cutting exercise which comes across as almost insulting to the reader given the price of the book.
I also felt the editing should have been a bit tighter in places, and probably could have benefited from a keen and active gull-watcher reading through to identify and amend mistakes, of which there are sadly quite a few. While some will say it is nit-picking, reference to the BOU as the 'British Ornithological Union', rather than British Ornithologists' Union, is a basic error that should have been corrected. Routine inconsistency in the terms used to age gulls ('first year', 'first-winter' etc) simply confused matters. There are many errors related to identification and ageing in the photo captions, including:
Fig 87, labelled as an adult male Lesser Black-backed Gull, actually depicts an adult Yellow-legged Gull (photographed in Barcelona);
Fig 189 is labelled as a 'near adult' Glaucous Gull, yet it depicts a juvenile;
Fig 195 is identified as an Iceland Gull, yet is in fact a Glaucous Gull;
Fig 198 is labelled as a 'probable Kumlien's Gull' (it is one), but begs the question as to why you'd use an unconfirmed bird in a reference guide like this;
Fig 216 depicts an American Herring Gull, labelled as a 'first year', yet is clearly a second-winter bird and thus in at least its second calendar year.
Furthermore, I found that the chapter on Caspian Gulls read as considerably outdated. It was as if the species remains an enigma when, in reality, a plethora of modern references ensure it is far from such. Statements such as "there is still insufficient information about the variation within this species" felt like they'd been written 10-15 years ago rather than in 2019. The caption for Fig 217 states "a possible second-year Caspian Gull" when it is a very obvious individual of that species – something that a reviewer with the appropriate knowledge would have picked up on.
A table on page 312 contains multiple mistakes and inaccuracies. It confidently states that 87+ Caspian Gulls were claimed in Britain between 1950 and 2017, yet this figure is probably on the low side even for a single year, especially over the final decade of that period, let alone almost seven decades. Incidentally, the same table also gives a maximum figure of "51 possible records" of Kumlien's Gull in the same timeframe, which is clearly also a vast underestimate, and bizarrely refers to "Azores Herring Gull" (presumably meaning the atlantis subspecies of Yellow-legged Gull, generally referred to as either Azorean Yellow-legged or Azores Gull), despite having previously included this taxon under Yellow-legged Gull and having not mentioned this colloquial name – not used by any taxonomic committee – at any point previously. For Slender-billed Gull, it falsely states that all 10 British records have occurred since 2013.
In addition, the Vega Gull section mentions that "in January 2016 an adult was reported at Duncannon, Co Wexford". This was a very well-documented bird, found by one of European's finest field observers and, while there is nothing explicitly wrong in what is written, the tone reads as if this wasn't researched properly.
All that said, I found myself nodding at the sentiments of the author regarding British and Irish occurrences of Azores Gull, and would agree that the BOURC for one has been too imprecise with this taxon in terms of both ID criteria and accepting records.
All in all, this is a hefty, information-filled title that will serve as a strong reference guide. However, obtaining one means parting with a sizeable sum of money, which is disappointing in light of the sore lack of informed editing on the species accounts and photo captions, which unfortunately reflects badly both on the author and the publishers.