Flight Identification of Raptors of Europe, North Africa and the Middle East by Dick Forsman
7dc28dd4-9a1b-4872-bd80-e556c72dea35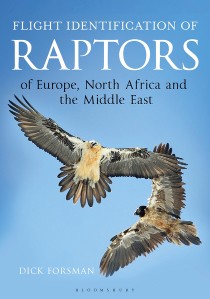 Raptors are among the most variable and ultimately testing families of bird — particularly for the likes of us bird-of-prey-starved Brits, who encounter just a handful of species on a regular basis. Dick Forsman's
Flight Identification of Raptors of Europe, North Africa and the Middle East
tackles the challenge head-on, and the result is a wonderful photo guide that will be the go-to reference for birds of prey in the Western Palearctic region.
Many will know or own a copy of Forsman's The Raptors of Europe and the Middle East, published back in 1999. This is not a bulked-up version of that 'original', this time the focus is solely on flight identification — don't expect to open this book and find a single perched bird of prey within. Geographically the new title has been extended to include the North African region and it also includes various vagrant species — thus contemporary Western Palearctic accidentals such as Wahlberg's Eagle and African White-backed Vulture can be found within, as well as several Asian and North American species.
Producing such detailed works single-handedly is no mean feat. As well as the text, which is presented in the familiar Helm Identification Guides style and structure, it's more than notable that the vast majority of images featured in the book — taken right across the covered region and beyond — are also by the author. Forsman has travelled far and wide to pursue his great passion over the years, investing phenomenal amounts of time, effort and no doubt money in studying birds of prey, which has seen him gain an unrivalled knowledge of the subject, in turn asserting him as Europe's leading raptor 'guru'. This new title represents Forsman's encyclopaedic proficiency in physical form, shared for all birders to learn from.
The quality of photos is excellent. Raptor identification has come a long way over the decades and the rise of digital photography has arguably helped to advance this more than in any other family of birds. Birds of prey are notorious for being distant, high-flying and difficult to get close to. Constant movement in flight makes assessing plumage minutiae extremely challenging. A high-quality still changes everything — it allows small but crucial features to be assessed objectively and accurately to reach the right conclusion, and this is typified throughout the book.
Very minor drawbacks included an occasional lack of clarity in some photo captions — for example plate 288 illustrates the subtle differences between Eurasian Griffon and Himalayan Griffon Vultures but does not distinguish which is which. At the risk of sounding a bit dense (if you look at other images it soon becomes apparent), it wouldn't have hurt to have stated it in the caption. I was also slightly disappointed not to see more on Rough-legged Hawk (ssp sanctijohannis) — the only references are to the taxon having a dark morph and being 'hardly identifiable', and no photos of either pale or (especially) dark morphs appear within.
That said, Forsman tackles a number of contemporary raptor ID conundrums: the hybridisation zones between nominate Black (migrans) and Black-eared Kites (lineatus), as well as European Honey and Crested Honey Buzzards, both of which pose very real problems for Western Palearctic birders. Similarly included are the seemingly growing issues of hybrid Greater Spotted × Lesser Spotted Eagles and Hen × Pallid Harriers, as well as numerous hybrid Buteos such as 'Gibraltar Buzzard' (Common × Atlas Long-legged). Readers will likely conclude that WP raptor identification even more bewildering than previously thought.
And so another excellent tome joins the burgeoning collection of superb Helm Identification Guides — this is a most worthy addition to an esteemed series. Forsman is a name that has been synonymous with the subject title for many years and so any new work from him is always eagerly anticipated — and this new guide more than matches the expectations.
Flight Identification of Raptors of Europe, North Africa and the Middle East by Dick Forsman (Christopher Helm, London, 2016).
544 pages, 1,100 colour photos.
ISBN 9781472913616. Hbk, £45.
Available from the Birdwatch Bookshop from £39.99