Finding Birds in Morocco: the deserts - the book and Finding Birds in Morocco: the deserts - the DVD by Dave Gosney
f2e4b280-10b6-4043-b3de-3e4fbad9d47b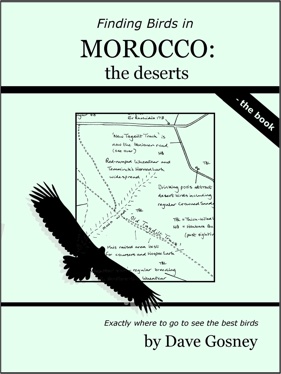 Anyone who has been birding across Europe, North Africa or the Middle East over the last couple of decades will have come across one of Dave Gosney's
Finding Birds In..
. series. These pamphlet-style publications, packed with invaluable and precise information, are now etched in birding folklore and have maintained their status amongst travelling birders despite hordes of more flashily produced country guides entering the market. So it was with enthusiasm that I greeted the news that Dave was back in action, endeavouring to bring his publications up to date with new information and recent discoveries. And so his new
Finding Birds in Morocco: the deserts
, along with the accompanying DVD
Finding Birds in Morocco: the deserts — a guide to the best birding sites and their birds
, landed on my doorstep.
My first encounter with a 'Gosney guide' was as an excited 14-year-old, when Finding Birds in the Canary Islands proved indispensable to a naive, tick-hungry teen trying to locate the endemic species and seabirds of the archipelago. It was easy to read and, most importantly, for each site the information was specific. There were none of the vagaries that often creep in amongst other 'where to watch' guides — Dave Gosney has visited every site in each of his guides, drawing on additional information from other birders too. And with this latest offering, it appears that little has changed. Why bother tampering with a good recipe?
Gosney's meticulous mapping and pinpoint detail is still pivotal a further 14 years on, and the relevant 'Gosney guide' remains foremost on my packing list, alongside the Collins Bird Guide and a map of the country I'm off to. Of course the intervening period has seen a swelling of internet-based trip reports (of varying quality, I hasten to add) though I genuinely believe there is still a place for Gosney's Finding Birds In... series. His new Moroccan offering keeps the same basic, original pamphlet-style layout, so anyone looking for glossy pages full of Moussier's Redstart and Thick-billed Lark shots will be disappointed. But that isn't the point of Gosney's publication — you are paying for quality, first-hand information from somebody who knows what he is talking about. When you get into the field armed with a Gosney guide, the small financial outlay you made will quickly become insignificant in comparison to the usefulness it brings — trust me on that one.
The new Moroccan offering isn't merely an update on his original guides for the country, Finding Birds in Northern Morocco and Finding Birds in Southern Morocco. This time around the country is split by habitat — this guide focuses on the extensive deserts, while the sister publication will be titled Finding Birds in Morocco: coasts and mountains. So what does this mean to somebody visiting the country? If you are solely visiting areas north of Casablanca, then the coasts and mountains guide will suffice. However, for those visiting the south, both guides are necessary — this guide focuses purely on the deserts, and information on popular coastal sites near Agadir such as Oued Sous, Oued Massa and Tamri will be in the other publication. A clever ploy by the author to get you to buy both!
Finding Birds in Morocco: the deserts concentrates on a dozen sites that are spread across the south of the country (from Erfoud in the southeast to Goulimine in the southwest), though the stony plains near Zeida in central Morocco are also (quite rightly) incorporated in this publication. A lot has changed since Gosney's first Moroccan publications, and it is good to see that all maps in his new guide have been redrawn and are freshly annotated. Gone are defunct sites for breeding Tawny Eagles and Dark Chanting Goshawks, while Gosney relishes detailing sites for 'cutting-edge' species such as Saharan Olivaceous Warbler and Pharaoh Eagle Owl. There are also some really good pointers to where the ever-declining Desert Sparrow can now be found, as well as a useful new site in the Sous Valley for Egyptian Nightjar and some new areas of desert that will be worth searching for much wanted species including Thick-billed Lark, Scrub Warbler and African Desert Warbler. From a personal perspective, having this book a few years ago may have saved me a day or so looking for Mourning Wheatear — Gosney describes a reliable site that is used year-on-year by this species near the Tagdilt Track. Only the western race of Mourning Wheatear occurs in Morocco and, with significant sexual dimorphism and a likely future split, it is currently one of the hardest and most wanted species in the country.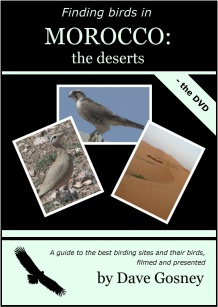 To give you a flavour of the sites, Dave Gosney has produced an accompanying DVD where he visits Merzouga, Rissani, Er Rachidia, Tagdilt, Agdz, the Sous Valley (including Igoudar) and Zeida. It is aimed as an accompaniment, and each site on the video that he visits is clearly cross-referenced to the appropriate site in the book. There is some excellent footage of a
Blue-cheeked Bee-eater
regurgitating a pellet and an atmospheric
Dupont's Lark
singing in the warm early morning light on the Zeida plains. What the viewer will find most useful are the hints and tips that Dave gives — for example, the precise roosting hole for a Pharaoh Eagle Owl on a large cliff face and strategies of how to locate Egyptian Nightjars. Most interesting was some in-hand footage of
Western Olivaceous Warbler
and Saharan Olivaceous Warbler, where Gosney gives some useful commentary on how to separate the two species (Saharan Olivaceous Warbler is considered to be either a species in its own right or
Eastern Olivaceous Warbler
of an isolated, western subspecies
reiseri
) .
It is difficult to pick holes in Gosney's work. However, he has kept to a well-trodden route visiting many of the established sites. In recent years, though, the whole of Western Sahara has opened up and with mega Western Palearctic species such as Kelp Gull, Cricket Warbler and Sudan Golden Sparrow as well as easy Desert Sparrows and Black-crowned Finch Larks now on the table at the end of a (very) long drive south of Agadir, I'd have liked a little more than a couple of sentences at the end of the book on this exciting region. Admirably, Dave admits the reason for this omission is because 'he hasn't managed to visit these areas...and therefore doesn't feel able to give them the same treatment as other areas in this book'. As an aside, the video commentary states 'Crowned Sandgrouse are one of the hardest birds to see in the Western Palearctic' — probably just a throwaway comment, admittedly, but Dave will find this species to be fairly common when he revisits southern Egypt.
For anybody visiting Morocco, I would highly recommend Finding Birds in Morocco: the deserts. For the birder visiting the traditional desert sites, this is the definitive guide with no other guidebook or information source coming close to offering such detailed maps and handy hints on where to find the species that you want to see. Dave Gosney's Finding Birds in Morocco: the deserts epitomises how a good idea stands the test of time. I for one can't wait for the next instalment in his quest to update the Finding Birds In... series.
You can buy both of these products on the BirdGuides estore.
Running time of the DVD is 62 minutes.
Book is softbound and 32 pages.