Fair Isle Bird Observatory Report for 2015
ef59cb87-9329-4108-bdce-9f726629d39b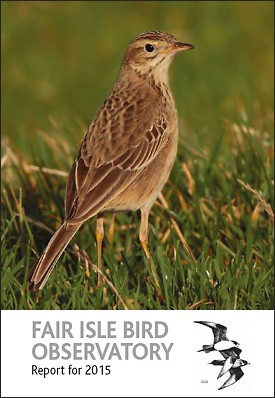 An absolutely gorgeous Richard's Pipit image adorns the cover of the latest annual report from Fair Isle Bird Observatory, this a striking contrast from the (no less delightful) Lanceolated Warbler artwork used on the 2014 edition.
This fine portrait rather sets the trend for another well-presented and complete production. The report is nicely designed, packed with content and illustrated with no shortage of terrific shots of the year's best birds. It commences with the warden's report, which is followed by a chronological summary of the birding year, this helpfully including monthly stats including the number of birds ringed and the year list total at the end of each month.
Rarity accounts are always popular, and those included will no doubt get the rarity finders' juices flowing — Lee Gregory's Aquatic Warbler account and photos are gripping, particularly given its decline to a barely annual rarity on the mainland, while Ciaran Hatsell's Siberian Rubythroat story is infectiously funny and perfectly captures the pandemonium that follows the discovery of a mega rarity ("HOLY CALLIOPE BATMAN... PARNABY! RUBYTHROAT!" — you must read it).
Following the systematic list sits an annual ringing summary, which contains some great nuggets of information — such as that 82 Yellow-browed Warblers were ringed on the island in 2015, obliterating the previous best of 16 (set in 2013). This is followed by a detailed breakdown of the fortunes of the island's breeding seabirds which, as anyone who has visited Fair Isle will know, take up a great deal of the Observatory team's time during the summer months. It was nice to read here, for example, that Arctic Skuas enjoyed a better-than-average year given the species' recent struggles.
There's also a section on first and last migrant dates and further chapters dedicated to cetaceans, insects and other non-avian wildlife, these including the documentation of Fair Isle's first Migratory Locust and three species of fungi new to the island.
It feels as if the production quality of annual reports has really accelerated in recent years as observatories and local bird clubs produce ever-more-impressive offerings. Fair Isle is always going to be in the advantageous position of being one of Britain's most dynamic and interesting birding destinations (= plenty of good material), but the hard work still has to be put in after all the fun finishes at the end of the year. Warden David Parnaby and the entirety of the Fair Isle Bird Observatory Trust have clearly put in the hours to ensure that this fantastic isle is represented by the top-quality bird report it deserves.
Recent annual reports, including the 2015 edition, can be purchased for £12 from the Fair Isle Bird Observatory shop.