European Breeding Bird Atlas 2
8be13149-e10d-495f-9678-ef714e208d85
European Breeding Bird Atlas 2: Distribution, Abundance and Change by Verena Keller, Sergi Herrando, Petr Voríšek, Martí Franch, Marina Kipson, Pietro Milanesi, David Martí, Marc Anton, Alena Klvanová, Mikhail V. Kalyakin, Hans-Günther Bauer and Ruud P B Foppen (Lynx Edicions, Barcelona, 2020).
967 pages, colour photos, 568 colour illustrations, 1,357 colour distribution maps, 11 tables.
ISBN 9788416728381. Hbk, €90.
Weighing in at almost 5 kg, European Breeding Bird Atlas 2: Distribution, Abundance and Change is a monumental tome. My first impressions were positive – despite the size, it's an eye-catching and well-produced publication, with exquisite artwork peppered throughout, including a superb Ortolan Bunting on the front cover.
The amount of work that has gone into EBBA2 is extraordinary and took almost a decade to complete. The publication is a collaborative effort by the European Bird Census Council (EBCC) and its partner organisations. Bird data from across 11 million sq km collected in a systematic and standardised manner made the book possible, with some 120,000 volunteer fieldworkers contributing.
The first few chapters delve into how the book came about, an explanation of data presentation and some core results. Compared with the original publication, EBBA1 in 1997, Turkey and mainland Russia are now included. This highlights the phenomenal effort involved – only a few remote squares in the far north of Russia avoid documentation. The species accounts feature all the regular breeders, the majority with a double-page spread that includes some short text, three maps (abundance; probability of occurrence; change) and an illustration.
The maps can be a little difficult to interpret initially and for many species the population changes are depressingly negative, but the presentation for each species account is excellent. The text is concise – which it needs to be given the limited space – and sits nicely with the maps. The illustrations are generally good quality but do vary.
Reading through the accounts provides a clear image of species that are on the up and those that aren't. Northward colonisers in our warming climate, such as Western Cattle Egret, Firecrest and Mediterranean Gull have increased, whereas farmland birds – especially those like European Turtle Dove and the cover species, Ortolan Bunting, have decreased.
In broad terms, species distribution has moved steadily north since EBBA1. The change maps also offer a chance to predict what might one day be a British breeder – Caspian Gull or Red-billed Leiothrix, perhaps?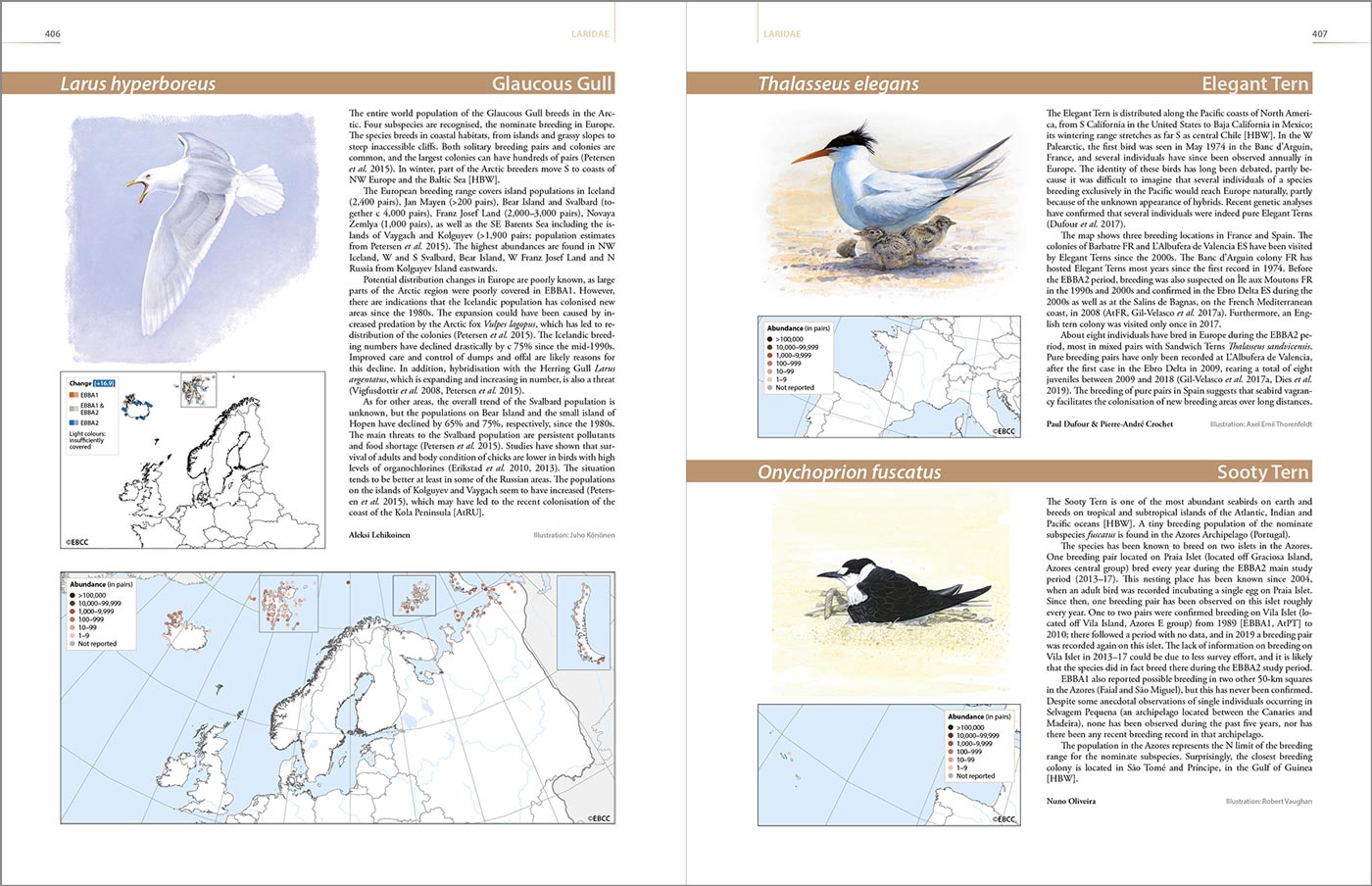 Following EBCC's adoption of the HBW-BirdLife checklist in 2017, this taxonomy is used which may cause some minor unfamiliarity to the IOC-following British birder – Carrion and Hooded Crow are treated as one species, there is only one species for bean goose, stonechat and redpoll and Red-flanked Bluetail goes by its 'Orange-flanked Bush Robin' moniker. Siberian Chiffchaff is treated as a full species. There are also some unexpected map results for the British reader. For example, I was not expecting Whiskered Tern or Blyth's Reed Warbler to be mapped on our isles with breeding evidence.
Appendix 1 makes for interesting reading. Here, we learn that, since EBBA1, we have one new European coloniser: Little Swift. On the other hand, Small Buttonquail, Lesser Crested Tern and Pine Bunting have been lost. This appendix also includes some interesting accounts on non-natives, species that are often poorly understood in a European context. For example, I was surprised to read that the introduced Erckel's Francolin persisted in Italy until as recently as 2015.
EBBA2 is an awesome piece of work and a must have for any birder interested in population trends and changes, both in Britain and on the Continent. It is absolutely massive – this is not a casual read – but it's well worth clearing extra space on your bookshelf for.