Viking Smartphone Adapter
30e2ccf0-71a2-45c5-83b4-8902dbf90cc1
The technique for smartphone-scoping was outlined in Birdwatch 258: 72-73, along with summary overviews of three smartphone adapters. I have since been trialling a fourth, the Viking Smartphone Adapter, which the manufacturer claims works with all leading smartphones and is compatible with a range of telescopes.

This simple device comprises two elements: a standard platform to support the smartphone, and the adapter itself, which is a collar that clips into a ring on the supporting platform and is then rotated through 180 degrees until it click-locks firmly into position.

Both platform and collar are a moulded plastic material. The collar is smooth and rigid, while the platform is clearly designed to be more flexible to prevent accidental breakage.

There is a choice of five collar sizes which are designed to be compatible with five branded telescope models (see panel below), but Viking suggests it is likely the range will also work with others.

I trialled the adapter with a Swarovski ATM 80 HD using a 25-50x zoom eyepiece. The designated 55 mm collar fitted perfectly over the eyepiece and provided adequate support for the three phones I used, including the rather large Samsung Galaxy Note II, the iPhone 5S and HTC Desire S. Note this adapter is not compatible with phones like the Samsung Galaxy S4 Zoom, which has a conventional compact camera lens with an optical zoom, or any other phone that incorporates a zoom lens.

Review continues after the image.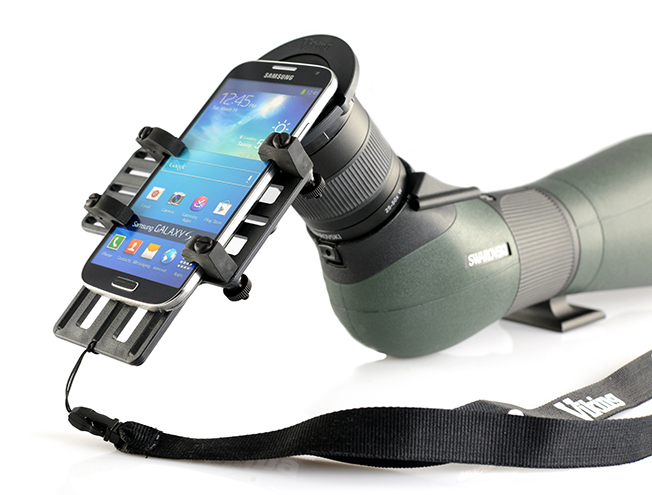 The Viking Smartphone Adapter can be easily attached to a range of telescopes,
including the Swarovski ATS.
The phone is secured on the platform by four adjustable flexible rubber clamps with plastic screws, nuts and washers to minimise weight. These fittings do not cause damage to your phone, which can still be used to text and to make calls while in situ.

When fitted, I was able to rotate the camera through 90 degrees to alternate between portrait and landscape shots. In the latter mode it was essential to have the eyecup fully retracted and the platform positioned where the gravitational pull of the set-up did not twist the eyecup out again, resulting in a shift away from the horizontal plane.

The Viking Smartphone Adapter, which fits inside an outdoor coat pocket, is a neat piece of kit which also comes with an optional lanyard, allowing the set-up to be hung around the neck.
More info
Price: £39.95
Size: 184x117 mm
Collar size and compatibility:
• 39 mm – Viking AG
• 48 mm – Viking ED Pro Zoom, Viking AW Zoom
• 55 mm – Swarovski ATS/STS zoom and Kowa TSN 770/880 Series (zooms and 30x)
• 56 mm – Leica APO Televid 65/82 zoom and RSPB HD zoom
• 59 mm – Swarovski ATX