Challenge Series: Autumn by Martin Garner
a44fc883-ad0e-4c80-bc7e-32bdb37d6a10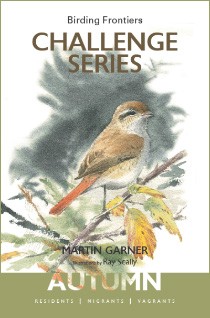 Challenge Series: Autumn
is a brand new publication from Martin Garner's Birding Frontiers brand. Martin's extensive contacts and inquisitive nature have ensured that Birding Frontiers has often been at the cutting edge in many areas of bird identification, as well as the associated discussion and debate. As the title implies, this is the first in a planned series which offers an in-depth focus on some of the toughest contemporary identification challenges in autumn birding.
Each of the 18 chapters dissects a key ID conundrum, ranging from Hen and Northern Harriers through Great and South Polar Skuas to a big-hitting six-chapter overload of autumn warbler species. Concluding with a thorough investigation of six Stonechat taxa, Challenge Series: Autumn is arguably Birding Frontiers' finest product to date. Garner is no slouch when it comes to taking the best of ideas and sliding them into a format that delivers a punch — think bullet point identification features à la Van Duivendijk but with artist Ray Scally's subtly detailed sketches. Plenty of high-quality images from a great range of British, European and American photographers illustrate each species — while printed small, these are more than adequate at doing their intended job. The inclusion of QR codes provides a gateway to untold secrets on the web for smartphone-wielding, information-hungry new generation birders.
The content is far from a rehash of traditional identification pointers repackaged for a new crowd. As ever, Garner is pushing his audience to think outside the box, challenging them to be unafraid of making mistakes. The book advocates the mantra that time in the field is critical, as is patience when studying birds closely. Each chapter includes a short section with advice on fieldcraft for the discussed species or taxa and, while much of it is common sense, it certainly does no harm in these days when participation in birding and photography are at an all-time high.
The Challenge format is reader-friendly, consisting of an introductory paragraph and then detailed pages including sketches and images of each of the 'challenge taxa' with background on the species, vagrancy potential, an autumn description and distribution. Elsewhere on the page are a small sonogram, the QR code (for further reading externally) and online resources and a distribution map. There is no wasted space — each page is crammed full of detail, softened only by Scally's sketches, which repeatedly draw the eye.

Sample spread (Sykes's Warbler) from Challenge Series: Autumn.
When choosing the species to feature in the
Autumn
instalment, things could easily have become quite exclusive, with a series of long-shot vagrants. However, Garner has engineered a fine balance of regular migrants (the likes of Northern
Great Spotted Woodpecker
) with more speculative (but entirely possible) entrants such as
Yellow-streaked Warbler
. The downside for Larid lovers is that gulls don't get a look in — though I'd wager a bit of money on that changing as we await the winter edition!
Critics might argue that this is an amalgamation of the many informative blog posts Martin (and others) have produced for the Birding Frontiers website in recent years. However, there's far more to it than that and it's a beautiful production to boot — presented in a crisp, fresh format, it's not just packed with informative content but looks great too. Challenge Series: Autumn is a fine piece of work, expertly delivered and illustrated capturing the zeitgeist of modern birding identification. If you haven't already accepted the challenge, don't delay any longer...
Challenge Series: Autumn is available to purchase from the Birdwatch Bookshop for £13.99 (plus p&p), a saving of £1 on the retail price. To order your copy, head to www.birdwatch.co.uk/store/product.asp?prod=3746.