Canon Powershot ZOOM
fb6539d9-24ea-429f-a62d-b9aa3f9d1291
At only 145 g and 10 cm in length, the Canon Powershot ZOOM is a truly pocket-sized telephoto zoom digital monocular, as well as a still and video camera.
You can use it to watch wildlife as well as take photos and video of what you see, and it's hard to imagine a smaller, lighter and simpler-to-use tool that performs these functions.
As a digital monocular the Powershot ZOOM works quite nicely. The 2.36-megapixel electronic viewfinder (EVF) is bright, sharp, and steady thanks to image stabilisation, though suffers from noise in poor light. Unsurprisingly, the quality and comfort of the view can't compete with an optical monocular or pair of compact binoculars. Focusing is only automatic, with a choice of single point or subject-detect AF. This worked fairly well for me but did struggle with more cluttered scenes. Tracking a Lesser Black-backed Gull in flight against the sky with the subject-detect worked well.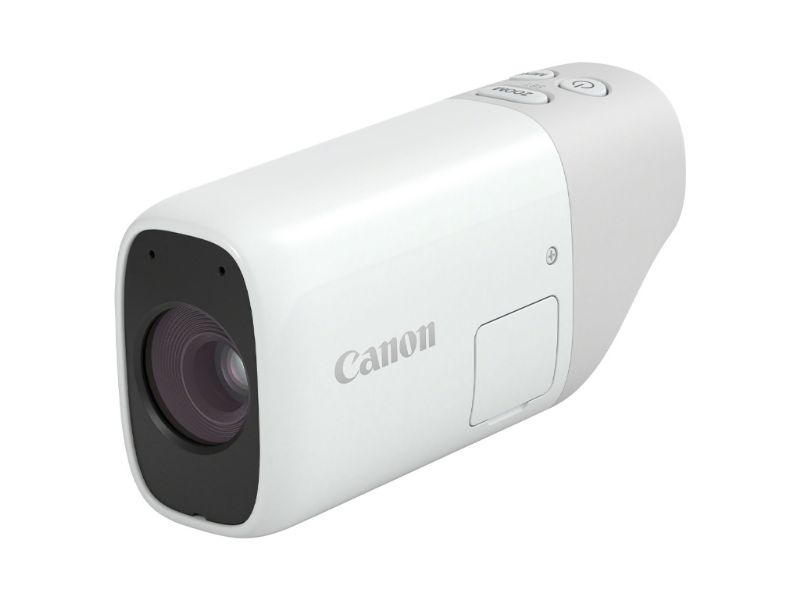 Pressing the 'zoom' button cycles through the three available focal-length increments; 100-mm or 400-mm equivalents and an 800-mm equivalent, 2x digital zoom. Close focus varies from 1 m at 100 mm to 4.5 m at 400 mm, so small subjects won't be frame-filling. At any stage you can push the 'photo' button to take a 12-megapixel JPEG (either single shot or 10-fps bursts), or the record button to shoot full HD video at 30 fps. ISO, aperture and exposure are all determined automatically. You can adjust exposure compensation to tweak the brightness of the image, but this involves going into the menu. There is no additional screen, so reviewing images and changing settings is all done through the EVF. An additional button or two (for example a dedicated playback button) would have been welcome to avoid quite so much cycling through menu options.
At 0.8 cm, the sensor is smaller than those in most smartphones and image quality suffers, but the 400-mm equivalent optical zoom makes this device better than a phone for bird photos. In good light (low ISO), shots of close subjects are OK, but more distant shots and those taken in lower light lack detail.
The ZOOM is compatible with the Canon Camera Connect app, which allows you to share the live view through the monocular with a smartphone and geo-tag images – a nifty feature.
Battery life is rated at 150 shots (though you should be able to get plenty more than this if shooting at 10 fps and turning the device off when not in use), or 70 minutes of viewing time. Charging is through a USB-C cable, so you can top it up from a portable power bank to as you go.
I found the Powershot Zoom fun and very easy to use. The image quality is the main drawback, but if you're after a single gadget with which you can watch wildlife and take record shots and video, all while not really noticing that you're carrying it, this would do the job nicely. The all-in-one functionality, light weight, fun design, smartphone connection and ease of use might make this a good product for a younger person, or for someone starting to take an interest in wildlife.
Further info
Price: £289
Length: 33.4 mm x 50.8 mm x 103.2 mm
Weight: 145 g
Sensor: 12 megapixels
Video: full HD
Connectivity: Wi-Fi and Bluetooth
Verdict
+ Great for engaging people with wildlife
+ Lightweight and portables
- Image quality could be better