Canon EOS R3 digital camera
0d1f0b4b-93e2-4940-b6f9-6345745e5872
The EOS R3 is Canon's current flagship mirrorless camera. It is the first to feature the larger, square body, which includes a built-in battery grip with additional buttons for portrait shooting that became familiar through many generations of the 1D, 1Ds and 1DX pro-level digital SLR bodies. While the R3's appearance and superb ergonomics are similar to these cameras, the weight is anything but; it's a massive 42% lighter than the 1DX Mark III. The R3 works very well with older EF lenses when combined with the EF to RF mount adapter, but even better with a native RF lens.
The R3 features a 24-megapixel (mp) full-frame sensor which is outstanding in low light. You don't need to worry about using the sort of ISO settings that would have been considered crazy not that long ago. For some, a downside of the sensor is that it is 'only' 24 mp; a modest number compared to some full-frame cameras such as the 45-mp Canon R5 or high-megapixel, super-fast models from Nikon and Sony, albeit an improvement for photographers moving from the 20-mp 1DX Mark II and Mark III range-topping DSLRs. Your pixel-count preference might depend on whether you often have to crop your images a lot or what sort of light conditions you usually work in. In many circumstances 24 mp will be more than adequate.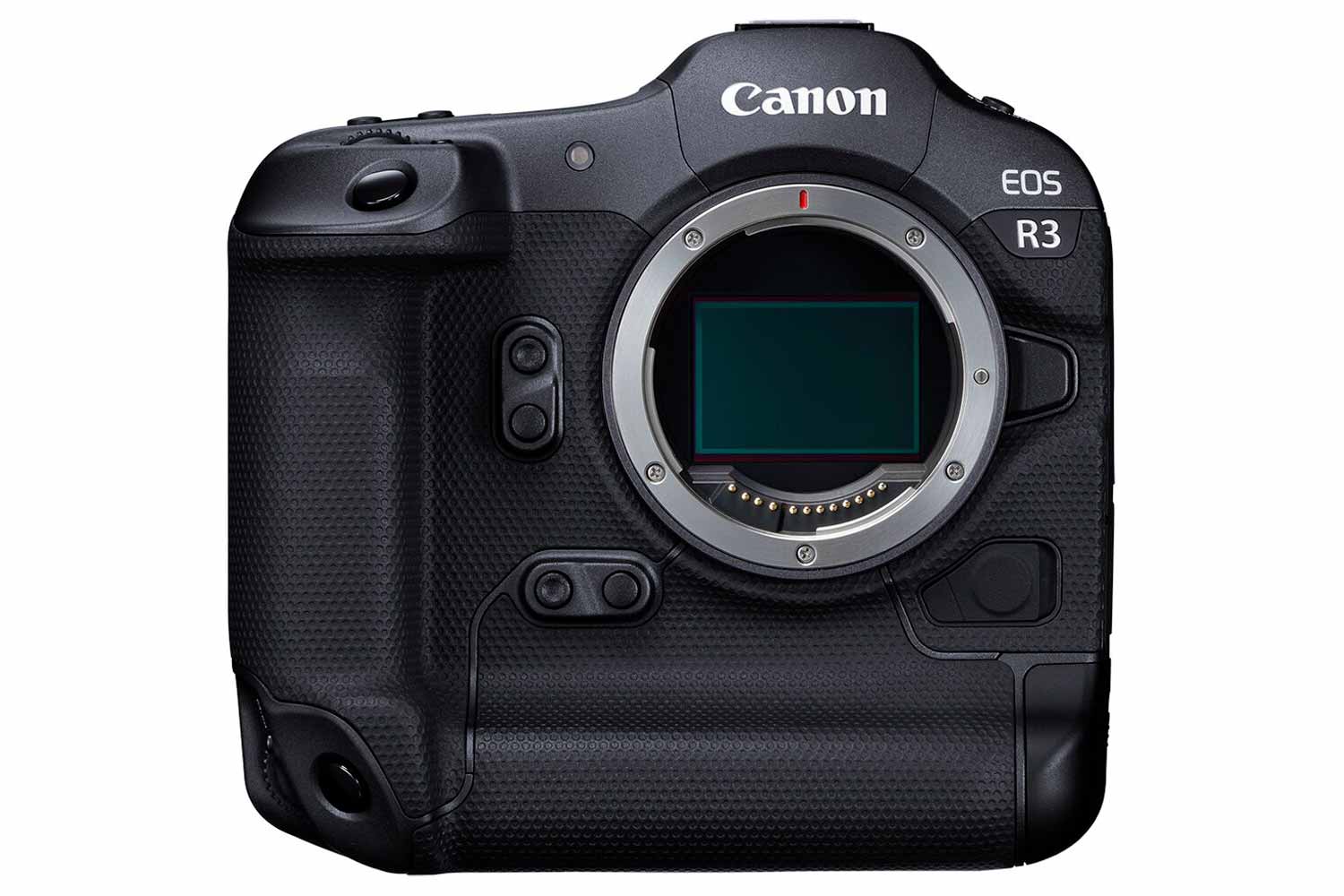 Shooting is blazingly fast and can be completely silent; 30 frames per second (fps) with the electronic shutter in full raw format with full autofocus and metering, with a buffer you'll likely never fill. Shooting with the mechanical shutter is up to 12 fps. If you can put up with the time it takes to delete the inevitable duplicates, I can definitely see the value of so many fps. The simple equation is that the more shots you can take, the better your chances of nailing a sharp image of the perfect pose. There is also the option to take up to 50 full-size shots at a ridiculous 195 fps, albeit with fixed exposure and focus.
This speed and the excellent autofocus in the R3 provide a potent combination. A sequence of 29 images I took of a female Black Grouse taking flight were pretty much all sharp, and the 30 fps helped capture some very pleasing wing positions. There was a hint of rolling shutter on the grouse's wing-tips, but this is not a major issue with this model. The autofocus (AF) feels like a step up from the R5, particularly with a 2x converter; the extra power from the larger battery of the R3 also assists the improved AF system. The R3 has a very capable subject-detect AF system which was extremely quick to lock onto the eye of any bird I pointed it at. These systems can struggle with birds in 'busy' settings such as bushes but the R3 coped well with picking out the eye of a Willow Warbler among sprouting buds. It also contains an intriguing 'eye-control' AF feature, whereby it will focus on whatever the photographer's eye is looking at. This seemed to work nicely, but the speed and intelligence of the subject/eye-detect system made it my preference for tracking birds. Battery life is good, being rated at about 600 shots, but you should be able to get several times this figure.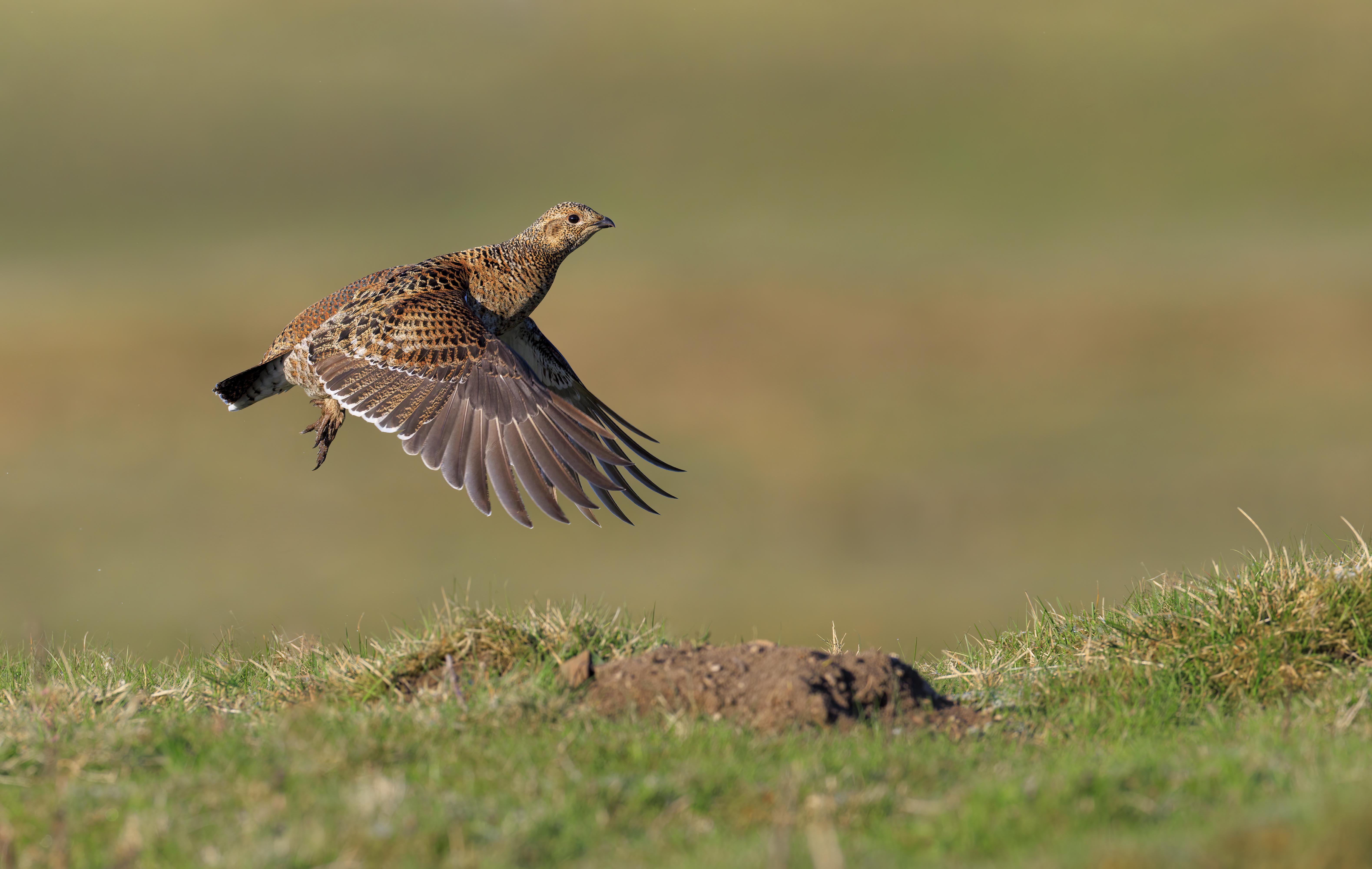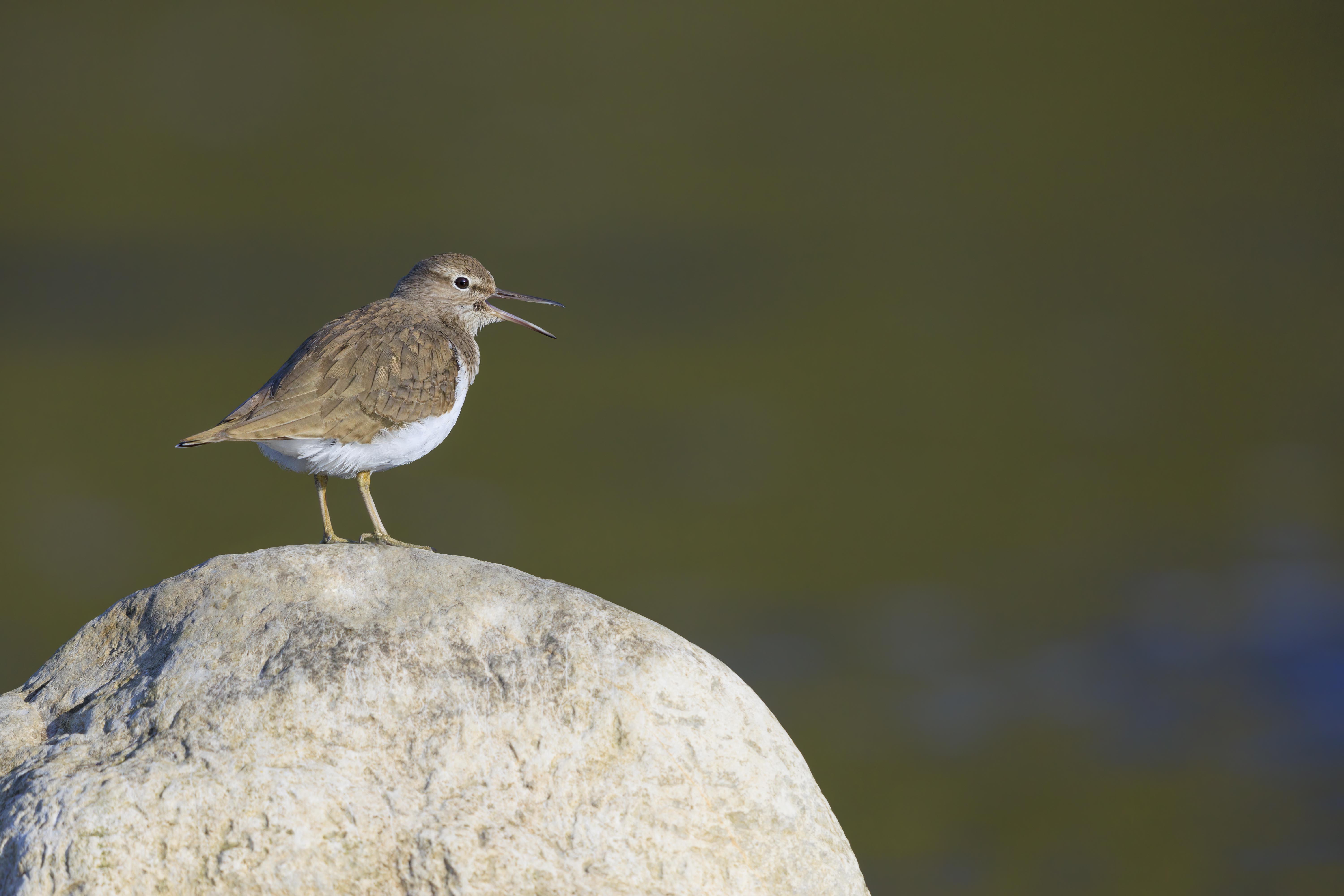 The R3 proved incredibly responsive and effective in a range of situations, including while photographing a female Black Grouse taking flight (upper photo) and focusing on a singing Common Sandpiper along a stream (lower) (Kit Day).
Like many seasoned DSLR users I wondered how I'd get on with an electronic (rather than optical) viewfinder. The one in the R3 is excellent; big, bright and superbly detailed. It also has all the benefits of mirrorless shooting, with all sorts of menus and information available without taking your eye from the viewfinder. Returning to a DSLR viewfinder after using this feels like a retrograde step.
All in all, it's a lovely camera to use. I like the ergonomics and functionality provided by the vertical battery grip, and the weight remains very manageable. The R3 has two card slots; one for the new super-fast CFexpress format and one for the more familiar SD card. Some photographers would no doubt prefer two CFexpress slots, but you can see why Canon has done what it has (many potential users will not own a CFexpress card, and they are not cheap).
Pro performance levels unfortunately mean a high price, but if you're into action shots and don't need or want more pixels, the R3 is the current speed and autofocus king in the Canon line-up.
Further info
Price: £5,659.99
Size: 150 x 143 x 87 mm
Weight: 822 g (without battery)
Sensor: 24.1-mp CMOS
ISO: 100-102,400
FPS: 30 with electronic shutter
Storage slots: 1x SD, 1x CFexpress
Features: 4,779 AF positions, 6K video
Warranty: Canon European Warranty
Verdict
+ Stunning image quality
+ Very fast shooting and AF system
- Sensor offers 'only' 24 mp