British Damselflies DVD by Graham Sherwin
577ca759-0ad1-46f1-a387-455161dbff1c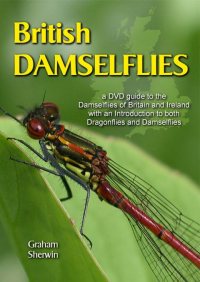 Like so many other birders, I've begun to take more than a passing interest in dragonflies and damselflies in the summer months. Armed with the excellent WildGuides
Britain's Dragonflies
and British Wildlife Publishing's
Field Guide to the Dragonflies of Britain and Europe
, I've been doing my best to catch up with some of the less common species, and identify all of the dragons and damsels I stumble over whilst out and about. And the more I try and get to grips with them, the more I realise I'm woefully undereducated at identifying them.
Imagine my delight then, when a review copy of a new DVD, British Damselflies by Graham Sherwin, arrived on my desk. I popped this very professional-looking production into my laptop with alacrity and was instantly spell-bound. I have a lot of experience of filming smallish things — butterflies, for example. But I have never, ever achieved such wonderful macro results in video. The detail that Graham has managed to capture on these diminutive insects is incredible. But I'm getting ahead of myself.
This DVD falls into two sections. The first is billed as an introduction to dragonflies and damselflies and runs for 60 minutes. This would have made a perfectly acceptable DVD on its own. It explores the insects' biology and life-cycle — highlighting some fascinating habits. It's perhaps not for the faint-hearted as it is peppered with gruesome close-ups of dragons and damsels being cannibalised or otherwise consumed. It's a great introduction to dragon identification — and clearly sets out the anatomy of the beasts. The clever editing helpfully highlights crucial identification features.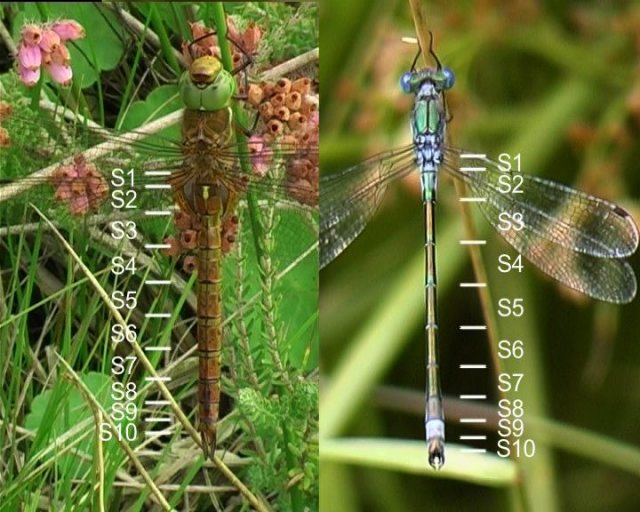 Comparison of a dragonfly and a damselfy's anatomy
The photography is just stunning. Graham has clearly spent many, many hours in the field to gather footage of this quality and variety. His keen eye for detail means he's recorded some very rare occurrences; for example, there's a sequence of mixed pairings between different species of dragonfly, and triple pairings.
What the introduction achieves is a lucid and thorough explanation of biology, predators, anatomy, life cycle and where and when to watch. I was delighted — but there was more to come.
The second part of the DVD focuses on the damselflies of Britain and Ireland — and includes all of the vagrants and likely vagrants to our shores (22 species all told). This part runs for a whopping 90 minutes. Each species has a short video-essay, starting with a summary screen containing a overview of flight period, distribution, habitat and key identification features. This screen doesn't hang about very long — judicious use of the pause button is in order if you need to study it.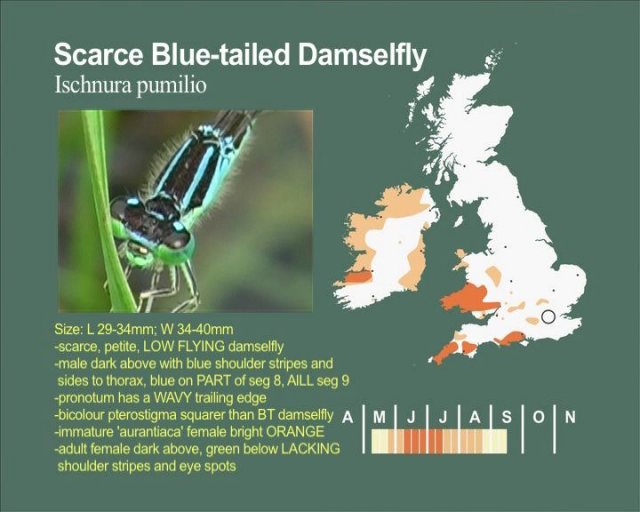 Identification follows in detail. Adults and teneral (immature) males and females are described. Graham's commentary helpfully points out not only the identification features that you can pick up from books, but also the field-marks and jizz that readers will readily associate with skilled birding. Female damselflies occur in forms, and nearly every possible variety is shown. Confusion species are often inset so that you can easily see the differences between them.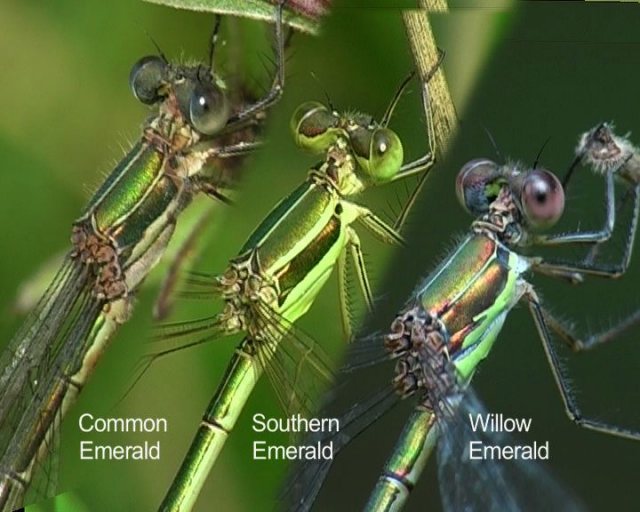 Comparison of emerald damselflies
Graham then goes on to describe the creatures's habits, flight season and breeding behaviour. Particularly impressive is the footage of some of the ovipositing females; the detail is incredible. At the end of each group of related damsels, there is a synopsis of what to look for that I found particularly illuminating. I can imagine myself going back to this DVD time and again after being out in the field to double-check my identifications.
So to the downsides. This DVD clearly took many years to produce and — possibly as a result — the footage is in 4 × 3 format. The result is that I had ugly black bars on my widescreen TV. The commentary, whilst well written and fascinating, is a tiny bit flat, and I found myself "tuning out" from time to time. But these really are minor issues in a quality production.
It's excellent stuff — and made me want to go out and discover new damsels immediately, with a degree of confidence that I might be able to "do" them. I think it represents excellent value for money at £18.50 from the BirdGuides estore. This DVD has clearly been a labour of love, and I can't wait for the next one — Dragons!