Rare Birds of North America
cfcc3e81-33b1-401f-9ba2-1f5dd938cea1
Featuring only the rarest species occurring in North America and detailing both their status and field characters, this significant new volume from Princeton is something of a hybrid – part field guide, part desk reference and part records archive. There is no direct equivalent in the Old World, though it could be regarded as the American evolution of Lewington, Alström and Colston's A Field Guide to the Rare Birds of Britain and Europe (HarperCollins, 1991). Sharing the same artist from this side of the pond, it also has an ex-pat lead author in Steve Howell.

Many readers will already have formed favourable impressions of the book after an extract on migration and vagrancy was published in February's Birdwatch (260: 58-63). That forms just a small part of the informative 41-page scene-setting introduction, which ranges from the definition of rarity and reasons for extralimital occurrences to the origins of North American vagrants and a pithy summary of topography, moult and ageing which is helpful, indeed sometimes critical, to the identification process of the featured species.

Thereafter, the lion's share of the book is formed by the species accounts – some 262 of them in all. That struck me as a surprisingly high proportion of the total for the United States and Canada, given that the authors have only included species for which, on average, five or fewer individuals have been found annually since about 1950. Species accounts are broken down into sub-sections summarising where and when, taxonomy, distribution and status, comments and field identification. The tightly written text provides chapter and verse on each species and its identification in a North American context. Review continues after the photo ...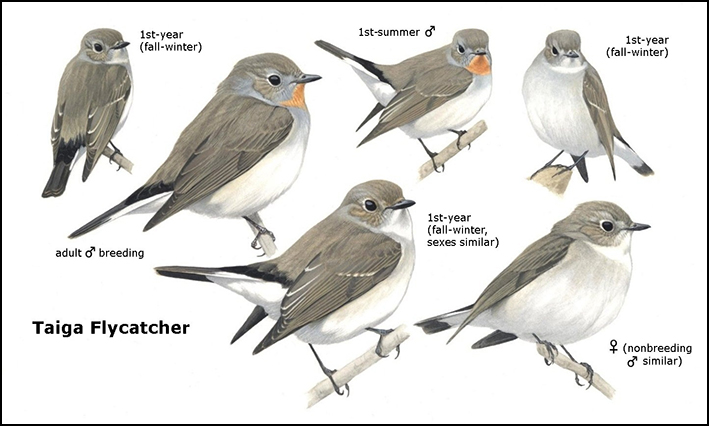 That doesn't make it relevant only to a New World audience, however. While a fair number of species are clearly never likely to occur on the European side of the Atlantic – for example, many of those of Caribbean or South American origin – by my reckoning some 45 per cent are already on the British list, and almost another 7 per cent have occurred elsewhere in the Western Palearctic. Hence the detailed treatment here is not only valuable, but in some cases the best available anywhere, especially of putative and actual Asian vagrants.

This is the case for both the text and the plates, which are nothing short of exceptional. Ian Lewington's artwork is worth the purchase price alone, and of the species I know well, the waders, gulls and especially the Asian passerines were particular favourites. Attempting to find fault with them is so far restricted to some slight colour reproduction niggles in my review copy – for example, the Spotted Flycatchers appear slightly pallid, the Eastern Yellow Wagtail a touch brown, and a couple of figures slightly soft presumably because they are printed out of registration (as is the text on pages 368-369). These quibbles aside, this book has everything to recommend it, and for any birder interested in rare birds and vagrancy in the Northern Hemisphere, not just in North America.
More info
• Rare Birds of North America by Steve N G Howell, Ian Lewington and Will Russell (Princeton University Press, Woodstock, 2014).
• 428 pages, 275 colour plates, several tables and maps.
• ISBN 9780691117966. Hbk, £24.95. Birdwatch Bookshop from £20.95.