Illustrated Checklist of the Mammals of the World
490f07bb-6e8d-4799-8db4-b93afec4d590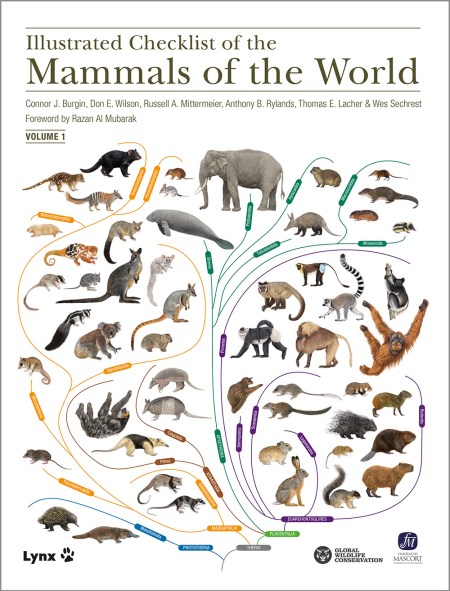 Illustrated Checklist of the Mammals of the World edited by Connor J Burgin, Don E Wilson, Russell A Mittermeier, Anthony B Rylands, Thomas E Lacher and Wes Sechrest (Lynx Edicions, Barcelona, 2020).
2 volumes, 1,166 pages, more than 7,150 illustrations, 6,431 distribution maps.
ISBN 9788416728367. Hardback, €210.
While the appeal of mammals to the general public could be argued to be greater than that of birds – perhaps owing to the larger, more charismatic species and our deeper empathy with our closest relatives – interest in listing, seeing and observing large numbers of mammal species is far less popular. Even so, Lynx Edicions' nine-volume Handbook of the Mammals of the World (HMW) was rightly popular, and now finds its taxonomy updated and all other revisions condensed into this two-volume checklist – still a hefty tome, encased in a tough protective cardboard sheath.
Just as in birds, mammal taxonomy is ever evolving. The Journal of Mammalogy recognised 6,495 species globally in 2018, and the current volume ups this to 6,554 (though this includes 19 domesticated – including a split between Cattle and Zebu – and 104 recently extinct species). This number is almost as daunting as that of birds and, if anything, many mammals are even harder to identify than whichever cryptic avian last flummoxed you. In fact, the astonishing numbers of very similar rodents, bats, shrews and voles are often impossible to put a name to in the field unless you get a good look at their dentition or genitalia, which is unlikely.
This book does not broach such tricky issues much, but rather concentrates on distribution (with maps including recent range extensions, such as Omura's Whale extending into the Atlantic), taxonomic distinctiveness (sometimes including geological history) and nomenclature only (with names in English, German, French and Spanish), with handy cross-references to HMW, unless a species is too recently discovered. More than 400 species have had changes since publication of HMW was completed in 2019 and these are all incorporated.
Volume one holds the short introductory section. There, you will find a history of mammalian record keeping (inextricably braided into taxonomy) and explanations of phylogenetic systematics, along with a taxonomic tree showing the relationships between each order and family, according to current knowledge.
The illustrations are glorious, and really give the impression of living, breathing, glossy-eyed beings – perhaps a moot point when dealing with dozens of Alticola mountain voles, but breath-taking when dealing with sifakas or Leopard subspecies. Most accepted forms that are even slightly differentiated are illustrated, including 'black panthers', 'blonde' echidna morphs and the like, with their individual ranges.
The paintings are an illuminating catalogue, and it is beguiling to marvel at the forms of the various snub-nosed monkeys, golden moles, gymnures, Inia river dolphins and sengis. I was initially slightly dismayed at the bats being shown at roost only. but this is the way in which they are most likely to be identifiable in the field, other than with a bat detector.
The accepted taxonomic changes of the last few decades are all incorporated into the list, with Malagasy and South American splits and discoveries included. Koala subspecies are re-lumped as monotypic, giraffes and elephants treated as three and two species respectively, and clouded leopards are considered two species, with the Bornean subspecies of Diard's Clouded Leopard (discovered in 2017) also included.
Importantly, on a higher level, the familiar, traditional Insectivora is now fragmented into five different orders and cetaceans are now included as part of the even-toed ungulates, rather like seals were absorbed by the Carnivora some years ago. With so many small, cryptic species, the list will only be added to in future, but in many cases, this will involve subspecies already illustrated being promoted to species level.
The general sweep of mammalian variety and number is inspiring, intriguing and bewildering. In many respects, I object to terming such books 'illustrated checklists' – they're far too beautiful and valuable to even lightly mark with a pencil and should be treasured accordingly! Perhaps a downloadable Excel file listing all the species and ranges, such as that provided by the International Ornithological Congress for birds, might be a useful supplement. As it is, there is a full colour phylogeny poster combining the covers of the two volumes into one attractive tree available as a free download, which can be printed out.
This mammoth, elephantine work is not cheap, but will keep you engrossed as a reference for many years to come. Its favouring of splits over lumps, taxonomically speaking, will also earn its wings as a decisive conservation tool, as many mammal species, both cryptic and unique, become increasingly endangered as the planet heats up.