Birds of Vietnam
8f17d3bf-0471-4279-8e95-1135fc264595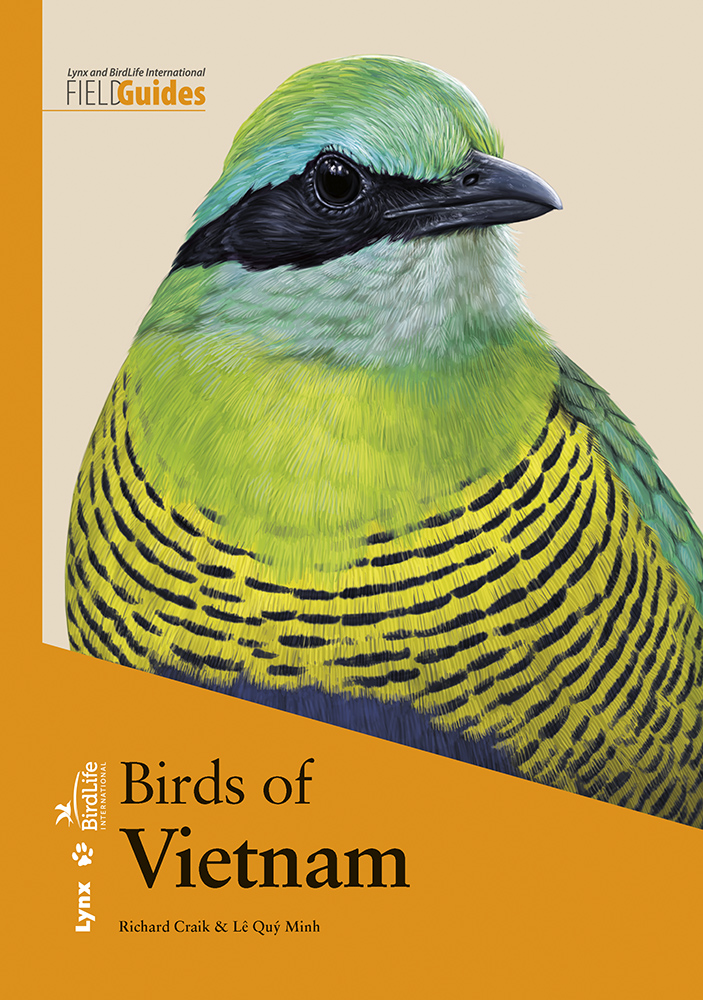 Birds of Vietnam by Richard Craik and Lê Quý Minh (Lynx Edicions, Barcelona, 2018).
400 pages, more than 1,900 colour illustrations, more than 870 colour distribution maps.
ISBN 9788416728107. Hbk, £49.99.
Following in the footsteps of Birds of Thailand, we now have Lynx Edicions' next regional field guide, Birds of Vietnam. More than 1,900 illustrations cover the 911 species, including 37 endemics or near-endemics and all 71 vagrants, in this first comprehensive modern field guide dedicated to the country.
Taxonomy follows BirdLife International and HBW Alive/Illustrated Checklist of the Birds of the World, which has a few differences from what most birders are familiar with (Cornell/Clements and www.worldbirdnames.org/IOC). This is not a big problem, with the exception of the 'subspecies groups', whereby proposed English names of potential splits are used in a darker red than the current species under which it is listed; I found this quite confusing.
The 'paperback' version is actually a plastic flexi-cover, which during my recent visit to Vietnam held up well, stuffed inside my bag, and is splash-proof.
Anyone who has used one of Lynx's field guides will see a familiar and easy-on-the-eye layout. The introduction is concise, factual and interesting reading – covering ornithological history, geography, climate, habitats, conservation and main birding sites, followed by how to use the field guide.
We then move onto the most important section of the book – the species accounts. The layout of these is my favourite aspect of the guide. Clear and precise, we generally have five to six species per page, allowing for larger illustrations than most other field guides. The illustrations are well laid out, with maps on the same page, and enough space between them not to look crammed in. Despite the 29 illustrators, the quality is overall of a high standard, though immature shorebirds are largely lacking, as are hornbills in flight, unfortunately.
Alongside the text is the species QR code linked to the HBW Alive species account, which includes further information such as photographs, videos and sound recordings, as an additional source for identification. This will still link correctly once HBW Alive merges into Cornell's eBird platform.
The text is adequate; listing status, habits, habitat and field marks. In some cases, the status appears to have been taken from many years back: Chinese Francolin described as 'common resident throughout' and the 'locally common throughout' Grey-headed Parakeet are both species I've seen only a handful of times over the course of some 20 visits.
This field guide was produced in under a year – an amazing achievement. However, this shows as some of the finer details are lacking. Some of the harder species complexes aren't possible to identify – immature hawk-cuckoos, sparrowhawks, immature Schrenck's Bittern and Pied Harrier being obvious examples – and some field marks are wrong (only Oriental Cuckoo, not Common, has a hepatic morph apparently), while some records and current status could do with a review.
Overall, this is a wonderful field guide to the birds of Vietnam. A great layout, largely excellent illustrations and adequate text make it a must for any visiting (or even resident!) birder to Vietnam. Lynx and the authors should be congratulated for producing such a guide so quickly.