Birds of Cambodia
d41d7367-9d3a-46d5-8c5c-e5d7a24a4d20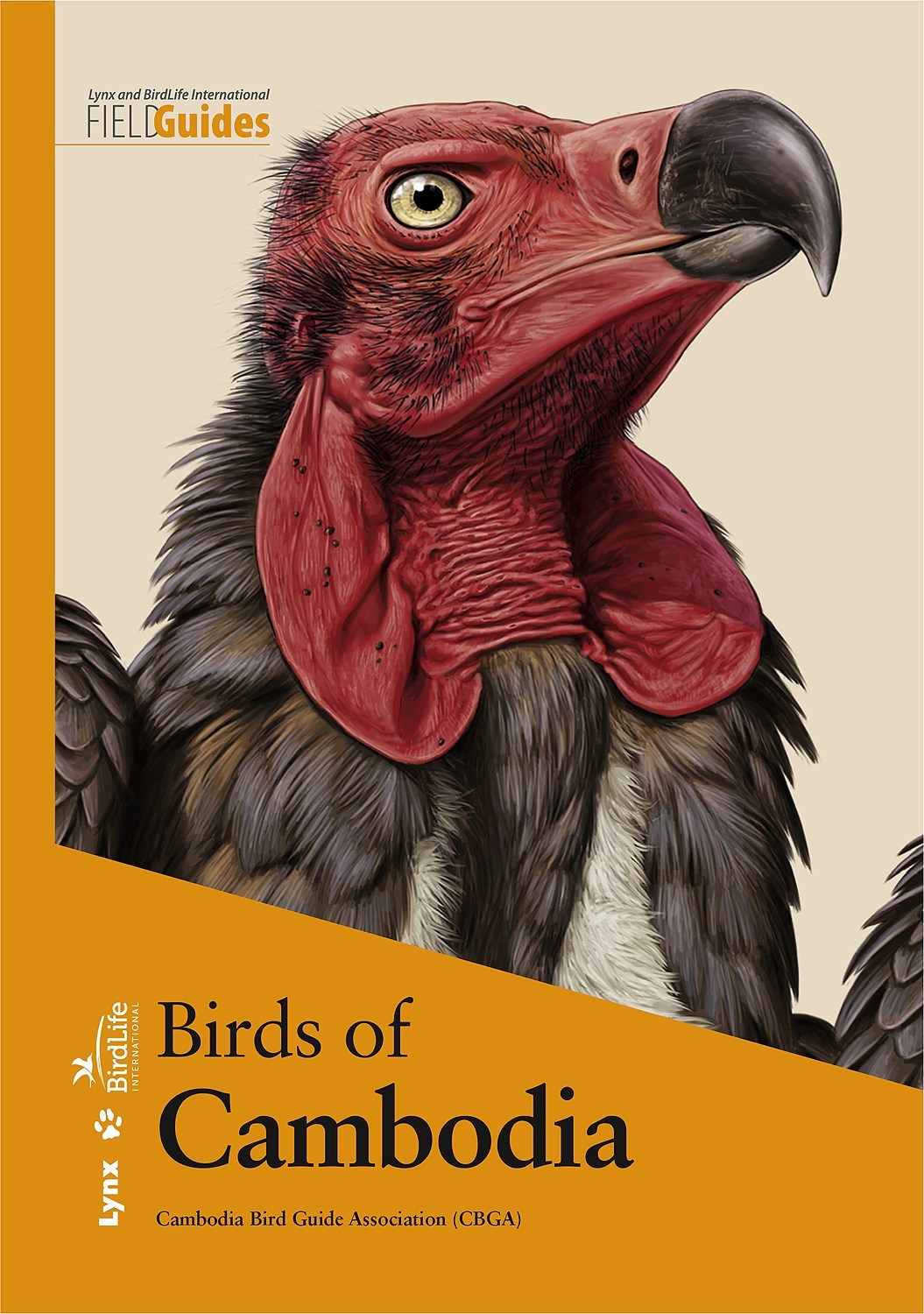 Birds of Cambodia by Cambodia Bird Guide Association (Lynx Edicions, Barcelona, 2019).
288 pages, 1,400 colour illustrations, 600 colour distribution maps.
ISBN 9788416728213. Hbk, £39.99.
First, I must declare an interest: although I have only visited Cambodia once, and for just three weeks, that was enough to make me to fall in love with the country.
The Red-headed Vulture image gracing the cover of this book encapsulates both Cambodia's conservation problems and the creative ways that have been developed by agencies such as the Sam Veasna Centre in Siem Reap to reverse them. I saw six of these birds at the Veal Krous vulture restaurant in 2013. Formerly the most widespread vulture in Cambodia, that half dozen was a significant proportion of a national population possibly as low as 47 individuals. However, the vulture restaurant project, which provided food for endangered vultures and income for local people, was both inspired and successful.
More people need to know about this South-East Asian gem, whose avifauna is rich and varied, including Critically Endangered Bengal Florican, White-shouldered and Giant Ibises, Red-headed, White-rumped and Slender-billed Vultures, Christmas Frigatebird, Spoon-billed Sandpiper and Yellow-breasted Bunting. And that is why the recently published Birds of Cambodia is such an important book. It's usually true that the publication of a new national field guide leads to a spike of interest in the country under scrutiny, and for the sake of conservation, I hope that's the case here.
When I visited the country, I used Craig Robson's Birds of South-East Asia, a fine field guide but one whose birds were shared with Thailand, Burma, Peninsular Malaysia, Laos, and Vietnam. The new Lynx guide covers only Cambodia. Its illustrations are both beautiful and detailed, the work of a team of 28 artists, including the likes of Hilary Burn, Alan Harris, Ian Lewington and David Quinn. Take a look at the green-pigeons on pages 37 and 39, for example. The illustrations number almost 1,400, covering all 636 species and distinctive subspecies, with male, female, juvenile, and non-breeding plumages shown, as well as flight images where relevant.
One of the big plus factors for me is the distribution maps. These show resident, breeding, non-breeding, passage and introduced ranges, as well as 'best guess' distributions for presumed extirpated populations, such as that of White-shouldered Ibis in the north-west of the country.
The concise text works hard and always faces the relevant plate for ease of use. Typically, 200 words describe structure and plumage, voice, habitat preference, status and similar species. A QR code for each species links via a mobile phone to video clips, a photo gallery, and sound recordings. One small but important feature is the inclusion of the Khmer bird names in each descriptive text, and there is also a Khmer index. This indicates that the authors and publishers are serious about engaging with Cambodians.
Additional features include some advice on how to prepare for a trip to the country and brief descriptions of 35 of the best birding hot-spots. To complete the package, the flexiback covers offer some rain protection. If you are planning to visit, or if you are weighing up your travel options, I would strongly recommend you make this purchase.