Birds of the Canary Islands
95eaa188-969f-489f-98fe-4e0d4c917e23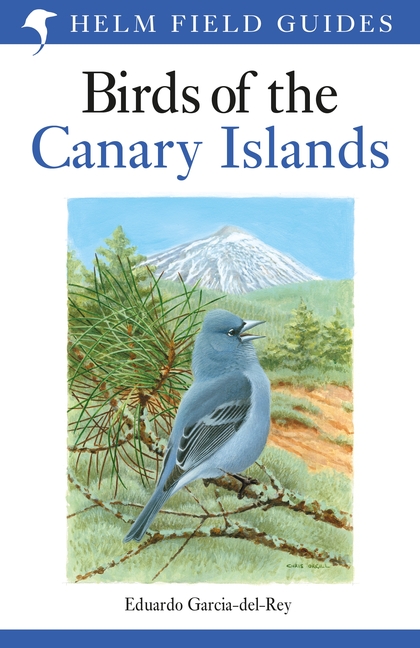 Birds of the Canary Islands by Eduardo Garcia-del-Rey (Helm Field Guides, London, 2018).
192 pages, 73 colour plates.
ISBN 9781472941558. Pbk, £20.
The Canary Islands have long held an attraction for birders, with their combination of family-friendly sun and several avian endemics and specialities. The ambition of this field guide is to give resident and visiting birders a compact, single volume that treats all of the species ever found in the Canary Islands. Importantly, as author Eduardo Garcia-del-Ray states, the publication of a dedicated field guide can be the first step in increasing local knowledge of birds, and subsequently their conservation – something that has been sadly neglected in the Canary Islands over recent years.
The guide begins with an introductory chapter featuring a brief outline of the history of ornithology on the islands and notes on their geography, climate and main habitats. This is followed by an explanation as to how to use the guide and then a very useful section on the best birding spots across the islands, crucially including latitude and longitude co-ordinates. There is plenty here to keep birders exploring, but do not expect an 'idiot's guide' to every site. This is an overview of what can be seen, and is perhaps especially useful in seeking out key species such as Laurel Pigeon on Tenerife, but detailed directions to any site will need to be sought elsewhere.
At the back of the guide is a complete checklist, listing all of the islands where each species and distinctive island subspecies have been recorded, including the number of occurrences for vagrants.
The main meat of any field guide is the plates, and unfortunately these are what let down this publication. The paintings are simply not up to the standard that we have become accustomed to over recent years. There is nothing really wrong with most of them, but they don't leap off the page in the way that those of, say, the Collins Bird Guide do. Sometimes they do not illustrate the differences between similar species amply enough. For example, Short-toed and Lesser Short-toed Larks are shown as looking rather similar, without the differences in bill size and shape plus overall size and jizz that can instantly separate them, especially when the tertials of Short-toed are worn.
On a rather more serious note, the page on reed and bush warblers contains some pretty poor postures and colours, plus some textual inaccuracies. The Melodious and Icterine Warbler paintings are far too yellow, the Sedge Warbler is far too rufous and there is no information on how to separate the featured Western Olivaceous Warbler from Eastern Olivaceous which, on range, must be a possible vagrant. Worryingly, and contrary to the text, Western Olivaceous does not pump its tail. This, along with a description of whitish outer webs to the outer tail feathers and no mention of the convexity of the bill, leaves me thinking a mistake may have been made with at least some of the Canary Island records. Similarly, the inaccurate statement under Northern Goshawk that "In flight, gliding at tree-top level is diagnostic" runs the risk of lots of goshawks being erroneously claimed from now on.
There are also instances where I would like to have seen more information conveyed in the paintings and text. The seabirds, for example, are a group which benefit from identification by jizz as much as anything, but there is no attempt to illustrate that at all. While I accept that the field identification of the Fea's/Desertas/Zino's complex is difficult to impossible, it would have been nice to see a condensing of Flood and Fisher's work into an expanded plate. There is also no illustration of Boyd's Shearwater, and while that is consistent with the treatment of other species with a single record, it is mentioned in the text and likely to be more regular.
The author is clearly deeply knowledgeable and passionate about the birds of the Canary Islands, but I think his work would have been deserving of better artwork and a more discerning editor. I hope that this guide has the desired impact among local people and especially children, but I suspect most visiting birders will stick with the Collins Bird Guide.