Birds of Paradise and Bowerbirds
df6533ab-e38a-490e-a877-459a65c6c1d1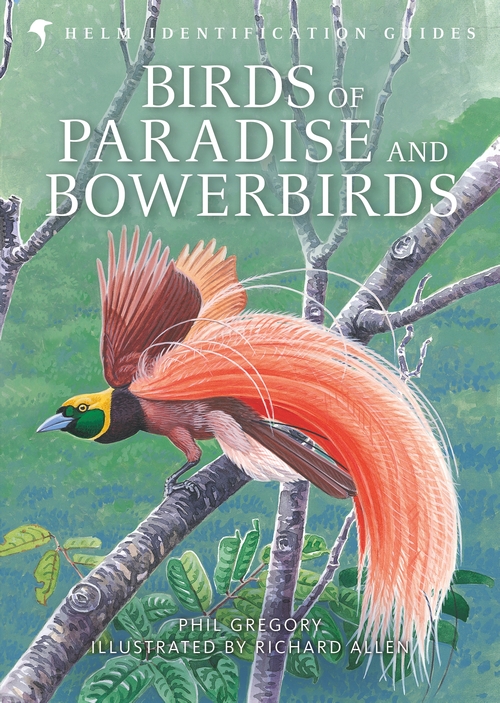 Birds of Paradise and Bowerbirds by Phil Gregory (Bloomsbury, London, 2020).
416 pages, 41 colour plates, colour photos throughout, colour distribution maps.
ISBN 9780713660272. Pbk, £55.
It is widely considered within the global birding community that the birds-of-paradise are the most entertaining and most striking of all families in the avian world. Found within the depths of the tropical rainforests from the Wallace Line eastwards across New Guinea to northernmost Australia, their exotic displays and mesmerising plumage are any birder's dream to witness.
The obscurity of this family, however, tends to drift attention away from the equally impressive family of bowerbirds – their immaculate mimicry and 'attention-to-detail' constructions certainly warrant their inclusion in this superb addition to the long-standing series of Helm Identification Guides. From the relatively dull-looking Paradise-crow to the simply exquisite Flame Bowerbird – surely one of the world's greatest species – all taxa have been included in this 400-page masterpiece.
A fine illustration of a Raggiana Bird-of-paradise lek features across the front and back cover, luring readers into an avian world in which relatively few have ventured. It's a hint at the quality within – great visual representations plus invaluable and comprehensive text about each of the species in the two families.
This book has been published at the right time, with significant taxonomic changes occurring within the birds-of-paradise in recent years. Take, for example, 'Superb Lophorina' – this ex-species has now been split three ways, and each is fully considered in the species accounts here.
Phil Gregory's expertise in the two families is instantly recognisable. The introductions to both are a scientific masterclass, with biology and phenology covered exhaustively, leaving the reader with an in-depth knowledge and understanding of their remarkable lives. Each introduction is neatly rounded off with thoughts on conservation and the concerns set around this. Though, from personal experience having visited this region in 2019, the best conservation would be for more birding groups to set foot in these areas and in turn raise awareness among locals.
The 41 plates covering all 104 taxa contain good illustrations, depicting birds in the best light conditions. This is in contrast to the species accounts, where superb photographs show the plumages one would expect to see in the dark understorey of the forest. The background for most plates has also been considered, giving the reader a greater understanding of the habitats in which each species is found. All subspecies have been treated within the plates.
A thorough examination of each species is given in the written accounts. Valuable external sources have been included to provide as much detail as possible. Whether these are recent taxonomic changes, differing vocalisations within subspecies, breeding behaviours and potential hybrids – all platforms for identification have been firmly covered.
Being quite weighty, this is clearly not designed as a field guide and rather a 'bookshelf book'. Whether you have a general interest in these two breathtaking avian families or are considering an exciting trip to somewhere that any of the various species might be on the menu, this book is a must have.