Birds of Oman
d4b364c3-ce02-4394-b368-4523cccbb493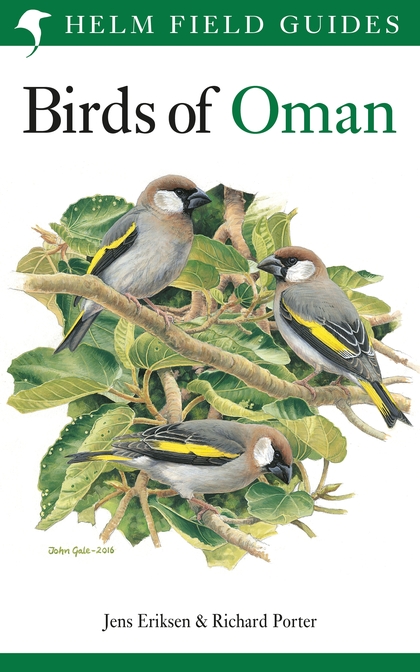 Birds of Oman by Jens Eriksen and Richard Porter (Christopher Helm, London, 2018).
272 pages, 125 colour plates and numerous distribution maps.
ISBN 9781472937537. Pbk, £30.
This new Helm Field Guide focuses on one of the jewels of Middle East birding: Oman. The country is situated at the crossroads of three continents – Europe, Africa and Asia – and its eclectic avifauna reflects this unique position. Oman is an increasingly popular destination for birders and is currently one of the best countries in which to see some of the Arabian endemics, including Arabian Golden-winged Grosbeak (depicted on the front cover) and Yemen Serin.
The field guide is based on the same publisher's excellent Birds of the Middle East by Richard Porter and Simon Aspinall, and this major regional work has already resulted in a field guide specific to the neighbouring UAE.
This latest book follows the taxonomy and nomenclature published by the International Ornithological Congress and covers all 528 species on the Omani list. There is a very good short introductory section which will be of most use to birders new to the region.
Although the authors make the case for using species maps that show the distribution across the Middle East region as a whole, my personal preference would have been to see these narrowed down to just Oman and its immediate neighbours. I'd also like to see a detailed map in the introductory text that shows the best birding sites in Oman. However, these are small personal preferences that don't really detract from the value of this field guide, and the authors do point the reader to the required publications and websites for more in-depth information.
The narrower range of species included in this book, 528 compared to more than 820 in the Middle East guide, will benefit those less familiar with the birds of the region. Birds of Oman is about 100 pages shorter and some 200 g lighter, not a trivial amount at the end of a day's birding in 35°C!
The colour plates are the same as those used in Birds of the Middle East and are excellent in helping to identify most species. There are many examples where different subspecies are illustrated, such as those of Lesser Whitethroat, and this helps with the challenge of sorting through some diverse, and potentially unfamiliar, plumages. The full checklist at the back of the book will be very useful to some readers too.
I already possess a very well-thumbed copy of Birds of the Middle East, but if I was to visit Oman in the near future I would certainly take a copy of this country-specific field guide with me. I'd pack my binoculars, my telescope and the Birds of Oman by Eriksen and Porter, in that order.