Birds of Nepal
9d9fbc27-1178-4b28-8546-36f18803e717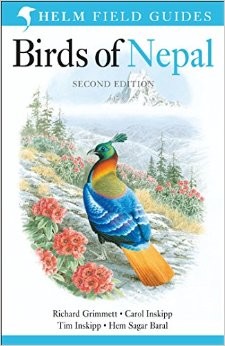 Nepal is a spectacular and varied country with a spectacular and varied avifauna. This newly updated second edition of the field guide features all of the species recorded there up to mid-2015, including an appendix of some 75 vagrants.
More than 790 species are covered in total and the addition of accurate, colour-coded distribution maps opposite each plate is most useful. The accompanying text and descriptions have also been updated, and cover standard identification, vocalisations, habitats, altitudinal range, distribution and status. The notes on behaviour traits for individual species will also be particularly useful in the field.
Many of the illustrations on the plates will be familiar, having been taken from other field guides in the series, though some (in my early review copy at least) seem to have reproduced a little on the dark side; the Himalayan Monal on the front cover, for example, bears a much greater resemblance to their astonishing real-life plumage than the rather dull-looking image reproduced on plate 4.
There is a useful introductory section on geography, climate and different habitat zones — with some nice accompanying photos to set the scene and whet the appetite. This is a very useful book, and if you are heading to Nepal for the first time, an essential addition to the hand luggage. If you have been before and are heading back, it is well worth upgrading from the first edition.
Birds of Nepal by Richard Grimmett, Carol Inskipp, Tim Inskipp and Hem Sagar Baral (Bloomsbury Natural History, 2016, London).
368 pages, 142 colour plates.
ISBN 9781472905710. Pbk, £35
Available via the Birdwatch Bookshop from £30.99.