Birds of Madagascar and the Indian Ocean Islands
5eacc942-0568-48ff-b513-59b934d941ae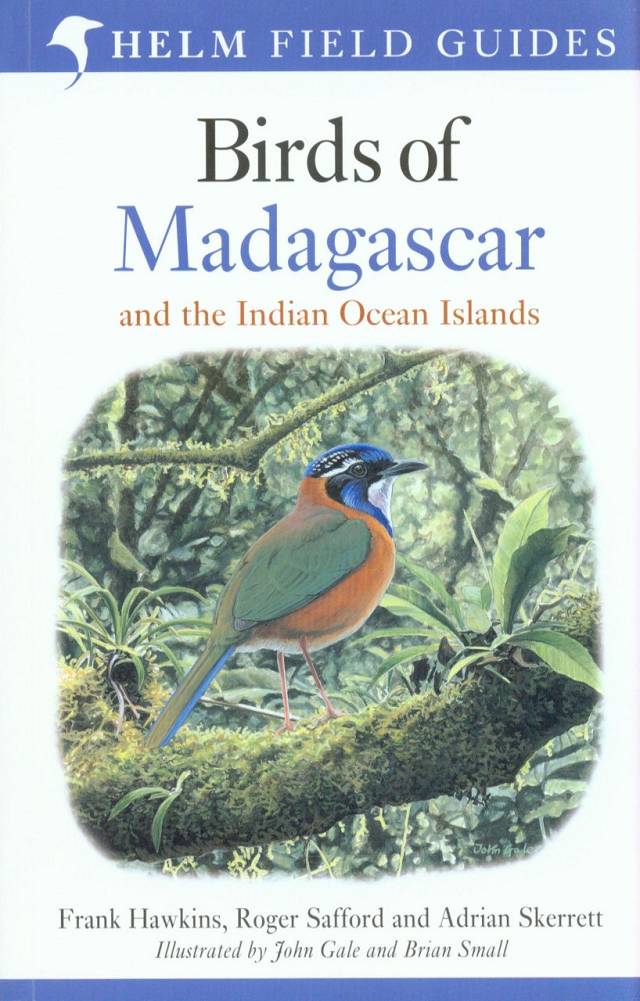 One of the world's major areas of endemism is Madagascar and its associated islands in the Indian Ocean, and consequently the region is high on many birders' must-visit lists. It is home to 185 endemic bird species (plus many distinctive and 'splittable' subspecies), as well as numerous unique plants, invertebrates, fish, amphibians, reptiles and mammals. It is a region to devote much more than a fortnight's holiday to, and I found seven weeks not enough to fully experience the main island.
This new volume in the Helm Field Guide series effectively replaces another publisher's previously essential guide to the region, Ian Sinclair and Olivier Langrand's Birds of the Indian Ocean Islands, which I used in the field and found to be a decent aid to identification, though some plumages were missing and a few of the illustrations a little 'un-jizzy'.
The new guide introduces a more innovative format, essentially containing several field guides — one for each island group — within its covers, while still remaining pocket sized and detailed. With each geographical cluster in the region holding its own parallel endemics, this seems a good idea once you've got used to it.
More widely distributed species are included in each colour-coded section in the plates. The first covers species present over the whole Malagasy region, the second those found on Madagascar, then the granitic Seychelles and coralline Seychelles (each has a different avifauna), the Comoros, Mauritius, Réunion and then two sections for the outer islands, closer to Africa in the Mozambique Channel. Finally, there is a large section for vagrants, as one might expect on such isolated islands, which act as a magnet for lost African and Eurasian species, probably much more than is currently realised (several putative but as-yet unrecorded species are also included in this section).
This arrangement may be a little counter-intuitive at first, but makes perfect sense in use — birders are likely to visit one island or island group at a time, and would otherwise have to leaf back and forth through many pages looking for very similar fody, black parrot, bulbul or white-eye species. There is less chance of confusion this way, as each locale's species are collected together in just one small (and presumably soon to be well-thumbed) section.
Outside the all-important and dominant identification plates (laid out in the expected and time-tested text-facing-bird manner), the corollary chapters are detailed and comprehensive enough for background. The introductions to vegetation and habitats are excellent, and keep the specialisations of the more unique birds in mind as you use the guide. There is a full checklist towards the rear — again with colour codes for each island group — and a note on the recent reclassification of many of the Malagasy endemics, after molecular analyses found that jeries are cisticolas, most Malagasy 'bulbuls' are in fact an endemic family, the Tetrakidae, and that the warbler-like Newtonias are actually vangas.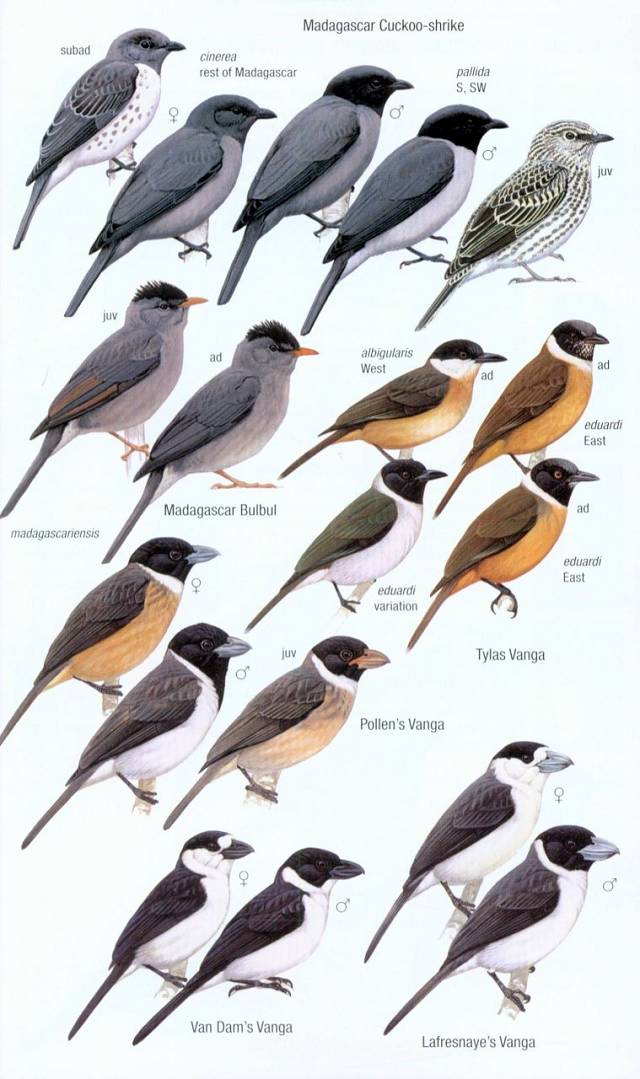 Sample page illustrating vangas and cuckoo-shrikes.
Amber Mountain Rock Thrush — a former range-restricted 'endemic species' which I once made a special trip for — has been lumped with Forest Rock Thrush, and all three subspecies of stonechat remain part of Common (termed 'African' here) Stonechat, though the distinctive highland form tsaratananae must be ripe for splitting at some stage.
The recently split Tsingy Wood Rail (from Madagascar Wood Rail) is included, though good luck with finding that particularly elusive and range-restricted species! My speculative tip for further splitting would be pyrrhorrhoa Moorhen, which has a buff undertail bordered with subtle rail-like vent barring.
Revisions and structure aside, the real improvement on the previous guide is the illustrations. The older book's plates were fine, in particular Ian Lewington's renditions, but John Gale and Brian Small's new paintings are something else — more jizzy and accurate, and with more plumages and subspecies illustrated.
This guide really does set the new standard for the region, which I yearn to visit again, having now seen the species and forms I missed represented so well within its covers.
Birds of Madagascar and the Indian Ocean Islands by Roger Safford, Adrian Skerrett and Frank Hawkins (Bloomsbury, 2015).
336 pages, paperback
ISBN 978-1472924094. £30
Available from the Birdwatch Bookshop from £25.99