Birds of Libya
c40f34b1-d342-47ac-bd42-ed9700cc43de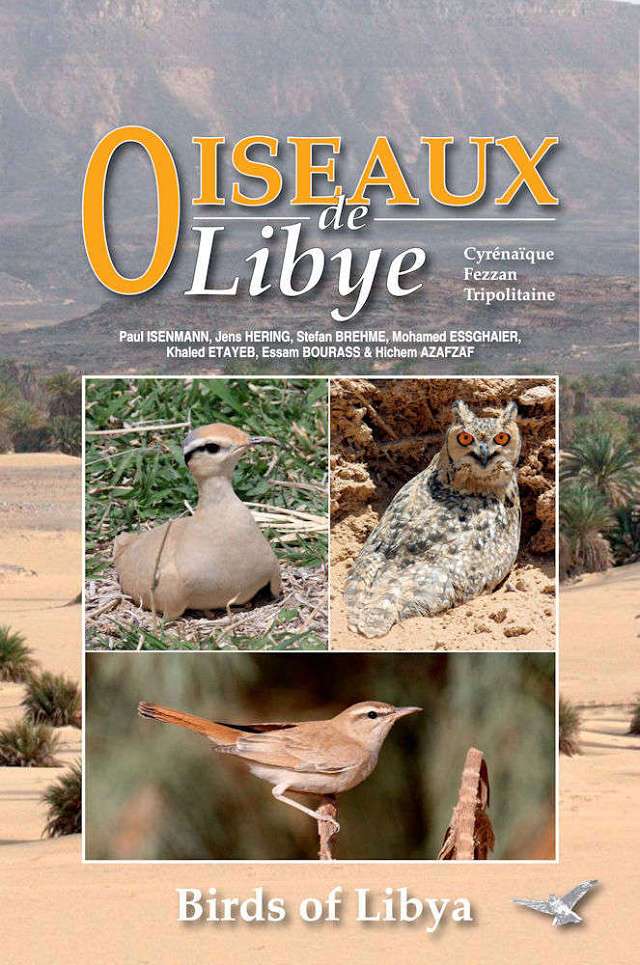 From Mauritania in the west to Egypt in the east, the fascinating birdlife of North Africa has been documented in increasing detail in recent years, and this new work on Libya fills the last gap on the regional map. Much of this effort is down to the work of Paul Isenmann, who with various co-authors has previously published on the birds of Mauritania, Tunisia and Algeria, and who now adds Libya to his list of credits.
Collectively, the region is home to some notable endemic birds and other specialities, but as the introduction to this bi-lingual volume explains, Libya is one of the least studied countries in the Western Palearctic. It does not boast many of the true Maghreb specialities from north-west Africa, nor those of the fertile Nile corridor to the east in Egypt, with just 100 breeding species reflecting its predominantly Saharan habitats. Look a little deeper, however, and there are interesting surprises.
Some of these stem from field work which took place not long before the collapse of the Gaddafi regime in 2011, since when civil war and political instability have curtailed the immediate prospect of further research. Arguably most notable is the discovery of apparent African Reed Warblers breeding at several sites in the country, though more recent work has argued for a complete taxonomic reappraisal of all taxa in this species and Eurasian Reed Warbler to clarify their precise identity. Libya boasts other eclectic forms, too, including barbata Barbary (or 'Cyrenaic') Partridge, cyrenaicae African Blue Tit and spodiogenys Common Chaffinch, all of which are genetically distinct and merit consideration at species level.
From a more historical perspective, we learn that the last firm breeding evidence of the cyrenaicae subspecies of Western Orphean Warbler, described as recently as 2012, was in fact as long ago as 1923. Some 18 years previously the country's last Common Ostrich — of the nominate 'Red-necked' form — was recorded in Fezzan. And a selection of mouth-watering national vagrants over the last century, including Cape Teal, Egyptian Plover, Abyssinian Roller and Black-crowned Tchagra, hint at the country's potential in a regional context.
In total the book claims some 351 species on the national list. My own count of systematic entries puts the figure at 352, but from this there could be as many as nine potential subtractions (in addition to African Reed Warbler): a 1939 Bewick's Swan record is implicitly questioned by the authors; the four records of Rough-legged Buzzard, all in April/May, are described as "surprising" and lacking proper documentation; the 1970 Striped Crake record is not considered safe by some other authors; no detail is given for the "several" Slender-billed Curlews featured in a 1932 reference; Red-necked Nightjar is only a "possible"; Red-tailed (aka Turkestan) Shrike, Barred Warbler and Rock Pipit are only hypothetical and "not yet recorded in Libya"; and Armenian Gull, briefly described in Sandgrouse 27: 131, not photographed but accepted without question here, would not have got past most rarities committees (the same is also true for the claims of 'Siberian Gull' of the forms 'taimyrensis' — unrecorded anywhere else in the Western Palearctic — and heuglini mentioned in the same original paper).
The sole Libyan record of Bridled Tern, involving seven breeding pairs on 2 July 1994, might also raise an eyebrow, while conversely it is perhaps surprising that there is no mention of Atlas Flycatcher yet several records of Semicollared, a very rare vagrant.
There are some excellent photos scattered throughout the book. Those of the Sand Sea of Ubari, European Bee-eaters, reed warbler taxa with nests, Rufous-tailed Scrub Robin and almost flamingo-pink Trumpeter Finches are among the stand-out images, but none is more striking than the double-page spread depicting three Pharaoh Eagle Owls around an abandoned building. Two are perched and the other is in flight with a dramatic view of its underside: it looks like an extraordinary 'diorama' in the Crossley tradition, and closer inspection reveals it is indeed apparently a Photoshop montage, though no mention of this is made anywhere.
With the systematic list supplemented by introductory sections on geography and climate, history of local ornithology, biogeographical analysis of breeding birds, migration systems and birds and Man, this comprehensive and well-illustrated volume is a welcome summary of Libya's birdlife, even if a few of the more obscure records should perhaps be treated with caution.
Birds of Libya by Paul Isenmann, Jens Hering, Stefan Brehme, Mohamed Essghaier, Khaled Etayeb, Essam Bourass and Hichem Azafzaf (MNHN/SEOF, Paris, 2016).
302 pages, 113 photos and 35 maps.
ISBN 2916802045. Pbk, €38 and €10 p&p.