Birds of Japan
3021f359-2cbe-428e-8c38-aeb1df8859fb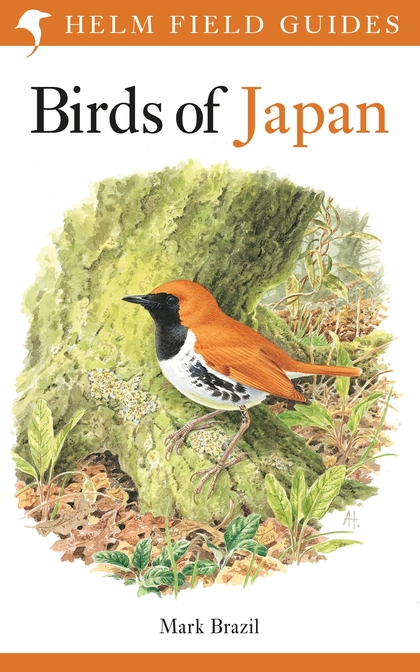 Birds of Japan by Mark Brazil (Christopher Helm, London, 2018).
416 pages, numerous colour illustrations, photos and distribution maps.
ISBN 9781472913869. Pbk, £30.
For the best part of a decade, Mark Brazil's Birds of East Asia has been the go-to field guide for anyone planning a birding trip to Japan. That has now changed thanks to a new offering from the same author, Birds of Japan, also published in the popular Helm Field Guides series.
Despite covering all 700 species recorded in Japan, this new title is considerably more lightweight than its heftier regional counterpart, which will be a plus for those who carry it in the field. That said, its 416 pages are nonetheless packed to the rafters with useful information, species accounts, colour plates and distribution maps.
All the species accounts throughout reflect the sole focus on Japan, while status and distribution, habitats and habits, identification, bare parts, sounds and vocalisations, taxonomic notes and alternative names are all covered where applicable and relevant. The first two are of particular use to 'foreign' birders travelling to Japan who are not yet familiar with its birds.
The illustrations vary from reasonable to very good. Some plates, such some of the Tringa sandpipers and some of the wildfowl, are reproductions from Birds of East Asia, while many have been updated and improved on, such as the leaf warblers (although sadly they haven't magically resolved the headache of field separation of Pale-legged and Sakhalin Leaf Warblers!)
While not a gull guide, it would perhaps have been a good idea to illustrate at least the commoner species in all ages – for example, only adult and first-winter Black-tailed Gulls are shown, while Slaty-backed and Vega could also have benefited from further illustrations. Pacific gulls are bewilderingly variable and doing them justice would involve a book in itself, but at least showing all ages at rest and in flight would have been more comprehensive.
Taxonomy has moved on considerably over the past decade and Birds of Japan reflects this. Recently recognised splits, such as Owston's and Orii's Tits (from Varied Tit), are included and fully documented, ensuring that the guide is at the forefront of modern taxonomy.
I had a few minor gripes, one of which was the lack of acknowledgement of the very realistic problem of Aythya hybrids, in particular those involving Baer's Pochard. Baer's – one of the world's rarest ducks – is a rare winter visitor to Japan, and highly desired by visiting birders. However, more often than not in recent years, claimed 'Baer's' have actually been shown by photographs to be similar-looking hybrids, presumably involving either Ferruginous Duck or Common Pochard. It would have been helpful to at least highlight this problem in the text, if not illustrate it.
Overall, though, this is a very solid publication. Japan is one of the more popular birding destinations in the world (especially in winter), and very much deserving of its own field guide. Perhaps a little overdue, this new title has plugged what was a gaping hole in the market. No doubt it'll prove very popular.