Birds of Central Asia by Ayé, Schweizer & Roth
d00cc0e8-dbfa-404e-a76e-f1edf50a48f1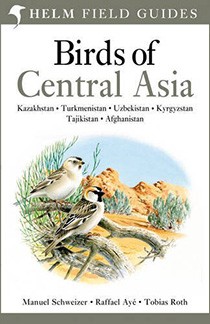 For a long time, there's been something of a gap in field-guide coverage across the Palearctic. Europe is well covered, while the Helm Field Guides
Bird of the Middle East
,
Birds of the Indian Subcontinents
and
Birds of East Asia
between them cover most of the rest of the region — with the exception of a gaping hole in the middle. This hole centres around 'the Stans': Kazakhstan, Turkmenistan, Uzbekistan, Kyrgyzstan, Tajikistan and Afghanistan. Afghanistan, sadly, is unlikely to be on many people's lists of countries to visit in the near future, but the wide range of habitats and varied avifauna of this vast Central Asian region has already attracted intrepid Western birders to sample the avian delights of countries like Turkmenistan and Kazakhstan. Indeed, tour companies now lead birding groups to the latter country. Clearly, this field-guide black hole needed filling; step forward
Birds of Central Asia
.
The book follows the standard Helm Field Guide format: text and maps on the left of the spread page, illustrations on the right. The maps are clear and the text is short but informative, with key identification features highlighted. I particularly like the fact that every species account begins with a brief note on the subspecies found in the region, even if this note is simply "monotypic". The illustrations are, by and large, of good quality. There is some variability in their quality and style but seemingly not purely the result of a 13-strong illustration team; there's something quite unnerving about the Carduelis finches in plate 132 yet the wagtails and chats — credited to the same artist — are beautiful.
Birds of Central Asia has done more than just plug the geographical gap that previously existed on many birder's bookshelves. It's provided a guide for the region that is comparable in standard to Birds of the Middle East and will prove invaluable to any visiting birder. Indeed, it should also be of interest for many Western Palearctic birders since it provides a useful reference for many vagrants from the Near East. Even if this field guide had not been entering into a clear field, I'm quite sure the information contained between its covers would have trumped whatever was available already — as it happens, there are no alternatives, and that only goes to enhance the value of this book yet further.

Paperback, 336pp.
Christopher Helm (2012), ISBN 978-0713670387, RRP: £35.00