Birds in Norfolk by Andy Brown and James McCallum
7ed23393-87e8-420b-b5dc-c982ad7047f2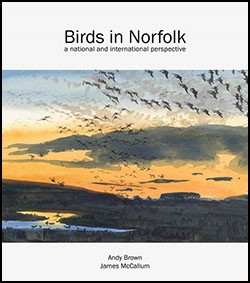 The latest in Ian Langford's Wildlife Art Series is an impressive book. It looks at Norfolk's birds in a slightly different way from a typical county avifauna, but you will find an abundance of facts and figures in its pages.
The dozen chapters include an introduction, setting Norfolk's birds in the international scene. Also covered are wintering and passage waterbirds; breeding and wintering seabirds; birdlife in Norfolk's reedbeds; harrier country; and winter specialities.
Each section gives a historical and contemporary summary of the birds or groups of birds that make Norfolk special, or specially important. Extensive references to historical sources are particularly interesting, although the accounts benefit, too, from up-to-date analysis of national monitoring programmes.
Andy Brown, a professional ornithologist who knows Norfolk inside out, is ideally placed to write such a book, while James McCallum, justifiably a favourite artist of many, is perfect for illustrating it. They have created a beautiful as well as informative volume, put together perfectly by Langford Press and MGM Graphics.
Ian Langford agreed to James McCallum's request to add extra width to the pages to give maximum impact to his birdscapes, making them a big 26x30.5 cm. He took a hit on the economics of the book, though, as only 12 pages, instead of the usual 16, can be cut from a sheet of paper, and the weight takes it into a substantially more expensive postage bracket.
It is an expensive book, but well worth it. McCallum's paintings are memorable and many pages are simply brilliant, evoking Norfolk's goose flocks, breeding terns and harriers, passage waders, wintering buntings, rare migrants and much more besides superbly well. The text is thorough but readable and backed up by tables of figures that reveal just how important Norfolk is to the natural world, if you did not already know. Any Norfolk resident or visitor will want to look at this.