Bird Families of the World by David W Winkler, Shawn M Billerman and Irby J Lovette
143b79fb-93a8-4394-9492-688fe9961aea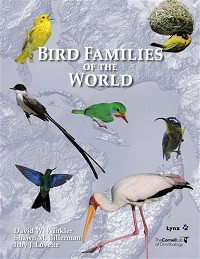 Subtitled
An Invitation to the Spectacular Diversity of Birds
, this expansive tome from Lynx Edicions continues the publisher's post-
Handbook of the Birds of the World
output in typically comprehensive style. It is not, however, merely a condensed collection of the illustrated essays familiar from
HBW
, but a new synopsis produced in association with the Cornell Lab of Ornithology.
According to Lynx's global avian taxonomy, there are 36 orders and 243 families of birds. We learn from the introduction that "Classification at the level of orders provides the deep structure for avian diversity, sometimes revealing surprising relationships between families", while "the avian family [itself] is where the diversity of birds becomes most manageable and meaningful". These and other themes are then developed and expanded, with evolutionary trees explained, the rising importance of genetic data in avian systematics examined, and classification challenges identified and explained.
Further scene-setting sections on extinction and diversification, faunal regions and avian endemism make fascinating reading, while attractive maps depict biogeographic richness (or otherwise) — the north–south divide in the Americas is especially striking, the most bird-rich Neotropics having 42 endemic bird families (20 non-passerine and 22 passerine) compared to the most impoverished Nearctic, with just one (though the range of Olive Warbler, the sole member of the Peucedramidae, actually extends to both regions).
Later volumes of HBW occasionally took on the mantle of peer-reviewed journal, publishing scientific papers that unveiled novel research or described new species. Bird Families of the World does the same with a paper by Jon Fjeldså, Per Ericson, Ulf Johansson and Dario Zuccon describing three new bird family names, the Chaetopidae (rockjumpers), Hylocitreidae (Olive-flanked Whistler) and Modulatricidae (Spot-throat and allies).
Thereafter, family accounts form the meat of the book. By necessity of space, these are pithy summaries of key information under the headings of Related Families, Similar Birds, Description, Habitat, Food, Breeding and Conservation. Most families get one or typically two pages of text, with each account featuring several photos and illustrations of a sample member of each genus; these may add several pages of plates in the case of larger families such as the Trochilidae (hummingbirds). The excellent artwork is inherited from HBW and the photos of broadly similar standard, though less so in a few instances.
There are some surprises, not least in the order of families. For example, flamingos are followed by pigeons and doves, mesites and sandgrouse; and tropicbirds, divers (here loons) and penguins are placed after the Charadriiformes (waders). Some of the genera may also be unfamiliar, with Saunders's Gull now in its own genus of Saundersilarus, Pallas's Leaf Warbler and eight other 'Phylloscs' placed in Abrornis, and a further three including Wood Warbler going to Rhadina.
Notwithstanding such occasional eyebrow-raisers, this substantial body of work brings together core information for all the world's bird families, and is the most up-to-date overview of its subject matter to date. It also neatly complements the first volume of Lynx's Illustrated Checklist of the Birds of the World (see Birdwatch 268: 76).
First published in Birdwatch 287: 75
Bird Families of the World by David W Winkler, Shawn M Billerman and Irby J Lovette (Lynx Edicions, Barcelona, 2015).
600 pages, 750 colour photos, 2,336 illustrated bird figures, 243 distribution maps.
ISBN 9788494189203. Hbk.
Available from the Birdwatch Bookshop from £74.99