Viking Kestrel 8x42 ED binocular
b5a5b482-b245-4628-84d9-0bfa0c1765a6
Along with Viking's flagship Peregrine range, the Kestrel family forms part of a line-up of products named after sharp-eyed falcons. This group comprises three models, 8x32, 8x42 and 10x42, from which I chose to use the popular 8x42 throughout most of spring.
Having previously reviewed the Peregrine 8x42 ED (see here), I was curious to discover how this model measured up against its bigger brother. The Kestrel is just shy of 93 per cent the size of the equivalent Peregrine, but it weighs 15 per cent more. Compact, then, but even at 692 g I would not describe it as being particularly heavy.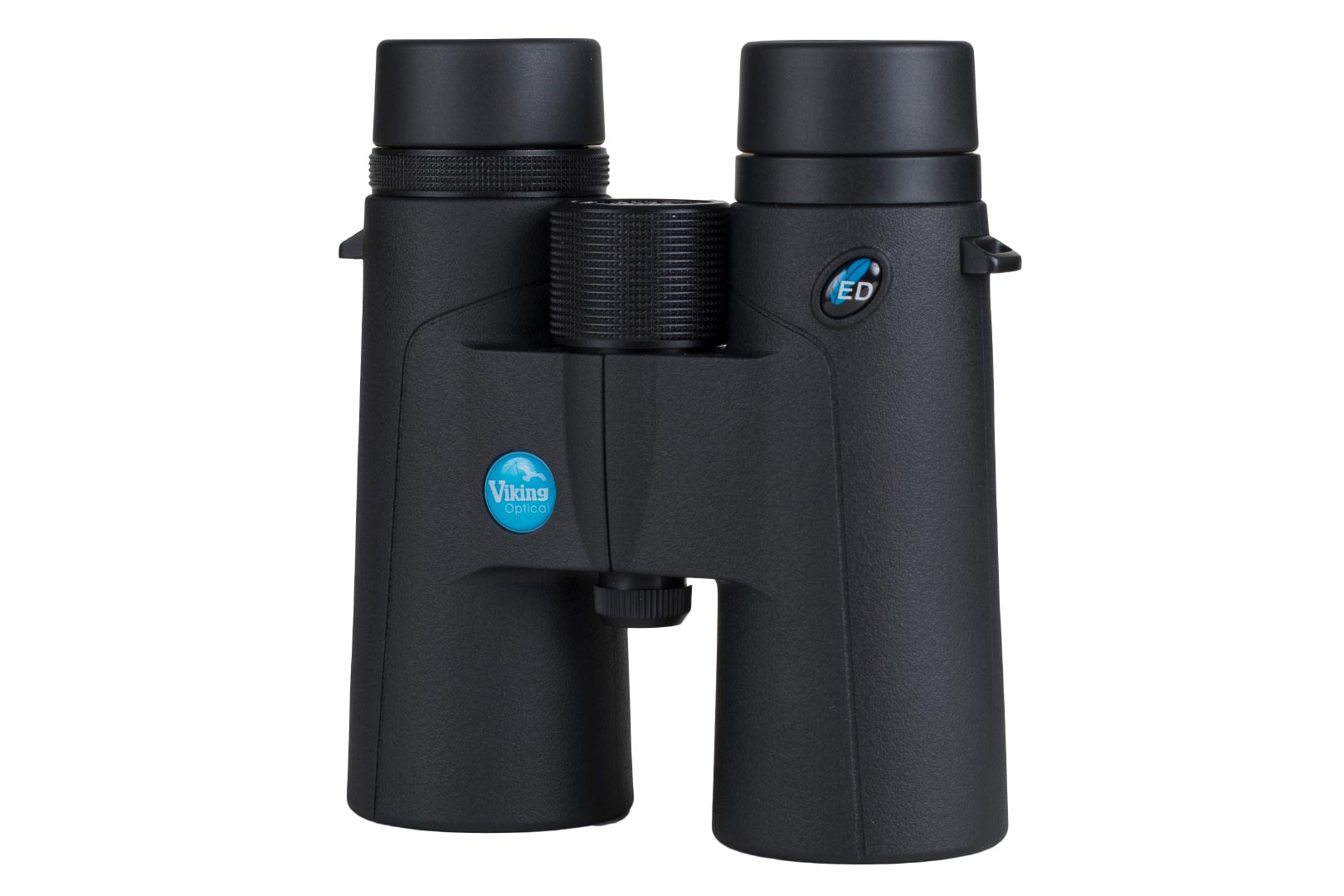 Ergonomically, it handles well. Covered in relatively non-slip rubber armour, it features shallow, cut-away thumb-rests into which my right thumb gravitated naturally as I used my right index finger to operate the focusing wheel. The strap-lugs are reasonably well located, close to the oculars and their positioning did not significantly detract from comfortable holding and operation.
I found both the central hinge and the focusing wheel a little stiff. With regard to the hinge this is no bad thing as, having selected the most comfortable interpupillary distance, I was confident it would remain set – even when I applied and removed the articulated rainguard. The latter was soft and highly flexible, which helps.
Almost as if to compensate for the slight stiffness, the focusing wheel sports a raised, stippled metal surface, which offers great traction and therefore little opportunity for your finger to slip during use. Just over 1.5 anti-clockwise rotations take the focus from its 2 m close point to infinity.
Sturdy, smooth rubber-covered eyecups twist out, click-locking at a single halfway point between the limits of extension and retraction. However, I was not able to see the entire field of view – a nice, wide 142 m at 1,000 m – with the eyecups part or fully extended.
At the opposite end of the chassis, removable, tethered objective covers are an optional accessory. They are soft and stretchy and fit easily and snugly over the objectives, but I don't see them as an integral part of the binocular and I fear they may become snagged and lost in the field. In this respect, they are no different to many others out there.
Back at the operating end, the dioptre mounted on the right ocular matches the focusing wheel in material, appearance and 'turnability'. I found it a little sensitive, but once correctly adjusted it remained in place and I simply forgot about it.
Casting a critical eye over the image reproduction, I had half expected to be met by a sizeable wallop of chromatic aberration, but it simply wasn't there. Instead, my eyes were met with a clear, vibrant image, full of colour and with colour fringing running at a refreshingly low level. It was great to find myself looking at a Black-necked Grebe in all its summer glory on one of my local gravel pits and being able to instantly appreciate the splendour of its golden 'ear fans' contrasting vividly with its black head and neck and that fabulous red eye. Very nice indeed.
The image was bright and sharp, too, with only a little field curvature and narrow softening at its very edges. So, all that ED glass, full multicoating and dielectric coated, phase-corrected prisms have, in this instance, combined well and the Kestrel turned out to be a far sharper piece of kit than I had initially anticipated. At a list price of only £219.95 this binocular is a steal.
Further info
Price: £219.95
Size: 140x125 mm
Weight: 692 g
Field of view: 142 m at 1,000 m
Light transmission: n/a
Close focus: 2 m
Gas filled: yes
Waterproof: yes
Guarantee: 10 years
Verdict
Refreshingly low level of chromatic aberration
Bright and sharp image
Focusing wheel is a little stiff