Celestron Trailseeker ED 8x42 binocular
fd108734-7f96-4d6a-88f1-d40ff04d0a53
The first in a line of new Celestron products scheduled for release in 2019, the new Trailseeker ED binoculars are due to hit the high street from the beginning of April. Two 42 mm models provide a choice between 8x and 10x magnification, both with Extra-Low Dispersion (ED) glass and slick new looks, in comparison to the existing Trailseekers, which will remain in the range.
This new product line now officially replaces Celestron's open-bridge Granite ED binoculars as the company's flagship models, the latter having been discontinued in Europe. According to Celestron, the Trailseeker ED is "packed with optical, mechanical and ergonomic features that make it comparable to binoculars costing two to five times as much". A bold claim in no uncertain terms.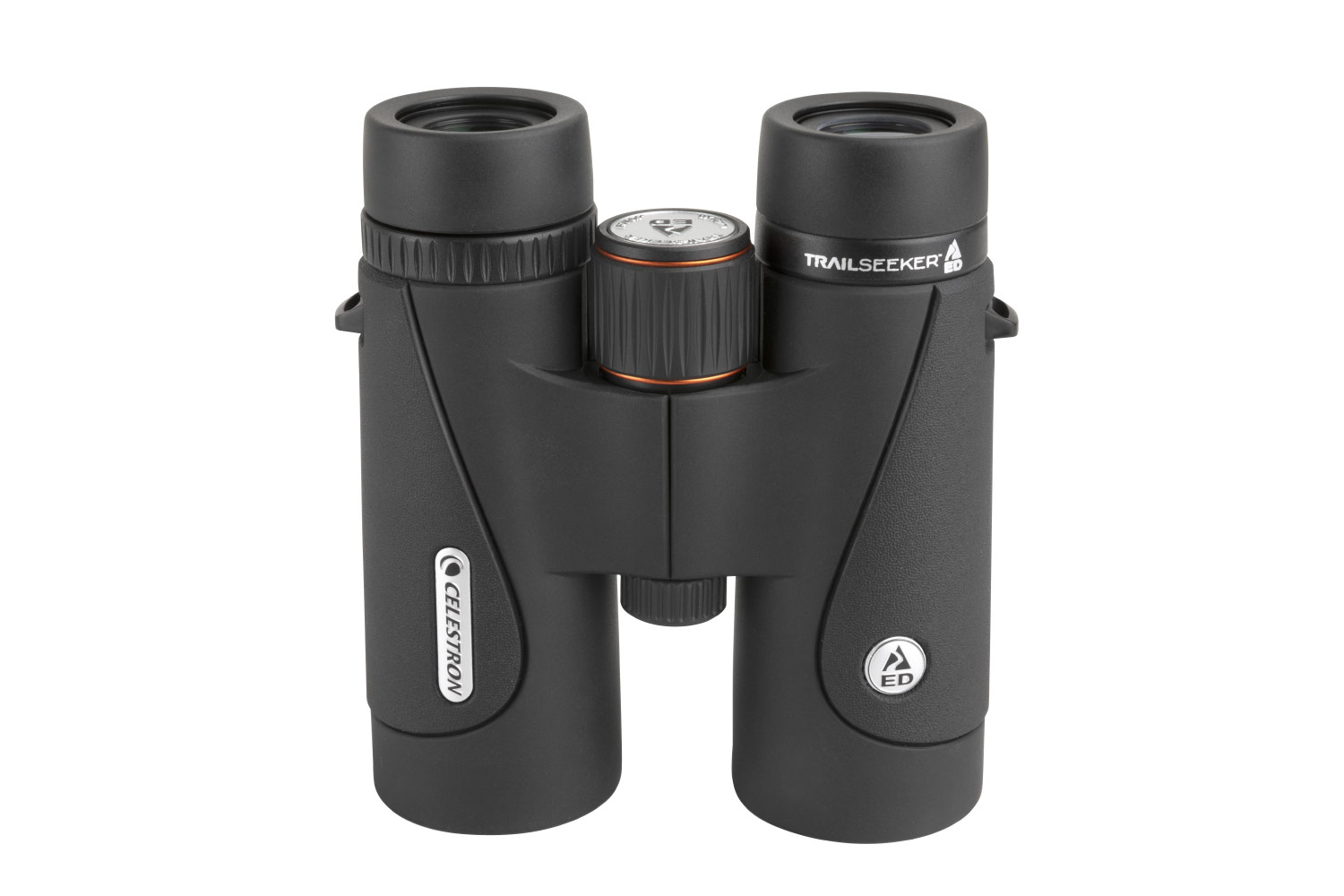 Talking to Celestron about its performance suggests the new Trailseeker ED provides an image and overall viewing experience which exceeds that of the Granite ED. The product manager states: "While the specifications on paper are very similar, there are intangibles involved in the use of field optical instruments that are not always communicable through raw numbers." In his opinion: "The image seen through these new models is superior due to a better management of dispersion than even the Granite ED models attained. What is seen is therefore more vivid and free of chromatic aberration, even in the most challenging of viewing conditions."
I remember being impressed with the Granite EDs when they were first launched in 2011 at a recommended retail price of £450. Eight years on, the Trailseeker is set to retail at £299, potentially, then, a whole lot of binocular for the price. So what's in the box?
Finished in charcoal-grey, with contoured rubber armour over a light magnesium alloy, the body of this ED model is textured to enhance grip in the areas in contact with your hands. The embedded silver Celestron logo, together with the model name, separate ED emblem and discreet orange-bronze rings around the focus wheel, offer subtle but distinctive relief to an otherwise anonymous exterior.
Weighing in at 666 g, it's pleasantly light to hold and to operate, although the central hinge is a little stiff, which is no bad thing as it helps maintain the user's interpupillary distance once set. Continuing with the settings theme, the dioptre, located on the right ocular, presents optimum turning resistance against a simple +/- scale and it did not become displaced from my chosen setting during use in the field.
The twist-out eyecups offer two optional click-lock settings above the base and the field of view was only marginally compromised when they were extended. However, I felt the rubber covering at the 'business end' in contact with your eyes was a little thin, lending them a rather hard feel.
Focusing from close focus to infinity, via the milled rubber-covered central wheel, was accomplished smoothly, though not too loosely, in approximately 1.5 turns. I was pleased to beat the manufacturer's figure for the former by 0.16 m, with subjects remaining in focus exactly 2 m away.
There is a little chromatic aberration in the centre of the image, which manifests itself readily only in conditions of contrast approaching black against white. I had no real problem with it while watching my locally wintering Ring-necked Duck against a background of reflective water, nor did it give me any serious quality issues while viewing gulls roosting on water in fading light.
Pleasingly, in general daylight viewing, the Trailseeker ED returns vivid natural colours and contrast. Back at the gull roost, the diminishing light conditions appear to amplify the contrast and deepen colour intensity as the image brightness reduces. Otherwise, the overall image is slightly warm toned, sharp and crisp with just a little softening at the periphery.
I was very comfortable with this binocular, which I believe is good value for money. As well as coming with a protective soft case, Trailseeker ED models are supplied with both a neck strap – comfortably padded for a generous portion of its length – and a carrying harness, giving users the option to use either. It's also tripod-adaptable for extended viewing periods or for 'digibinning', although the tripod adapter is sold separately. Loosely tethered objective caps and an articulated rainguard complete the package.
Further info
Price: £299
Size: 140x124 mm
Weight: 666 g
Field of view: 142 m at 1,000 m
Light transmission: not available
Close focus: 2.16 m
Gas-filled: yes
Waterproof: yes
Guarantee: Limited lifetime
Verdict
Vivid natural colours and contrast
Overall image is sharp and crisp
A little chromatic aberration in centre of image