Birds by Colour app
accd4fe1-da1e-4bb0-b2e9-451dea3c1681
From WildSide | £2.99 | 31.9 MB | Requires iOS 6 or later | Version 1.0 | View in the iTunes Store

More advanced birders are told to look at an unfamiliar species holistically: consider plumage, bare parts, jizz, vocalisations and so on. This app takes the opposite approach, reducing identification to one aspect: colour. This is surely easier for beginner birders, and especially children, who might get overwhelmed by the sheer amount of information gleaned by looking at the whole bird.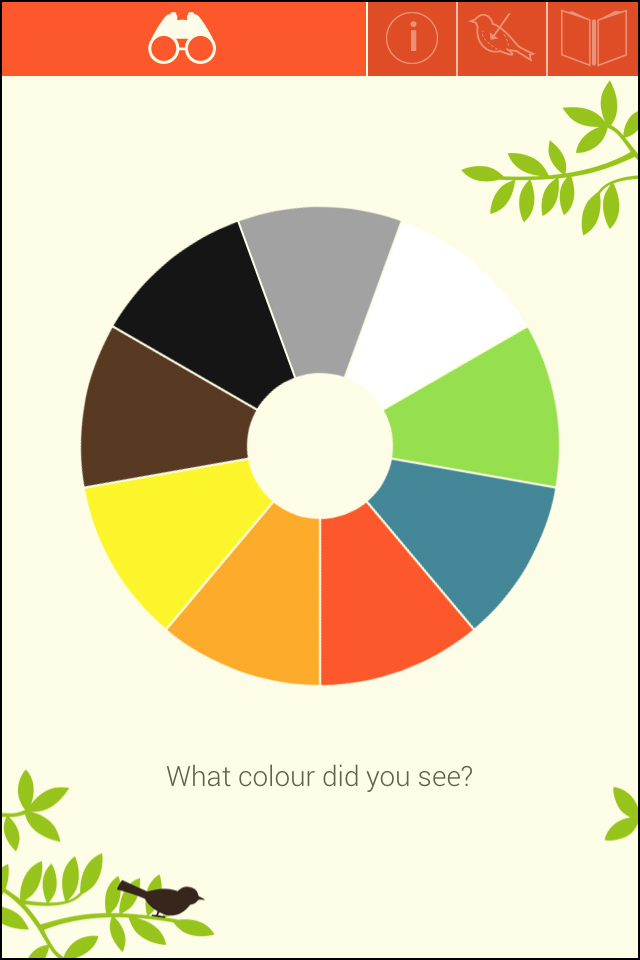 New to birding, you see an unfamiliar bird, a Willow Warbler for example. Open the app up to access a simple colour wheel, with the question "What colour did you see?" Simply tap the relevant colour, so with a plain greenish-brown bird like Willow Warbler either brown or green should do the trick. This brings up the possible options.

The app has some nice functionality. Once you've selected the colour, turn the phone sideways to access the possible species. You can then either use a slider to select by size or scroll sideways through the options till you find the bird. Tap the species and turn the phone up again to access the account. Here you'll find an illustration plus concise text with key identification features, the location of the colour you saw, where and when you might see the bird and any confusion species. Flip the phone sideways again to check those lookalike birds, in the case of our example the one given is Common Chiffchaff, or tap either the colour wheel or binocular icons to return to the home page.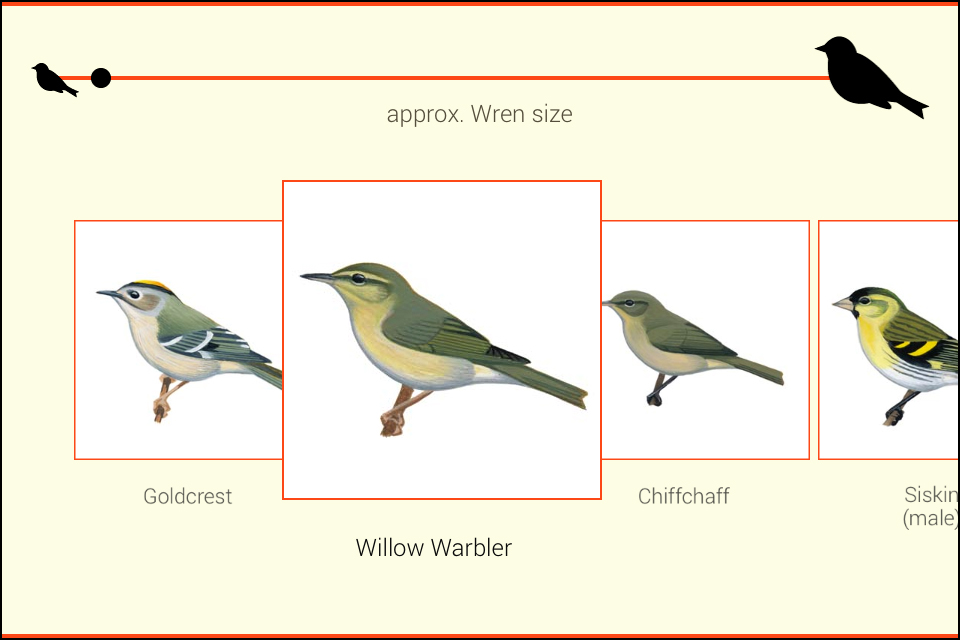 One thing I really liked about this app is that the user doesn't have to identify a main colour, which might not always be obvious. What is the main colour of a bird that's greenish-brown on the upperparts and yellowish-white on the underparts? A Goldcrest might be mainly olive-green, but the most noticeable colour – and the one that will stand out most to novice birders – is surely that bright yellow crown. Here, each species is listed under all the colours you might see on it. This means users can select two or three colours to make their identification more positive.

There are 275 illustrations of the most regular British species, including plumage and age differences where relevant. The images, drawn by wildlife artist Alan Pearson, are accurate and displayed clearly on the screen, although it's a shame you can't swipe to make them bigger. Additional extras include bird topography illustrations and a glossary of terms.

The app is of limited use to more knowledgeable birders, but the developer, WildSide, makes it clear the it is aimed squarely at the novice. It would also be ideal for getting youngsters interested in birds.