Ageing & Sexing of Migratory East Asian Passerines
ae4b40dd-3c9a-4ce5-962d-4b5dcae9d603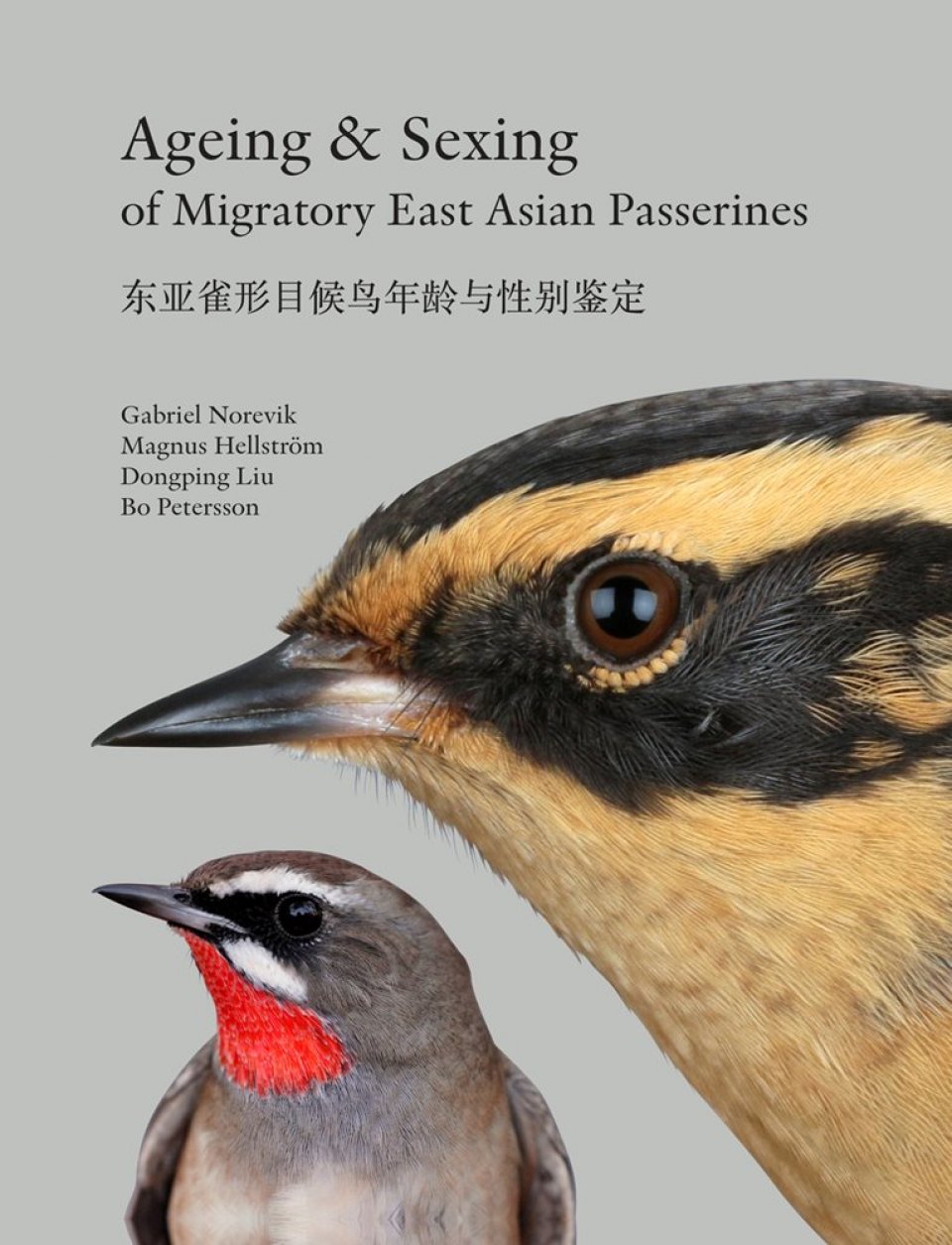 Ageing & Sexing of Migratory East Asian Passerines by Gabriel Norevik, Magnus Hellström, Dongping Liu and Bo Petersson (Avium Förlag AB, Sweden, 2020).
423 pages, 1,400 colour photographs.
ISBN 9781529111248. Hbk.
After the sultry summer months, as the days shorten and the first chills are felt in the morning air, European birders' senses are at their most heightened. Autumn is, for many, the most exciting season of the year. A time when, collectively, birders' attentions across the Continent are turned firmly eastwards, anticipating the arrival of 'Sibes' – highly prized avian visitors from the Ural Mountains and beyond.
An array of warblers, thrushes, chats, flycatchers, pipits and buntings have all made it here from the Eastern Palearctic. Some are several thousand kilometres from 'home', yet occur on an annual basis, and sometimes in big numbers. Others are much rarer, and rank among the 'most-wanted' of all potential discoveries. Iconic species such as Siberian Thrush, Siberian Blue Robin, Pechora Pipit ... are your juices flowing yet?
Well, flowing they will be when you first flick through Ageing & Sexing of Migratory East Asian Passerines. This hefty new tome, very much designed to be a reference guide kept firmly at home (you'll understand when you see the size of it), had me salivating when I recently received a copy. On the front cover are two species fit for the dreams of any European birder: Siberian Rubythroat and Siberian Accentor. Against a neutral grey background, the ruby-red and terracotta hues of their respective plumages immediately entranced me.
The book is put toegher in a clean and tidy fashion, largely thanks to its dimensions. While lots of information has been packed in and presented in both English and Chinese, every page has sufficient breathing space. Photos are reproduced at a pleasing size and there's plenty of information accompanying each, yet never does it feel cluttered. This ensures that it looks great and, at more than 400 pages and boasting 1,400 stunning colour photographs, has the feel of a coffee-table centrepiece.
This is very much a book aimed at depicting the variation shown within species, with moult patterns and plumage differences being its focal points. From a European perspective, it is the first-calendar-year birds that hold the greatest relevance, but it's great to see them alongside their much gaudier, mature counterparts(look at Naumann's Thrush, Yellow-rumped Flycatcher and Chestnut Bunting, to name just a few).
An introductory section looks at topography and biometrics, shows how measurements are taken (including plenty of handy diagrams for the beginner), and then outlines moult and ageing. For those not au fait with ringing terminology, it may take a little time to wrap your head around the various moult strategies, but these are well explained and examples of species following each are given.
Then comes the meat of the book: the species accounts. Commencing with Brown Shrike and concluding with Japanese Reed Bunting, this section is an absolute joy to delve into. Brilliantly illustrating the variation in 62 East Asian species, the text and photos are the result of the careful study of tens of thousands of individual birds, all processed in the hand at the world-famous Beidahe ringing station in north-east China between 2011 and 2013. Text contains details on range, migration, identification, similar species, moult and ageing, as well as a series of captioned images showing each species in profile, plus tail and wings.
Following this are the 'Identification chapters'. These page-length 'mini ID guides' take a closer look at similar species. Between two and four species are featured on each, covering an assortment of subtle warblers, flycatchers and buntings. Examples include 'brown leaf warblers' (Radde's and Dusky Warblers and Siberian Chiffchaff) and 'grey flycatchers' (Asian Brown, Dark-sided and Grey-streaked Flycatchers). These will no doubt prove invaluable and will surely be put to good use around the world. I can picture it now: some time in the not-too-distant future, an excitable group of birders huddling together at a European ringing station, clutching a bag holding an as-yet unidentified 'eastern' mega, flicking to page 414 to compare the 'yellow-and-brown buntings' …
One minor gripe, merely cosmetic, was the lack of italicisation of scientific names in the headers for each species account. It might have stood out more (as well as appeased me!) had they been in italics, as they are within the main text. But it says a lot about the book's overall high quality that I'm picking at such an issue.
In summary, this is a superb and professionally presented book. The meticulous nature of the text and the stunning array of imagery throughout highlights just how much work has gone into producing it, and indeed how skilful and knowledgeable its creators are. It is a real game changer in its field, making East Asian species instantly more accessible, at a time when such species are being encountered more and more as vagrants in Europe. It is, by its own admission, a book "intended to serve primarily as a tool for bird ringers", yet the finished product deserves to be appreciated by a much wider audience – and this will surely prove the case, even if it is somewhat pricey.