A Summer of British Wildlife by James Lowen
61d8f245-b07d-472c-88de-14752dfa9e6c
>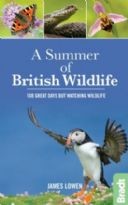 We've all had those perfect summer days that we have yearned to seize by going to see something awesome, but the birding world has fallen sound asleep and the steering wheel is forlornly tapped at. A couple of trips in search of butterflies and orchids in these summer doldrums have remedied my case of this widespread birder's curse, and have begun to open my eyes to a broader spectrum of British natural history on offer, so
A Summer of British Wildlife
, James Lowen's second book for Bradt Travel Guides, arrived at my desk at the perfect time. Filled with all the best ideas for a memorable, wildlife-filled summer across a 100-day itinerary, stretching from 15 May to 2 August, it takes in a panoply of insects, plants, mammals, fish and even the odd bird here and there for good measure.
Each of the 100 days is pitched across an attractive double spread, brought to life with a few paragraphs of lively, lucid prose that is at once both edifying and delightful to read. Lowen beautifully touches on aspects of the ecology, culture and history surrounding the target species and the sites covered, alongside a pack of helpful hints for a successful outing. With a supply of puns almost as limitless as his wildlife sites, Lowen has managed to conjure up a witty title for most of the days, each of which is numbered and can be swiftly located according to chronology or geography via the contents page or the double-page map in the introductory pages. However, upon studying the map, anyone hoping to adopt the book as their literal guide for a 100-day wildlife-watching marathon might find the logistical challenge rather daunting, with day-trips to Scotland thrown in between sites a couple of hours apart in the south! Perhaps unavoidably, there's much more on offer for those in the south and east.
Of course, the format is not really intended as a frame for a rigid itinerary, rather a vehicle to suggest a myriad ways to enjoy British wildlife over the summer months. The flexibility of each day is outlined in a handy box on practicalities, which also provides a breakdown of the sites mentioned, with grid references, directions and web links, as well as alternative locations and some quick ideas on how to make a weekend of the trip. The only fault that I can find with this box is where more than one site is covered on a single day and a quick dig through the prose is required to remind oneself of the species each site summarised holds.
A flick through makes it a breeze to pick a suitable trip, with county, target species accessibility and the wisdom, for your sake and theirs, of bringing a child along. These latter points are gauged according to Lowen's experiences with his own young daughter and a wheelchair-using friend, and rated on a simple 5-point scale. At least two decent-sized colour photographs enhance each spread, although I hope the Slow-worm on Day 28 wasn't upside down when it was photographed!
For anybody wishing to take delight in a few simple trips looking at a breadth of incredible British wildlife this summer, A Summer of British Wildlife will lend inspiration and, together with the necessary identification knowledge or handbooks, all the information you will need. In particular, anyone with children will surely find it a delightful and invaluable aid to enjoying the outdoors with them and passing on a precious affection for the natural world.