52 Wildlife Weekends by James Lowen
ef1175da-df1e-462b-be3a-9301a3c8469c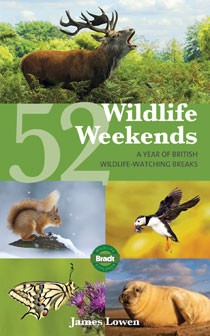 "Enthused by bringing nature to life for the non-specialist" reads the biopic of author James Lowen on the opening page of 52 Wildlife Weekends. This sentence really encapsulates the spirit of this 230-page Bradt Travel Guide. A diarised walkthrough of 52 wildlife-filled weekend destinations to explore and experience in every corner of the British countryside, this is a guide that will find a home in the caravans, tent pockets and backpacks of nature-lovers just about everywhere.
The guide is laid out following the pattern of a year, with 52 mini-chapters each extolling the virtues and highlighting the wealth of wildlife that can be found at a particular destination in Britain at that time of year. Each month of the year has four or five suggested weekend destinations, carefully timed for optimal outcomes within that particular season.
Lowen's eager, superlative-laden descriptions create compelling adverts for each destination, providing not just a taste but some real flavour and colour to each weekend. A look at the map of the 52 destinations reveals that the chosen locations are well spread geographically. If I were to pick nits over the location choices, it would be the sparsity of destinations across inland southern Scotland, the Borders and inland Northumberland, and a big empty space across the Midlands, though this may be understandably attributable to the species on offer and the time at which they are available.
As a general guide, Lowen has managed seamlessly to blend botany, birds, mammals and fungi while not losing the sense of place and landscape in his descriptions. In fact there are few, if any, groups that don't get at least a mention; a handy grid allows you quickly to find weekend options that combine different groups. The guide benefits from Lowen's not being afraid to throw in some of his own quirky descriptions and opinion and his general laid-back, unstuffy approach to complex subjects such as orchid taxonomy. His all-round enthusiasm, whether describing an 'electric blue-eyed' Southern Migrant Hawker or Norfolk's 'wailing heath chicken' (Stone Curlew), is infectious and inspiring, and keeps the guide upbeat and punchy.
Each weekend action ends with a useful 'Practicalities' page with directions for each of the key locations, including grid references, contact telephone numbers where appropriate, and suggestions for places to stay. A lot of thought has been put into this and it'll no doubt prove of great help to anyone following any of the weekend plans.
52 Wildlife Weekends will provide many with the inspiration to get close to nature somewhere across our islands, and might add a few destinations to the bucket lists of those already enthused. This is a guide well worth buying — regardless of your location, interest or expertise on anything wildlife-related. Let yourself be inspired!